Odd jobs, and beggars: permanent sample of inequality and poverty in the city of Cúcuta, North Santander, Colombia
Keywords:
beggars, begging, odd jobs, unemployment, informal economy, poverty.
Abstract
This paper makes a theoretical and reflexive approach to inequality and poverty in San José de Cúcuta, North Santander, border between Colombia and Venezuela. It presents factors associated with unemployment, which contribute to begging, alms and odd jobs from a socio–economic environment, collects basic information applying a semi-structured survey (random) to a specific population: determining agents of a permanent practice of informal economy in the city. The results refer to a population sample from, for the most part, to a different regions of the country, associated with such aspects of not only economic, but social and forced displacement because of internal armed conflict and violence (IDPs: Internally Displaced Persons), leading to their establishment in the city which has generated health, education, security problems, among others.
Downloads
Download data is not yet available.
References
Altimir, O. (1979). La dimensión de la pobreza en América Latina. Santiago de Chile, Chile: CEPAL. 99 p.
Andrade, R. (2008). Errantes: formas y esencias de la indigencia en Caracas (reportaje interpretativo). Trabajo de Licenciatura. Universidad Central de Venezuela, Facultad de Humanidades y Educación. Caracas, Venezuela.
Asamblea General de las Naciones Unidas. (2000). Declaración del Milenio. Recuperado de: http://www.un.org/spanish/millenniumgoals/ares552.html
Cámara de Comercio de Cúcuta (2011). Informe de gestión año 2011. San José de Cúcuta, Colombia: Cámara de Comercio de Cúcuta. 104 p.
Camargo, D. (2005). Actividades económicas informales y tributación. Santa Fe de Bogotá D.C., Colombia: Dafra, Fundación Sueños de Escritor. 73 p.
Cano, M. (2007). Equidad v. inequidad: la Declaración del Milenio de las Naciones Unidas y progresos en la consecución de los objetivos de desarrollo del milenio en América Latina y el Caribe. Revista electrónica iberoamericana ALCUE, (1), 117-135.
Centty, D., Cano, A. & Muñoz, L. (2008). Informe de la pobreza humana de Arequipa Metropolitana–2006. Arequipa, Perú: Universidad Nacional de San Agustín. 110 p.
Comisión Económica para América Latina y el Caribe (2003). Documento sobre la pobreza para la III Conferencia Regional de Seguimiento de la Cumbre de Desarrollo Social. Santiago de Chile, Chile: CEPAL. 122 p.
Corredor, C. (1998). Algunas reflexiones analíticas sobre el concepto de pobreza. En C. Corredor, C. Ramírez & O. Fresneda (pp. 7-16). (1998). Documento 10: Pobreza. Bogotá, Colombia: Misión Rural. 44 p.
Dávila, A. (2001). Prólogo. En M. Álvarez & H. Martínez. El desafío de la pobreza (pp. 11-14). Bogotá, Colombia: Siglo del Hombre. 180 p.
Fernández-Baca, J. (2006). Enfoque económico sobre la pobreza. Simposio: Población, salud y pobreza. En Academia Nacional de Medicina. Anales. (pp. 128-130). Lima, Perú: Santa Ana. 174 p.
Freije, S. (2001). El empleo informal en América Latina y el Caribe: causas, consecuencias y recomendaciones de política. Caracas, Venezuela: Banco Interamericano de Desarrollo. 49 p.
Gómez, L. G. (2007). La informalidad en la economía, algo incuestionable. Semestre Económico, 10 (19), 47-67.
González, J., Ramírez, M., Vélez, C., Azevedo, J. & Feres, J. (2012, mayo). Declaración: Comité de Expertos de la Misión para el Empalme de las Series de Empleo, Pobreza y Desigualdad. Bogotá, Colombia: MESEP. 9 p.
Graziano M., Lejarraga, A. & Grillo, D. (2004) ¿Prácticas laborales o prácticas mercantiles de mendicidad?: los vendedores ambulantes/mendigos del subte de la ciudad de Buenos Aires. Buenos Aires, Argentina: s.n. 25 p.
Ibáñez, A. & Moya, A. (2007). La población desplazada en Colombia: examen de sus condiciones socioeconómicas y análisis de las políticas actuales. Bogotá, Colombia: MERPD, Departamento Nacional de Planeación. 144 p.
Manrique, E. & Salazar, J. (2012). Dimensión Social de la desnutrición, apuntes para la discusión. Cultura Científica JDC, (10), 84-89.
Núñez, J. & Ramírez, J. (2002). Determinantes de la pobreza en Colombia, años recientes. Bogotá, Colombia: s.n.. 53 p.
Ochoa, S. (2005). Economía informal: evolución reciente y perspectivas. México: CESOP. 64 p.
Oficina Internacional del Trabajo (2002). El trabajo decente y la economía informal. Ginebra, Suiza: OIT. 146 p.
Pinilla, M. (2004) Percepciones de la mendicidad. Ponencia presentada en el foro sobre mendicidad infantil organizado por el Instituto Colombiano de Bienestar Familiar. Recuperado de http://www.unisimonbolivar.edu.co/revistas/aplicaciones/doc/166.pdf
Portes, A. & Haller, W. (2004). La economía informal. Santiago de Chile: Naciones Unidas. 56 p.
Ramos, J., Moreno, J., Parada, J. & García, A. (2008). La mendicidad en el Caribe colombiano: el caso de los distritos de Barranquilla, Santa Marta y Cartagena. Revista Economía del Caribe, (2), 66-105.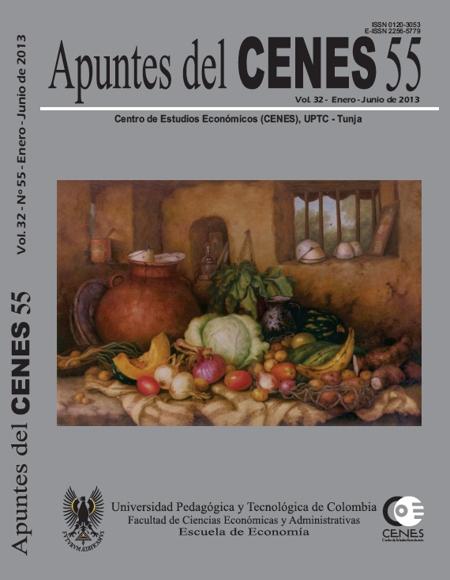 Downloads
How to Cite
Castro, W. R. A., & Montes, L. S. P. (2013). Odd jobs, and beggars: permanent sample of inequality and poverty in the city of Cúcuta, North Santander, Colombia. Apuntes Del Cenes, 32(55), 165–188. https://doi.org/10.19053/22565779.2072
Section
Artículos de reflexión
License
Copyright (c) 2013 William Rodrigo Avendaño Castro, Luisa Stella Paz Montes
This work is licensed under a Creative Commons Attribution-NonCommercial-ShareAlike 4.0 International License.
By submitting articles for evaluation, the author agrees to transfer the publishing rights to Revista Apuntes del CENES for publishing in any format or mean and that the attached partial use license will be signed.
The journal is under licence Attribution-NonCommercial-ShareAlike 4.0 International (CC BY-NC-SA 4.0)