La descentralización en Colombia y las autonomías en España
Keywords:
Descentralización, reformas al SGP, resultados fiscales. (Decentralization, reforms to SGP, fiscal results)
Abstract
Este artículo pretende hacer un paralelo entre algunos aspectos de los sistemas de regionalización en Colombia y España, particularmente en los aspectos fiscales. En el caso colombiano se construyen algunos escenarios financieros que tratan de estimar el efecto fiscal de las recientes reformas al SGP y se resalta el carácter fuertemente centralista del proceso de regionalización colombiano. Con relación a España se describen los mecanismos institucionales que rigen el sistema de financiación autonómico, su naturaleza cuasi federal y particularmente, el papel del proceso autonómico en el retorno de España a la democracia.
ABSTRACT:
The purpose of this article is to make a comparison between the process of regionalization in Colombia and Spain, focusing on the fiscal aspects of them. Regarding the first country, the author makes some financial scenarios in order to quantify the effect of recent reforms to SGP and stresses the huge centralized nature of colombian process. Analyzing the second country, it tries to describe the institutional mechanism that rule the spanish system of regionalization, his quasi federal nature and his relationship with the political process and particularly, the role of autonomic process in the Spanish return to democracy.
Downloads
Download data is not yet available.
References
AURIOL, Claude (2006) "Regiones y Descentralización en Europa y América Latina". en: Restrepo, Darío (ED), Historias de Descentralización, Universidad Nacional de Colombia, Facultad de Ciencias Económicas.
CANTARERO, David (2002) "Estimación del Sistema Actual de Financiación Autonómica: El Caso de la Integración de
las Competencias Sanitarias" en: El Nuevo Modelo de Financiación Autonómica, IEF, Madrid.
CONFIS, Cierre Fiscal Anual, varios años, Ministerio de Hacienda y Crédito Público, www.minhacienda.gov.co. Departamento Nacional de Planeación (2006), Desempeño Fiscal de Departamentos y Municipios, Bogotá.
DUBOIS Alexandre (2005). Scenarios baseline on "Issues of Territorial Governance", Working Paper, Nordic Centre for Spatial Development.
FARINÓS Joaquín, Payá Mauro y Milder, Jody, Governance of Territorial and Urban Policies from EU to Local Level, Anex Report D, European Spatial Planning Observation Network, Instituto de Desarrollo Local – Universidad de Valencia.
GARCÍA, Miguel Ángel (2008), Comentarios a la Liquidación del Sistema de Financiación Autonómico en el Ejercicio 2005, Instituto de Estudios Fiscales, Documentos No 8.
GIRÓN Reguera, Emilia (2003), La Financiación Autonómica en el Sistema Constitucional Español, Universidad de
Cádiz.
FEDEMUNICIPIOS (2007) Reforma al SGP, Documento Power Point en: www.fcm.org.co Intervención General de la Administración del Estado, Avance de la Actuación Económica y Financiera de las Administraciones Públicas, Varios años.
KALMANOVITZ Salomón, La Idea Federal en Colombia Durante el Siglo XIX, Banco de la República, Bogotá en
www.banrep.gov.co.
LEÓN-ALFONSO, Sandra (2007), The Political Economy of Fiscal Decentralization. Bringing Politics to study of intergovernmental Transfers, Barcelona, Institut dÉstudis autonómics.
LOZANO I, Ramos, J, Rincón H (2007), Implicaciones Fiscales y Sectoriales de la reforma a las Transferencias Territoriales en Colombia, Borradores de Economía, Banco de la República.
Ministerio de Hacienda y Crédito Público – DAF (2007), Informe sobre la Viabilidad Fiscal de los Departamentos, Bogotá.
Ministerio de Hacienda y Crédito Público (2006), Exposición de Motivos al Proyecto de Acto Legislativo por medio del cual se modifican los artículos 356 y 357 de la Constitución Política, Bogotá.
OLCINA CANTOS, J; FARINÓS, Joaquín(2002), "L'organització del territori espanyol: antecedents històrics i situació actual" En: Farinós, Joaquín, Geografia Regional d'Espanya, Universitat de València.
PÉREZ GARCÍA, Francisco (2002), "La Financiación del Estado Autonómico" en: Cucó, A; Romero, J; Farinós J. La
Organización Territorial del Estado. España en Europa un Análisis Comparado, Universitat de Valencia.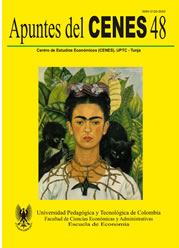 Downloads
Metrics
Views/Downloads
Abstract

354

PDF (Español)

345
How to Cite
Gómez, H Y A. (2009). La descentralización en Colombia y las autonomías en España. Apuntes del Cenes, 28(48), 243–284. Retrieved from https://revistas.uptc.edu.co/index.php/cenes/article/view/72
Section
Regional economics
License
Copyright (c) 2009 Helmuth Yesid Arias Gómez
This work is licensed under a Creative Commons Attribution-NonCommercial-ShareAlike 4.0 International License.