La fibra de coco como sustituto de la turba en la obtención de plántulas de uchuva (Physalis peruviana L.)
Downloads
Download data is not yet available.
References
Abad, M.; P. Noguera y C. Carrión. 2004. Los sustratos en los cultivos sin suelo. pp. 113-158. En: Urrestarazu, M. (ed.). Tratado de cultivos sin suelo. Ediciones Mundi-Prensa, Madrid.
Abad, M.; P. Noguera; R. Puchades; A. Maquieira y V. Noguera. 2002. Physico-chemical and chemical properties of some coconut coir dusts for use as a peat substitute for containerised ornamental plants. Bioresource Technol. 82, 241-245.
Almanza, P. 2000. Propagación. pp. 27-40. En: Flórez, V.J.; Fischer, G. y A.D. Sora (eds.). Producción, poscosecha y exportación de la uchuva (Physalis peruviana L.). Unibiblos, Universidad Nacional de Colombia, Bogotá.
Almanza, P.J. y C.J. Espinosa. 1995. Desarrollo morfológico y análisis físico químico de frutos de uchuva Physalis peruviana L. para identificar el momento óptimo de cosecha. Trabajo final. Especialización en Frutales de Clima Frío, Facultad de Ciencias Agropecuarias, Universidad Pedagógica y Tecnológica de Colombia, Tunja.
Ansorena, M. 1994. Sustratos: Propiedades y caracterización. Ed. Mundi-Prensa, Bilbao. Arias, R. 1989. Caracterización de las propiedades físicas de 10 materiales, descripción, su uso potencial como sustratos y evaluación del crecimiento de plántulas de lechuga (Lactuca sativa L.) en los materiales promisorios como sustratos. Trabajo de
grado. Facultad de Agronomía, Universidad Nacional de Colombia, Bogotá.
Borscak, J.D. y F. Covatta. 2007. Propagación sexual de especies frutales. pp. 105-131. En: Sozzi, G.O. (ed.).
Árboles frutales. Ecofisiología, cultivo y aprovechamiento. Editorial Facultad de Agronomía, Universidad de Buenos Aires, Buenos Aires.
Brücher, H. 1977. Tropische Nutzpflanzen. Springer-Verlag, Berlin. pp. 394-395.
Celis-Velázquez, R.; C.B. Peña-Valdivia; M. Luna-Cavazos y R. Aguirre. 2005. Caracterización morfológica de las semillas y consumo de reservas durante la emergencia de plántulas de frijol (Phaseolus vulgaris L.) silvestre y domesticado. Rev. Fac. Agron. (LUZ) 27(1), 61-87.
Deaquiz-Oyola, Y.; J. Álvarez-Herrera y A. Fraile. 2008. Efecto de diferentes láminas de riego y sustratos en la propagación de tomate (Solanum lycopersicum L.). Rev. Colomb. Cienc. Hortíc. 2(1), 54-65.
Fischer, G. 2000. Crecimiento y desarrollo. pp. 9-26. En: Flórez, V.J.; G. Fischer y A.D. Sora (eds.): Producción, poscosecha y exportación de la uchuva (Physalis peruviana L.). Unibiblos, Universidad Nacional de Colombia, Bogotá.
Fischer, G.; G. Ebert y P. Lüdders. 2007. Production, seeds and carbohydrate contents of cape gooseberry (Physalis peruviana L.) fruits grown at two contrasting Colombian altitudes. J. Appl. Bot. Food Qual. 81, 29-35.
Gil, A. y D. Miranda. 2007. Efecto de cinco sustratos sobre índices de crecimiento de plantas de papaya (Carica papaya L.) bajo invernadero. Rev. Colomb. Cienc. Hortíc. 1(2), 142-253.
Gil, G.F. 1999. Fruticultura: El potencial productivo. Alfaomega Grupo Editor, México D. F.
Hanan, J.J. 1998. Greenhouses. Advanced technology for protected horticulture. CRC Press, Boca Raton, FL. pp. 307-313.
Hartmann, H.T.; D. E. Kester; F.T. Davies y R.L. Geneve. 2005. Plant propagation: principles and practices. 7th ed. Prentice Hall, Upper Saddle River, NY.
Kozlowski. T.T. y S.G. Pallardy. 1997. Physiology of woody plants. 2nd ed. Academic Press, San Diego, CA.
Jansen, H; E. Bachthaler; E. Fölster y H.-C. Scharpf. 1998. Gärtnerischer Pflanzenbau. Verlag Ulmer, Stuttgart, Alemania.
Legge, A. P. 1974. Notes on the history, cultivation and uses of Physalis peruviana L. J. Royal Hort. Soc. 99(7), 310-314.
Lima, E.R.; A.S. Santiago; A.P. Araújo y M.G.Teixeira. 2005. Effects of seed size of sown seed on growth and yield of common bean cultivars of different seed sizes. Braz. J. Plant Physiol. 17(3), 273-281.
Liu, A. y J. G. Latimer. 1995. Water relations and abscisic acid levels of watermelon as affected by rooting volume restriction. J. Exp. Bot. 46, 1011-1015.
Matilla, A.J. 2008. Desarrollo y germinación de las semillas. pp. 537-558. En: Azcón-Bieto, J. y M. Talón (eds.). Fundamentos de fisiología vegetal. 2da ed. McGraw-Hill Interamericana, Madrid.
Peña, J.F.; J.D. Ayala; G. Fischer; B. Chaves; J.F. Cárdenas y P.J. Almanza. 2010. Relaciones semilla fruto en tres ecotipos de uchuva (Physalis peruviana L.). Rev. Colomb. Cienc. Hortic. 4(1), 43-54.
Ryugo, K. 1993. Fruticultura: Ciencia y arte. AGT Editor, México D.F.
SAS. 1999. SAS/STAT User's Guide. Versión 8. Vol. 2. SAS Institute, Cary, NC.
Salisbury, F.B. y C.W. Ross. 2000. Fisiología de las plantas. Editorial Paraninfo Thomson Learning, Madrid.
Schopfer, P. y A. Brennicke. 2006. Pflanzenphysiologie. Elsevier GmbH, Munich, Alemania.
Valencia, M.L. 1985. Anatomía del fruto de la uchuva. Acta Biol. Colomb. 1(2), 63-89.
Whitson, M. y P.S. Manos. 2005. Untangling Physalis (Solanaceae) from the Physaloids: A two-gene ohykigeny of the Physalinae. Syst. Bot. 30(1), 216-230.
Young, I.M.; K. Montagu y J.A.G. Conroy. 1997. Mechanical impedance of root growth directly reduces leaf elongation rates of cereals. New Phytologist 135, 613-619.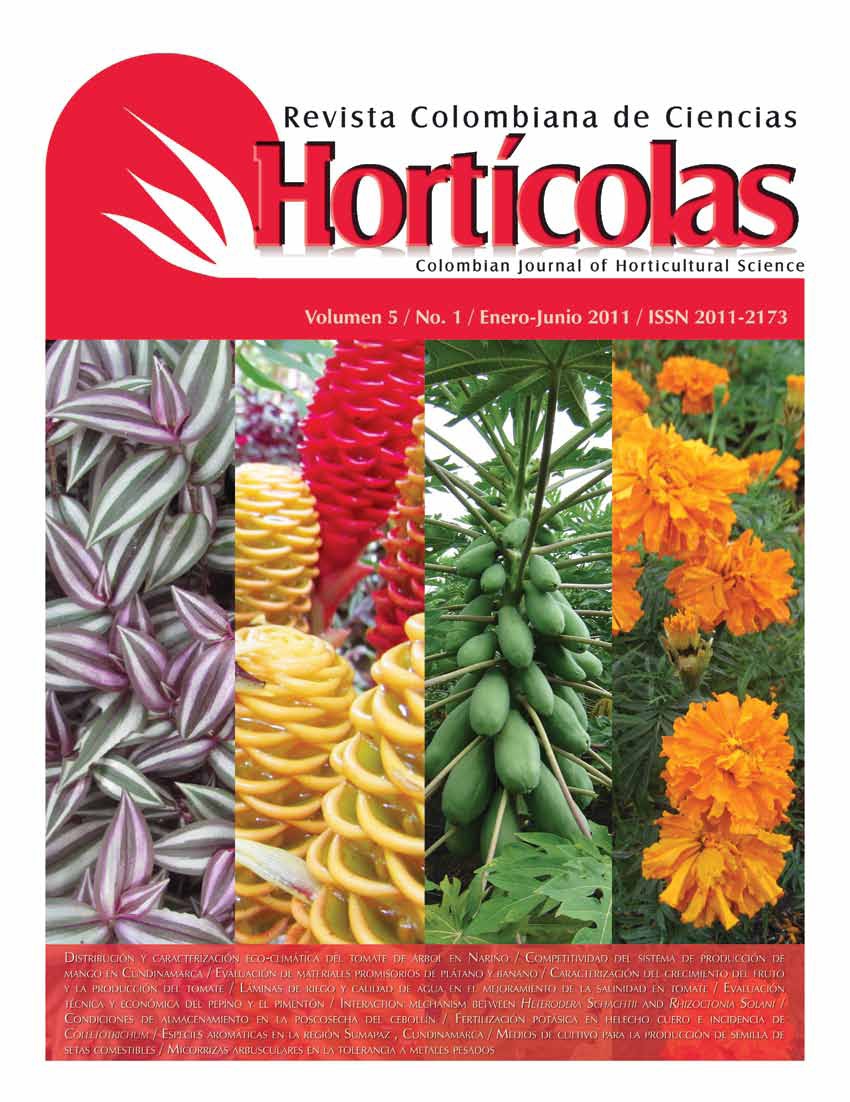 Downloads
Metrics
Views/Downloads
Abstract

997

PDF (Español)

2465
How to Cite
Díaz, L A, Fischer, G, & Pulido, S P. (2012). La fibra de coco como sustituto de la turba en la obtención de plántulas de uchuva (Physalis peruviana L.). Revista Colombiana de Ciencias Hortícolas, 4(2), 153–162. https://doi.org/10.17584/rcch.2010v4i2.1236
License
The copyright of the articles and illustrations are the property of the Revista Colombiana de Ciencias Hortícolas. The editors authorize the use of the contents under the Creative Commons license Attribution-Noncommercial-ShareAlike 4.0 International (CC BY-NC-SA 4.0). The correct citation of the content must explicitly register the name of the journal, name (s) of the author (s), year, title of the article, volume, number, page of the article and DOI. Written permission is required from publishers to publish more than a short summary of the text or figures.