Edible coating in the post-harvest conservation of endemic mangaba
Keywords:
Covering, Harconia scpeciosa var. gardineri, cerrado, shelf-life.
Abstract
Brazilian Cerrado is one of the largest biomes in the world and is considered the richest one. Mangaba fruit is representative of this biome, but it is highly perishable. The aim of this study was to evaluate the application of edible coatings on post-harvest mangaba. Fruits with a good appearance and absence of injuries were used. The experiment was done with a factorial scheme (3 treatments × 6 storage periods). After sanitization and drying, the mangabas received the treatments: (1) whey protein coating; (2) corn starch coating; and (3) no coating (control). Trays with the fruits were stored at room temperature (25°C). Mass loss, pH, total soluble solids (TSS), total titratable acidity (TTA), firmness and ascorbic acid levels were evaluated  after 0, 2, 4, 6, 8, and 10 days of storage. The data were evaluated with analysis of variance, Tukey test and regression. The edible coating with whey protein obtained satisfactory results in the conservation of mangaba, showing good results for the TSS/TTA ratio (16) and vitamin C (116 mg/100 g). The coatings influenced the shelf-life and post-harvest characteristics of this fruits, but the coating with whey protein was the most indicated for mangaba.
Downloads
Download data is not yet available.
References
Adámoli, J., J. Macedo, L.G. Azevedo, and J.M Neto. 1978. Caracterização da região dos Cerrados. pp. 33-98. In: Giedert, W.J. (ed.) Solos do Cerrado: Tecnologias e estratégias de manejo. CPAC, Planaltina-DF, Brazil.
Aguiar, S., I.S. Santos, N. Arêdes, and S. Silva. 2016. Redes-Bioma: Informação e Comunicação para ação sociopolítica em ecorregiões. Ambient. Soc. 19, 231-248. Doi: https://doi.org/10.1590/1809-4422ASOC20140004V1932016
Alleoni, A.C.C., A.P. Jacomino, and A.S. Rosa. 2006. Recobrimento de Laranja "Pêra" com filme de concentrado proteico de soro de leite associado a plastificantes. Pesq. Agropecu. Bras. 41, 1221-1226. Doi: https://doi.org/10.1590/S0100-204X2006000800002
Antunes, L.E.C., E.D. Gonçalves, and R. 2006. Trevisan. Alterações de compostos fenólicos e pectina em pós-colheita de frutos de Amora-Preta. Rev. Bras. Agrociênc. 12, 57-61.
AOAC (Association Official Analytical Chemistis). 2010. Official methods of analysis of AOAC International. 18th ed. Gaithersburg, MD, USA.
Assis, O.B.G. and D. Brito. 2014. Revisão: coberturas comestíveis protetoras em frutas: fundamentos e aplicações. Bras. J. Food Technol. 17, 87-97. Doi: https://doi.org/10.1590/bjft.2014.019
Campos, R.P., B. Knoch, P.A. Hiane, M.I.L. Ramos, and M.M. Ramos Filho. 2011. 1-MCP em Mangabas armazenadas em temperatura ambiente e a 11ºC. Rev. Bras. Frutic. 33, 206-212. Doi: https://doi.org/10.1590/S0100-29452011000500024
Calbo, A.G. and A.A. Nery. 1995. Medida de firmeza em hortaliças pela técnica de aplanação. Hortic. Bras. 3, 14-18.
Carnelossi, M.A.G., W.F.F. Toledo, D.C.L. Souza, M.L. Lira, G.F.J. Silva, R. Vahideh Rabani, and P.R.A. Viégas. 2004. Conservação pós-colheita de mangaba (Hancornia speciosa Gomes). Ciênc. Agrotecnol. 28, 1119-1125. Doi: https://doi.org/10.1590/S1413-70542004000500021
Chitarra, M.I.F. and A.B. Chitarra. 2005. Pós-colheita de frutas e hortaliças: fisiologia e manuseio. 2nd ed. UFLA, Lavras-MG, Brazil.
Embrapa. 2007. Sistema de produção da mangaba para os tabuleiros costeiros e baixadas litorâneas. In: http://sistemasdeproducao.cnptia.embrapa.br/FontesHTML/Mangaba/SistemaProducaoMangabaTabuleirosCosteiros/Introducao.html; consulted: February, 2017.
Fakhouri, F.M. and C. Grosso. 2003. Efeito de Coberturas Comestíveis na vida útil de goiabas in natura (Psidium guajava L.) mantidas sob refrigeração. Bras. J. Food Technol. 6, 203-211.
Farias, J.F., S.E. Araújo Neto, V.S. Álvares, P.A. Ferraz, D.T. Furtado, and M.L. Souza. 2011. Maturação e determinação do ponto de colheita de frutos de envira-caju. Rev. Bras. Frutic. 33, 730-736. Doi: https://doi.org/10.1590/S0100-29452011005000100
FDA (Food and Drug Administration). 2013. Generally recognized as safe (GRAS). In: http://www.fda.gov/Food/IngredientsPackagingLabeling/GRAS/; consulted: March, 2017.
Gago, M.B.P., S.M. Serra, and M.A.D. Rio. 2006. Color change of fresh-cut apples coated with whey protein concentrate-based edible coatings. Postharvest Biol. Technol. 39, 84-92. Doi: https://doi.org/10.1016/j.postharvbio.2005.08.002
Lee, S.K. and A.A. Kader. 2000. Preharvest and postharvest factors influencing vitamin C content of horticultural crops. Postharvest Biol. Tecnol. 20, 207-220.
Nasser, F.A.C.M., A.C. Boliani, M.F. Nasser, and M.K. Pagliarini. 2016. Conservação de mangabas submetidas à aplicação de quitosana. Rev Cientif. 44, 279-295. Doi: https://doi.org/10.15361/1984-5529.2016v44n3p279-285
Strohecker, R. and H.M. Henning. 1976. Análises de vitaminas: métodos comprovados. Ed. Paz Montalvo, Madrid, Spain.
Vicentino, S.L., P.A. Floriano, and D.C. Dragunski. 2011. Filmes de amido de mandioca modificados para recobrimento e conservação de uvas. Quim. Nova 34, 1309-1314, 2011. Doi: https://doi.org/10.1590/S0100-40422011000800003
Vieira, R.F., T.S. Agostini-Costa, D.B. Silva, S.M. Sano, and F.R. Ferreira. 2010. Frutas nativas da região Centro-Oeste do Brasil. Embrapa Informação Tecnológica, Brasília, Brazil. pp. 188-213.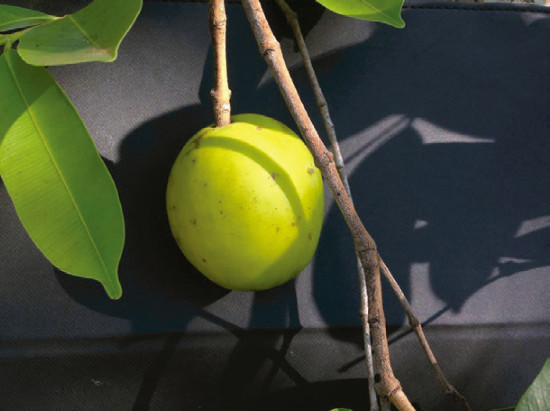 Downloads
How to Cite
Silva Siqueira, A P, Iachinski Melo, M E, de Oliveira Bonifácio, F, Urzêda Nunes de Melo, L J, Silva Tizzo, L, & Barbosa de Souza, E R. (2018). Edible coating in the post-harvest conservation of endemic mangaba. Revista Colombiana de Ciencias Hortícolas, 11(2), 286–293. https://doi.org/10.17584/rcch.2017v11i2.6670
License
The copyright of the articles and illustrations are the property of the Revista Colombiana de Ciencias Hortícolas. The editors authorize the use of the contents under the Creative Commons license Attribution-Noncommercial-ShareAlike 4.0 International (CC BY-NC-SA 4.0). The correct citation of the content must explicitly register the name of the journal, name (s) of the author (s), year, title of the article, volume, number, page of the article and DOI. Written permission is required from publishers to publish more than a short summary of the text or figures.