LA UNIVERSIDAD FEMENINA, LAS IDEOLOGÍAS DE GÉNERO Y EL ACCESO DE LAS COLOMBIANAS A LA EDUCACIÓN SUPERIOR 1940-1958
Abstract
Recientemente, la obra de Lucy Cohen, Colombianas en la vanguardia, ha abordado la lucha de las colombianas por el acceso a la educación secundaria y universitaria en las décadas de 1920 y 1930.  Cohen señala que estas pioneras, pese a ser un grupo minoritario, abrieron el camino a las siguientes generaciones y contribuyeron a una transformación fundamental de la sociedad.
Estos estudios se limitan a las experiencias de mujeres que desarrollaron carreras académicas y profesionales que habían sido monopolio masculino, como odontología, derecho, medicina, etc  Pero entre 1945 y 1947 se crearon en Colombia los Colegios Mayores de Cultura Femenina, conocidos popularmente con el nombre de Universidades Femeninas. Quienes los impulsaron atendían la demanda femenina de mayor preparación intelectual y cualificación profesional, y consideraban que era una necesidad y una responsabilidad de los poderes públicos ofrecer a las mujeres alternativas a las universidades masculinas. Se preguntaban si era útil para las mujeres y conveniente para la sociedad, que la mujer siguiera los mismos caminos académicos que habían sido pensados y diseñados para el hombre. En estos debates, así como en la promoción de estas universidades femeninas, participaron hombres y mujeres, pero estas últimas lo hicieron con enorme entusiasmo y dedicación, convencidas de que ciertos sectores académicos yprofesionales, así como las medias carreras, eran más apropiados para lasmujeres.
La creación de las universidades femeninas representó el  intento de algunos grupos de mujeres por ocupar espacios de poder, controlando estas instituciones, fue una forma de ofrecer alternativas educativas prácticas,  que permitieran a las mujeres  hacer compatible su vida familiar y profesional, fue una manera de influir en la transformación de los valores imperantes en la sociedad, convencidas de que ellas mismas debían crear nuevos modelos
sociales de mujer, una nueva feminidad que correspondiera a los nuevos tiempos y a las necesidades de la mujer moderna. Pese al relativo fracaso histórico de las universidades femeninas en Colombia, su estudio no deja de ser interesante, y nos permitirá establecer comparaciones con otros contextos, como fue el caso de Estados Unidos, donde las universidades femeninas privadas tuvieron una importancia mayor que las universidades mixtas y estatales en la formación de las primeras generaciones de universitarias.
WOMENS UNIVERSITY. THE IDEOLOGIES OF GENDER ANDTHE ACCESS OF COLOMBIAN WOMEN TO FURTHER EDUCATION. 1940 1958
Recently, the work of  Lucy Cohen, Colombianas en la vanguardia, has tackled the fight of Colombian women for the access to secondary education and university in the decades of 1920s and 1930s. Cohen remarks that these pioneer women, although they were a minority, opened the way to the next generation and contributed to fundamental social changes. These works are limited to the experiences of women who developed their careers in areas which
had been monopolised by men, as odonthology, laws, medicine, etc.  But, between 1945 and 1947, the Colegios Mayores de Cultura Femenina (High Colleges of Female Culture) were created in Colombia, known as Universidades Femeninas (Womens Universities). Those who promoted them attended the female request of a better education and professional training, and it was considered that it was a responsibility of the public policies to offer women alternatives to the male universities. They wondered if it was useful for women and suitable for society that women would follow the same curriculum which had been thought and designed for men. During these debates, as in promoting these womenuniversities, men and women participated, but the latter did enthusiastically.
They were persuaded that certain professions and short careers were more suitable for women.Womens universities represented the attempt of some women to occupy spaces of power controlling these institutions, it was a way of offering real educational alternatives, which allowed women to make compatible their family and professional lives. It was a way of creating new patterns, convinced of that they by themselves had to make a new female pattern which corresponded to the new times and the modern womens needs. Even though the relative historical failure of womens universities in Colombia, analysing them is still interesting and will allow us to establish comparisons to other context, as it was the case of USA, where private womens universities had  major importance than public and mixed universities in the education of the first generation of professional women.
Downloads
Download data is not yet available.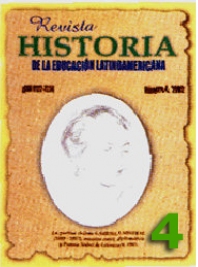 Downloads
How to Cite
López Oseira, R. (2012). LA UNIVERSIDAD FEMENINA, LAS IDEOLOGÍAS DE GÉNERO Y EL ACCESO DE LAS COLOMBIANAS A LA EDUCACIÓN SUPERIOR 1940-1958. Revista Historia De La Educación Latinoamericana, (4). Retrieved from https://revistas.uptc.edu.co/index.php/historia_educacion_latinamerican/article/view/1467
License
Los autores/as conservarán sus derechos de autor y garantizarán a la revista el derecho de primera publicación de su obra, el cuál estará simultáneamente sujeto a la Licencia de reconocimiento de Creative Commons que permite a terceros compartir la obra siempre que se indique su autor y su primera publicación esta revista.
Los autores/as podrán adoptar otros acuerdos de licencia no exclusiva de distribución de la versión de la obra publicada (p. ej.: depositarla en un archivo telemático institucional o publicarla en un volumen monográfico) siempre que se indique la publicación inicial en esta revista.
Se permite y recomienda a los autores/as difundir su obra a través de Internet (p. ej.: en archivos telemáticos institucionales o en su página web) antes y durante el proceso de envío, lo cual puede producir intercambios interesantes y aumentar las citas de la obra publicada. (Véase El efecto del acceso abierto).