The Journal History of Latin American Education (Rhela) is a diamond open access publication, (no costs for authors), peer-reviewed with two monographic issues (January and July) in each of its volumes.Rhela accepts research articles resulting from theoretical and empirical methodologies, as well as reviews on the history of education with an emphasis on Latin America, written in Spanish, Portuguese and English. Rhela's scientific target community: researchers, graduate students, professionals in history, heritage and cultural affairs, mainly. 
Rhela also welcomes comparative or research works from other regions and continents dealing with history of education, in contexts with problems similar to those of Latin America.


The Latin American and Caribbean university


Latin American educators, their formation and leadership


Education in rural, indigenous and Afro-descendant communities


Normal schools


Pedagogies, peace and resilient populations


Education based on new technologies


University and university movements


History of comparative education


Since its creation in 1998, Rhela has been funded by the Faculty of Educational Sciences of the Universidad Pedagógica y Tecnológica de Colombia (Uptc) and the Society for the History of Latin American Education (SHELA).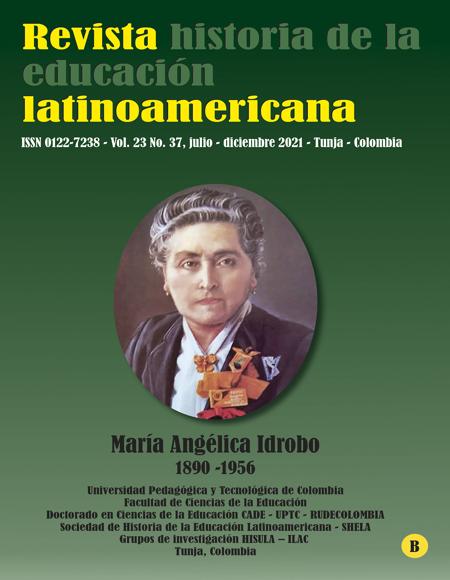 Since 2019 when the world went pandemic with COVID-19 our lives have been altered. This issue of RHELA journal focuses on changes in the education system, how the pandemic has affected our ways of teaching, of learning. The approach to the pandemic ranges from local or micro analysis in primary or university education to the approaches of international organizations such as UNESCO, UNICEF or international databases such as Web of Science or Dialnet.
Published: 2021-07-16
EDITORIAL
ARTICULOS
RESEÑA DE LIBROS Y REVISTAS
Portales Web y repositorios en los cuales está RHELA:
http://www.uptc.edu.co/enlaces/rhela; http://biblioteca.clacso.edu.ar/banners/;http://www.bne.es/
http://www.grupodeinvestigacionhisula.com; http://www.grupodeinvestigacionilac.com
http://www.shela-hedu.org; http://www.bibliotecanacional.gov.co/ (Biblioteca Nacional, Colombia)
Metric
Ranking Rev - Sapiens 2015 (D4) http://www.sapiensresearch.org/revsapiens/d4
Matriz de Información para el Análisis de Revistas
http://www.journal-scholar-metrics.infoec3.es/layout.php?id=journal&j_name=Revista+Historia+de+la+Educación+Latinoamericana&subject=education
https://scholar.google.com/citations
Revistas Amigas: Praxis ISSN 1657 - 4815 http://revistas.unimagdalena.edu.co/index.php/praxis/issue/view/170