La Economía del Estado Estacionario: ¿El único camino hacia un futuro sostenible?
Keywords:
Crecimiento Económico, desarrollo sostenible, estado estacionario. (Economic growth, sustainable development, steady state)
Abstract
Los economistas ecológicos (p.ej.: Herman Daly) dicen que el desarrollo sostenible solo puede alcanzarse mediante un drástico cambio en nuestro sistema económico basado en el crecimiento. El crecimiento  económico  continuo siendo éste el objetivo de cualquier gobierno, es inherentemente incompatible con el desarrollo sostenible, a menos que el desarrollo sostenible sea definido de forma débil, es decir aceptando sustituibilidad entre capital producido por el hombre y capital natural. Esto ya se lleva actualmente a cabo por la teoría económica neoclásica, las raíces de la cual se encuentran en el concepto del valor, análogo al principio de conservación de la mecánica clásica. Algunos autores esgrimen que es este concepto del valor, combinado con la panacea del progreso tecnológico, lo que permite a la  teoría económica neoclásica creer en un crecimiento económico ilimitado.
ABSTRACT
Ecological Economists (e.g.: Herman Daly) claim that sustainable development can only be achieved by drastically changing our growth based economic system. Continuous economic growth, which is the goal of every government, is inherently incompatible with sustainable development, unless sustainable development is defined in a weak sense, that is as accepting substitutability between human made and natural capital. This is currently done by neoclassical economic theory, the roots of which are based on a value concept, analogous with the conservation principle of classical mechanics. Some authors argue that it is this value concept combined with the panacea of technological progress, which allows neoclassical economic theory to believe in unlimited economic growth.
Downloads
Download data is not yet available.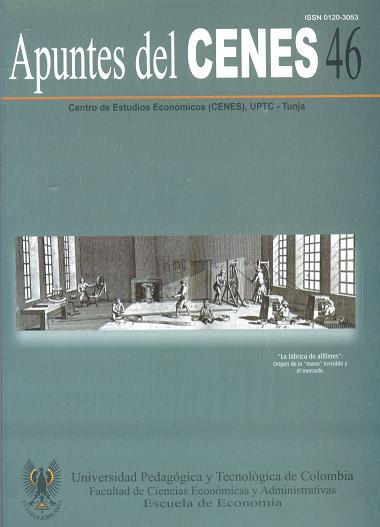 Downloads
Metrics
Views/Downloads
Abstract

1354

PDF (Español)

6655
How to Cite
Kerschner, C. (2008). La Economía del Estado Estacionario: ¿El único camino hacia un futuro sostenible?. Apuntes del Cenes, 27(46), 71–24. https://doi.org/10.19053/01203053.v27.n46.2008.238
License
Copyright (c) 2008 Christian Kerschner
This work is licensed under a Creative Commons Attribution-NonCommercial-ShareAlike 4.0 International License.