El papel de los tributos en los fallos del mercado
Keywords:
Fallos de mercado, tributos, sector público, estado, externalidades. (Bugs market, taxation, public sector, state, externalities)
Abstract
La existencia del estado y particularmente de las acciones de la economía del sector público se sustenta en el análisis de los fallos de mercado. Esto permite afirmar con algún grado de certeza que es necesario el estado para eliminar o limitar las consecuencias negativas de los fallos. Además, se puede explicar la intervención estatal en el cumplimiento de sus objetivos fundamentales como los sociales, medioambientales y de seguridad. Debe reconocerse que el estado actúa como un ente que busca lograr la redistribución del ingreso (objetivos sociales) y la estabilidad (objetivos de seguridad), todo ello de la mano de las políticas fundamentadas que permitan el desarrollo económico y social. La redistribución del ingreso y lo referente a la captación de recursos tributarios son fines del estado. Sin embargo el uso adecuado de las políticas de impuestos pueden mejorar las condiciones económicas disminuyendo o en algunos casos eliminando los fallos de mercado.
ABSTRACT
The existence of the state and particularly the actions of the economy in the public sector are based on an analysis of market failures. This allows us to say with any degree of certainty that the state is required to eliminate or limit the negative consequences of the failures. In addition, it may explain the state intervention in fulfilling its fundamental objectives as well as social, environmental and security. It should be recognized that the state is acting as an entity that seeks to bring about redistribution of income (social goals) and stability (security objectives), all in the hands of the policies founded to allow economic and social development. The redistribution of income in terms of raising resources are tax purposes in the state. However, the proper use of tax policies can improve economic conditions by eliminating or decreasing market failures.
Downloads
Download data is not yet available.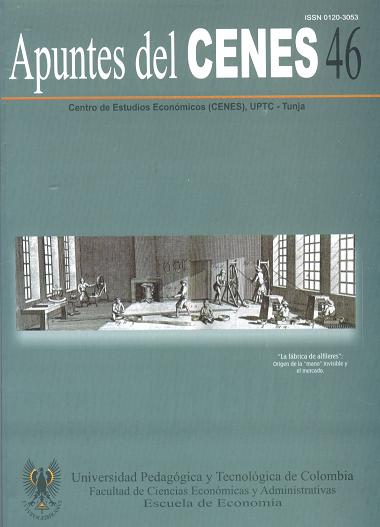 Downloads
Metrics
Views/Downloads
Abstract

1206

PDF (Español)

1152
How to Cite
Romero Becerra, J T. (2008). El papel de los tributos en los fallos del mercado. Apuntes del Cenes, 27(46), 183–202. Retrieved from https://revistas.uptc.edu.co/index.php/cenes/article/view/241
License
Copyright (c) 2008 John Tairo Romero Becerra
This work is licensed under a Creative Commons Attribution-NonCommercial-ShareAlike 4.0 International License.