Avocado Marketing in Colombia
Keywords:
Modelos de series multivariadas
Abstract
A review of avocado exports and prices in Colombia was carried out, in relation to free trade agreements with different countries and communities over time. For the statistical analysis of the monthly prices per kilo of avocado in different marketplaces in Colombia, space-time models were used, such as the mixed linear model in a period of nine years (from January 2013 to August 2022). An increase in Hass variety prices was observed, while in Papelillo and common varieties there was a reduction. It was also identified that Bogotá has the highest prices for this fruit compared to other cities.
Downloads
Download data is not yet available.
References
Arias, F., Montoya, C. & Velásquez, O. (2018). Dinámica del mercado mundial de aguacate. Revista Virtual Universidad Católica del Norte, (55), 22 -35.
Asmar, S. (2020a). Exportaciones de aguacate hass llegan a Japón, a pesar del contagio del Covid-19. Agronegocios. https://www.agronegocios.co/agricultura/exportaciones-de-aguacate-hass-llegan-a-japon-a-pesar-del-covid-19-2998266
Asmar, S. (2020b). En alianza con Smurfit Kappa, el aguacate tipo hass de Cartama llega a Japón. Agronegocios. https://www.agronegocios.co/agricultura/en-alianza-con-smurfit-kappa-el-hass-de-cartama-llega-a-japon-2991821
Banco de la República -Banrep-. (2022). Tasa Representativa del Mercado (TRM- Peso por dólar). https://www.banrep.gov.co/es/estadisticas/trm
Betancur, V. & Ordóñez, J. (2019). Análisis de la factibilidad de las exportaciones de aguacate hass a Holanda en los últimos tres años. Tecnológico de Antioquia Institución Universitaria. https://dspace.tdea.edu.co/bitstream/handle/tdea/643/Factibilidad%20exportaciones.pdf?sequence=1&isAllowed=y
Corpohass. (2022). Boletín Corpohass, especial de exportaciones. https://www.corpohass.com/
DANE. (2022). Sistema de Información de Precios y Abastecimiento del Sector Agropecuario (SIPSA). https://www.dane.gov.co/index.php/estadisticas-por-tema/agropecuario/sistema-de-informacion-de-precios-sipsa
Datos Abiertos. (2022). Aguacate. Datos.gov https://www.datos.gov.co/Agricultura-y-Desarrollo-Rural/Aguacate/k4ki-fcqi
DVA. (2022). Subida del dólar: impacto en el agro colombiano. https://dva.com.co/subida-del-dolar-impacto-en-el-agro-colombiano/
FAO. (2010). La función de los mercados mayoristas en los centros urbanos de Colombia. https://www.fao.org/3/as344s/as344s.pdf
Forbes. (2022a). Colombia le saca el jugo al limón Tahití: sus ventas en el mundo están disparadas. https://forbes.co/2022/06/09/actualidad/colombia-le-saca-el-jugo-al-limon-tahiti-sus-ventas-en-el-mundo-estan-disparadas
Forbes. (2022b). Aguacate Hass colombiano llegó por primera vez a Chile. https://forbes.co/2022/09/09/empresas/aguacate-hass-colombiano-llego-por-primera-vez-a-chile
Guajardo, R. & Villezca, P., (2003). El mercado del aguacate en el TLCAN: una perspectiva desde un modelo de equilibrio espacial. Entorno Económico, 41(244). http://eprints.uanl.mx/8673/1/El%20mercado%20del%20aguacate.pdf
Guerra, M., Chacón M., Jaramillo, S., (2021). El mercado del aguacate Hass en Japón: retos para los exportadores colombianos. Revista Mundo Asia Pacífico, 10(18). https://publicaciones.eafit.edu.co/index.php/map/article/download/7038/5209/
Hernández, F. & López, J. (2022). Modelos mixtos con R. https://fhernanb.github.io/libro_modelos_mixtos/
ICA. (2022a). Aguacate Hass colombiano a un paso de conquistar el mercado chileno. https://www.ica.gov.co/noticias/ica-aguacate-hass-colombiano-cerca-chile
ICA. (2022b). Con 23 mil kilos de aguacate Hass, Colombia inicia la conquista del mercado de Chile. https://www.ica.gov.co/noticias/ica-23mil-kilos-aguacate-hass-rumbo-chile
ITC. (2022). Trade Statistics for International Business Development Monthly, Quarterly and Yearly Trade Data. Import & Export Values, Volumes, Growth Rates, Market Shares, etc. Trade Map. https://www.trademap.org
Minagricultura. (2017). Minagricultura entrega en Armero planta de aguacate que beneficia a 2.800 familias productoras. https://www.minagricultura.gov.co/noticias/Paginas/ minagricultura-entrega-planta-aguacate-armero.aspx
Minagricultura. (2018). Cadena productiva de aguacate. https://sioc.minagricultura.gov.co/Aguacate/Documentos/2018-12-30%20Cifras%20 Sectoriales.pdf
Mincit. (2019). Firma del acuerdo que habilita la exportación de aguacate Hass a China 'permitirá aumentar el área sembrada y cambiarles la vida a muchos productores'. https://id.presidencia.gov.co/Paginas/prensa/2019/190731-Firma-acuerdo-que-habilita-exportacion-aguacate-Hass-China-permitira-aumentar-area-sembrada-cambiarles-vida-producto.aspx
Mincit. (2021). Sector agropecuario, ganador en el TLC con la Unión Europea. https://www.mincit.gov.co/prensa/noticias/comercio/sector-agropecuario-en-tlc-con-la-union-europea
Mincomercio. (2021). Informe sobre los acuerdos comerciales vigentes de Colombia. https://www.tlc.gov.co/temas-de-interes/informe-sobre-el-desarrollo-avance-y-consolidacion/documentos/ley-1868-informe-tlcs-2021-congreso.aspx
Portafolio. (2017). Estados Unidos ha duplicado consumo de aguacate Hass colombiano. https://www.portafolio.co/economia/exportaciones-de-aguacate-hass-potencian-agroindustria-colombiana-511347
R Core Team. (2022). R: A Language and Environment for Statistical Computing. R Foundation for Statistical Computing. https://www.R-project.org/
Redagrícola. (2022). Futuro con sabor a aguacate Hass. https://www.redagricola.com/co/futuro-con-sabor-a-aguacate-hass/#:~:text=gradualmente%20este%20mercado.-,El%20aguacate%20Hass%20es%20una%20manera%20de%20mostrar%20que%20Colombia,el%20ejemplo%20empieza%20por%20casa.
Ríos-Castaño, D. & Tafur-Reyes, R. (2003). Variedades de aguacate para el trópico: caso Colombia. En Proceedings V World Avocado Congress (Actas V Congreso Mundial del Aguacate) (pp. 143-147). https://www.avocadosource.com/WAC5/Papers/WAC5_p143.pdf
Trochez González, J. & Valencia Cárdenas, M. (2014). Análisis de series temporales en el sector lácteo de Antioquia para detectar efectos de la apertura comercial. Revista Investigaciones Aplicadas, 8(2), 140-151.
Trochez González, J., Valencia Cárdenas, M. & Salazar, J. C. (2018). Los efectos del Tratado de Libre Comercio con Estados Unidos y los precios del maíz colombiano. Apuntes del Cenes, 37(65), 151-172.
World Avocado Organization -WAO- (2023). Los secretos del aguacate. WAO. https://avocadofruitoflife.com/es/recetas/
West, B., Welch, K. & Galecki, A. (2007). Linear Mixed Models. A Practical Guide Using Statistical Software. Prentice-Hall.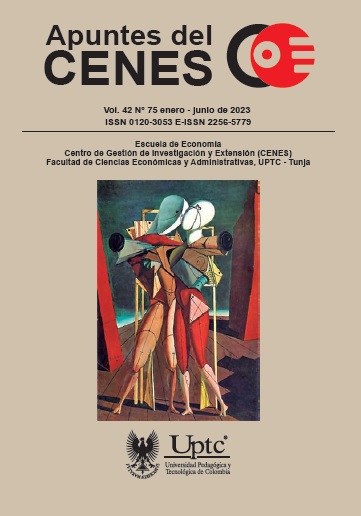 Downloads
How to Cite
Torres Madroñero, M. C., & Trochez Gonzalez, J. (2023). Avocado Marketing in Colombia . Apuntes Del Cenes, 42(75). https://doi.org/10.19053/01203053.v42.n75.2023.15286
Section
Regional economics
License
Copyright (c) 2023 Johanna Trochez Gonzalez, María Constanza Torres Madroñero
This work is licensed under a Creative Commons Attribution-NonCommercial-ShareAlike 4.0 International License.
By submitting articles for evaluation, the author agrees to transfer the publishing rights to Revista Apuntes del CENES for publishing in any format or mean and that the attached partial use license will be signed.
The journal is under licence Attribution-NonCommercial-ShareAlike 4.0 International (CC BY-NC-SA 4.0)