Use of indole-3-acetic acid (IAA) in postharvest of cajá-manga (Spondias dulcis)
Keywords:
Auxin, Storage, Spondias cytherea, Vegetable hormone
Abstract
The cajá-manga (Spondias dulcis Parkinson) is an exotic fruit originally from the Polynesian Islands. It is a climacteric fruit, and the postharvest life of its fruits is very short, due to its fast ripening. Thus, this study aimed to evaluate the effect of auxin concentrations on delaying the ripening process of cajá-manga fruits. One hundred twenty cajá-manga fruits obtained from, Hidrolândia-GO, Brazil, at 16°55'32.35" S and 49°21'39.76" W). A completely randomized design in a 5×2+2 factorial scheme was used. Five indole-3-acetic acid (IAA) concentrations (0, 50, 100, 150 and 200 mg L-1), two moments of evaluations (at 5 and 10 days after IAA applications), and two additional treatments (ripe and unripe fruits) were evaluated. Evaluations were carried out every 5 days, in triplicates. The physicochemical variables, pulp firmness, titratable acidity (TA), soluble solids (SS), ascorbic acid content, and color of pulp and peel were evaluated. The concentrations of 50 and 100 mg L-1 of IAA presented the best results, causing a delay in ripening and the lowest sensory losses in the fruits of cajá-manga.
Downloads
Download data is not yet available.
References
AOAC, Official Methods of Analysis of AOAC International. 2012. Official methods of analysis, Association of official analytical chemist. 19th ed. Washington DC.

Belisário, C.M., A.G. Soares, R.C.C. Coneglian, G.R. Plácido, C.F.S. Castro, and L.A.N. Rodrigues. 2020. Carotenoids, sugars, ascorbic acid, total phenolics, and antioxidant activity of murici from Brazilian Cerrado during refrigerated storage. Ciênc. Rural 50, e20180620. Doi: https://doi.org/10.1590/0103-8478cr20180620

Bonato, V.C.B. 2015. Interação etileno-auxina e sua influência na produção de compostos voláteis do aroma durante o amadurecimento do tomate (Solanum lycopersicum). MSc thesis. Faculdade de Ciências Farmacêuticas, Universidade de São Paulo, Sao Paulo, Brazil.

Chaves Neto, J.R. and S.M. Silva. 2019. Caracterização física e físico- química de frutos de Spondias dulcis Parkinson de diferentes microrregiões do Estado da Paraíba. Colloq. Agrar. 15, 18-28. Doi: https://doi.org/10.5747/ca.2019.v15.n2.a281

Ee, C.T., C.L. Hii, S.P. Ong, C.L. Law, A. Julkifle, K.W. Tan, and C.H. Tan. 2019. Convective air drying of Spondias Dulcis and product quality. Int. J. Food Eng. 15(3-4), 20180228. Doi: https://doi.org/10.1515/ijfe-2018-0228

Evangelista, Z.R., A.J. Campos, D.C. Silva, K.K.S. Araújo, and L.F.C. Campos. 2019. Radiação UV-C sob a qualidade pós-colheita de jabuticaba. Rev. Agric. Neotrop. 6, 48-53. Doi: https://doi.org/10.32404/rean.v6i1.2222

Favorito, P.A., F. Villa, L.E. Taffarel, and M.C.C. Rotili. 2017. Qualidade e conservação pós-colheita de frutos de maracujá-amarelo sob armazenamento. Sci. Agrar. Parana. 16, 449-453.

Fernandes, F.H.A., F. Boylan, and H.R.N. Salgado. 2018. Quality standardization of herbal medicines of Spondias dulcis Parkinson using analytical and microbiological analysis. J. Therm. Anal. Calorim. 134, 1923-1928. Doi: https://doi.org/10.1007/s10973-018-7486-2

Guimarães, A.R.D., K.V. Leão, A.M. Mapeli, and L.C. Schneider. 2020. Caracterização física e química de frutos da cajarana (Spondias dulcis Parkinson). Braz. J. Develop. 6, 6693-6701. Doi: https://doi.org/10.34117/bjdv6n2-100

Kumar, R., A. Khurana, and A.K. Sharma. 2014. Role of plant hormones and their interplay in development and ripening of fleshy fruits. J. Exp. Bot. 65, 4561-4575. Doi: https://doi.org/10.1093/jxb/eru277

Mendes, T.D.C., A.M. Pereira, M. Puiatti, P.R. Cecon, and F.L. Finger. 2018. Shelf life of gilo fruits treated with ethylene. Rev. Bras. Ciênc. Agrár. 13, e5565. Doi: https://doi.org/10.5039/agraria.v13i3a5565

Petri, J.L., F.J. Haverroth, G.B. Leite, A.A. Sezerino, and M. Couto. 2016. Reguladores de crescimento para frutíferas de clima temperado. Epagri, Florianopolis, Brazil.

Pino, J.A. 2019. Conocimientos acerca de los constituyentes volátiles que influyen en el aroma y sabor de la guayaba. Ciênc. Tecnol. Aliment. 29, 72-77.

Ramos, A.P., A.M. Zanardi, C. Amarante, T. Vidal C.A. Steffens, and A.B. Pereira-Netto. 2019. Effects of an auxin and a brassinosteroid on physical, chemical and biochemical at tributes of 'Galaxy' apples. Ciênc. Rural 49, e20180311. Doi: https://doi.org/10.1590/0103-8478cr20180311

Sanches, A.G., M.B. Silva, A.G.S. Moreira, and J.M. Costa. 2017. 1-Metilciclopropeno na manutenção da qualidade pós-colheita de taperebá (Spondia Mombin L.). Rev. Agric. Neotrop. 4, 56-62. Doi: https://doi.org/10.32404/rean.v4i2.1398

Strohecker, R.L. and H.M. Henning. 1967. Analisis de vitaminas: métodos comprobados. Paz Montalvo, Madrid.

Taiz, L. and E. Zeiger. 2017. Fisiologia e desenvolvimento vegetal. 6.ed. Artmed, Porto Alegre, Brazil.

Zhang, W. and W. Jiang. 2019. UV treatment improved the quality of postharvest fruits and vegetables by inducing resistance. Trends Food Sci. Technol. 92, 71-80. Doi: https://doi.org/10.1016/j.tifs.2019.08.012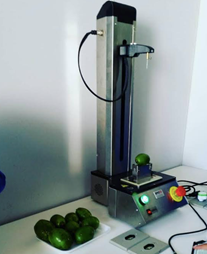 Downloads
How to Cite
Silva, F. C. da, Santana, H. A., Menezes, J. O. S. de, Tavares, M. C., Martins, R. D., & Siqueira, A. P. S. (2020). Use of indole-3-acetic acid (IAA) in postharvest of cajá-manga (Spondias dulcis). Revista Colombiana De Ciencias Hortícolas, 14(2), 201–208. https://doi.org/10.17584/rcch.2020v14i2.11228
License
The copyright of the articles and illustrations are the property of the Revista Colombiana de Ciencias Hortícolas. The editors authorize the use of the contents under the Creative Commons license Attribution-Noncommercial-ShareAlike 4.0 International (CC BY-NC-SA 4.0). The correct citation of the content must explicitly register the name of the journal, name (s) of the author (s), year, title of the article, volume, number, page of the article and DOI. Written permission is required from publishers to publish more than a short summary of the text or figures.