Efecto de diferentes sustratos en la calidad de plántulas de berenjena (Solanum melongena L.)
Abstract
La berenjena es una hortaliza con alta demanda en el departamento de Córdoba (Colombia), donde tiene importancia social y económica. El sistema actual de producción presenta algunos limitantes tecnológicos, uno de ellos es la producción de plántulas, y la de calidad de los sustratos. Con el fin de evaluar los sustratos disponibles de la región, se realizó un diseño completamente al azar con siete tratamientos, correspondientes a mezclas de sustratos (T1 = 50% aluvión + 50% casacarilla de arroz, T2 = 40% aluvión +40% cascarilla de arroz + 20% lombriabono, T3 = 40% aluvión + 40% cascarilla de arroz + 20% gallinaza, T4 = 40% arena +40% aluvión + 20% lombriabono, T5 = 40% arena + 40% aluvión + 20% gallinaza, T6 = 40% aluvión + 40% fibra de coco + 20% lombriabono y T7 = 40% aluvión + 40% fibra de coco + 20% gallinaza), con seis repeticiones. Se utilizaron bolsas de polipropileno de 6 x 8 pulgadas y semillas del cultivar CO-029. Los sustratos constituidos por mezcla de lombriabono o gallinaza, arena y aluvión obtuvieron plántulas de mayor tamaño y óptima calidad, mientras que la cascarilla de arroz o fibra de coco, generaron plántulas de inferior calidad agronómica. El porcentaje de germinación y el índice de velocidad de germinación no fueron afectados por la composición de los sustratos.
Palabras clave adicionales: semilleros, lombriabono, gallinaza, fibra de coco, altura de plántula.
Downloads
Download data is not yet available.
References
Agronet. 2013. Análisis estadístico de área y producción agrícola y pecuaria. En http://www.agronet.gov.co/agronetweb1/Estadísticas/ReportesEstadísticos.aspx; consulta: febrero 16 de 2013.
Andrade-Rodríguez, M., J.J. Ayala-Hernández, I. Alia- Tejacal, H. Rodríguez-Mendoza, C.M. Acosta-Durán y V. López-Martínez. 2008. Efecto de promotores de la germinación y sustratos en el desarrollo de plántulas de papayo. Rev. Fac. Agron. (LUZ) 25 (4), 617-625.
Araméndiz, H., C. Cardona, A. Jarma y M. Espitia. 2008. El cultivo de la berenjena (Solanum melongena L.). Editorial Produmedios, Bogotá.
Araújo, W.B.M., R.D. Alencar, V. Mendonça, E.V. Medeiros, R.C. Andrade y R.R. Araujo. 2010. Esterco caprino na composição de substratos para formação de mudas de mamoeiro. Ciênc. Agrotec. 34(1), 68- 73.
Arenas, M., C.S. Vavrina, J.A. Cornell, E.A. Hanton y G.J. Hochmuth. 2002. Coir as an alternative to peat in media for tomato transplant production. HortScience 37 (2), 309-312.
Bezerra, F.C., F.V. Meyer Ferreira y T.C. Silva. 2009. Produção de mudas de berinjela em substratos à base de resíduos orgânicos e irrigadas com água ou solução nutritiva. Hortic. Bras. 27 (2), 1348-1352.
Costa, C.A., S.J. Ramos, R.A. Sampaio, D.O. Guilherme y L.A. Fernandes. 2007. Fibra de coco e resíduo de algodão para substrato de mudas de tomateiro. Hortic. Bras. 25 (4), 387-391.
Dias, M.A., J.C. Lopes, N.B. Corrêa y D.C. Dias. 2008. Germinação de sementes e desenvolvimento de plantas de pimenta malagueta em função do substrato e da lâmina de água. Rev. Bras. Sementes 30 (3), 115-121.
Guimarães, V.F., M.M. Echer y K. Minami, 2002. Métodos de produção de mudas, distribuição de matéria seca produtividade de plântulas de beterraba. Hortic. Bras. 20 (3), 505-509.
Maguire, J.D. 1962. Speed of germination aid in selection and evaluation for seedling emergence and vigor. Crop Sci. 2(1), 176-177.
Moreira, M.A., F.M. Dantas, F.G. Bianchini y P.R. Viégas. 2010. Produção de mudas de berinjela com uso de pó de coco. Rev. Bras. Produtos Agroindustriais 12(2), 163-170.
Oliveira, A.B. y F.F.F. Hernández, 2008. Absorção de nutrientes em mudas de berinjela cultivadas em substratos alternativos. Rev. Ciênc. Agron. 39(4), 583-589.
Ortega-Martínez, L.D., J. Sánchez-Olarte, R. Díaz-Ruiz y J. Ocampo-Mendoza. 2010. Efecto de diferentes sustratos en el crecimiento de plántulas de tomate (Lycopersicum esculentum Mill.). Ra Ximhai 6(3), 365-372.
Quesada, G. y R. Méndez. 2005. Evaluación de sustratos para almácigos de hortalizas. Agron. Mesoamericana 16(2), 171-183.
Reis, R., R.M. Guimarães, A.R. Vieira, N.R. Gonçalves y V. Costa. 2012. Physiological quality of osmoprimed eggplant seeds. Ciênc. Agrotec. 36(5), 526-532.
Rodrigues, E.T., P.A.M. Leal, E. Costa, E. de Paula y V. Gomes. 2010. Produção de mudas de tomateiro em diferentes substratos e recipientes em ambiente protegido. Hortic. Bras. 28(4), 483-488.
Samôr, O.J.M., J.G. de A. Carneiro, D.G. Barroso y P.S. dos S. Leles. 2002. Qualidade de mudas de angico e sesbânia, produzidas em diferentes recipientes e substratos. Rev. Árvore 26(2), 209-215.
Sampaio, R.A., S.J. Ramos, D.O. Guilherme, C.A. Costa y L.A. Fernandes. 2008. Produção de mudas de tomateiro em substratos contendo fibra de coco e pó de rocha. Hortic. Bras. 26 (4), 499-503.
Silveira, E.B.; V.J.L.B. Rodrigues, A.M.A. Gomes, R.L.R. Mariano y J.C.P. Mesquita. 2002. Pó de coco como substrato para produção de mudas de tomateiro. Hortic. Bras. 20 (2), 211-216.
Schmitz, J.A., P.V.D. Souza y A.N. Kämpf. 2002. Propriedades químicas e físicas de substratos de origem mineral e orgânica para o cultivo de mudas em recipientes. Ciência Rural 32 (6), 937-944.
Taiz, L. y E. Zeiger. 2004. Fisiología vegetal. 3a ed. Editorial Armed, Porto Alegre, Brasil.
TuTiempo. 2013. Clima en Monteria / Los Garzones el tiempo en 2012. Datos reportados por la estación meteorológica: 800630 (SKMR). Valores climáticos medios y totales anuales. http://www.tutiempo.net/clima/Monteria_Los_Garzones/2012/800630.htm; consulta: abril de 2013.
Velásquez, V.R. y M.D. Amador. 2007. Análisis sobre la investigación fitopatológica de Chile seco (Capsicum ornearum L.). Rev. Mex. Fitopatol. 25(1), 80-84.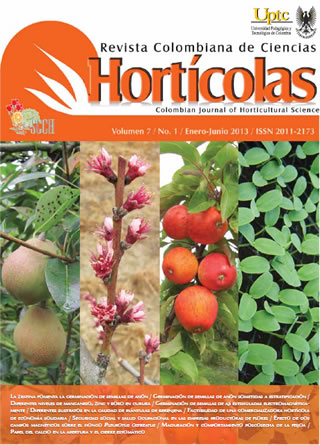 Downloads
How to Cite
Araméndiz-Tatis, H., Cardona-Ayala, C., & Correa-Álvarez, E. (2013). Efecto de diferentes sustratos en la calidad de plántulas de berenjena (Solanum melongena L.). Revista Colombiana De Ciencias Hortícolas, 7(1), 55–61. https://doi.org/10.17584/rcch.2013v7i1.2035
Section
Vegetable section
License
The copyright of the articles and illustrations are the property of the Revista Colombiana de Ciencias Hortícolas. The editors authorize the use of the contents under the Creative Commons license Attribution-Noncommercial-ShareAlike 4.0 International (CC BY-NC-SA 4.0). The correct citation of the content must explicitly register the name of the journal, name (s) of the author (s), year, title of the article, volume, number, page of the article and DOI. Written permission is required from publishers to publish more than a short summary of the text or figures.