Evaluación del efecto de un biofertilizante ligado a un soporte orgánico mineral en un cultivo de lechuga en la Sabana de Bogotá bajo condiciones de invernadero
Keywords:
rizósfera, Lactuca sativa, consorcio de microorganismos, compost, materia orgánica.
Abstract
Se evaluó el efecto a nivel de invernadero de un biofertilizante integrado en soporte orgánico mineral, en un cultivo de lechuga, var. Batavia, en la Sabana de Bogotá. Se evaluaron cinco tratamientos cada uno con 22 plantas así, compost + biofertilizante (T1), biofertilizante en soporte orgánico mineral (T2), biofertilizante común (T3), fertilizante químico (T4) y testigo absoluto (T5). Se realizaron muestreos de tipo microbiológico (conteo de poblaciones microbianas cultivo dependientes) en tres tiempos diferentes 25, 46 y 68 días. Adicionalmente se realizó un muestreo de tipo agronómico al día 68 de las hojas (longitud, área foliar, peso fresco y seco) y raíces (longitud, peso fresco y seco). Los resultados indicaron, que en los tratamientos compost + biofertilizante y biofertilizante en soporte orgánico mineral, así como en el fertilizante químico se evidenció un efecto importante, en cuanto a los parámetros agronómicos valorados en las plantas, en comparación con los otros tratamientos. Sin embargo, no se observaron variaciones significativas en las poblaciones de microorganismos cultivo dependientes evaluadas.
Downloads
Download data is not yet available.
References
Atlas, R.M. 2004. Handbook of microbiological media. 3rd ed. CRC Press, Boca Raton, FL.
Atlas, R.M. y R. Bartha. 2002. Ecología microbiana y microbiología ambiental. Prentice Hall, Madrid.
Awasthi, R., R. Tewari y H. Nayyar. 2011. Synergy between plants and P-solubilizing microbes in soils: Effects on growth and physiology of crops. Int. Res. J. Microbiol. 2(12), 484-503.
Barassi, C. A., R.J. Sueldo, C.M. Creus, L.E Carrozzi, E.M. Casanovas y M.A. Pereyra. 2007. Azospirillum spp., a dynamic soil bacterium favorable to vegetable crop production. Dynamic Soil Dynamic Plant 1(2), 68-82.
Barea, J.-M., M.J Pozo, R. Azcón y C. Azcón-Aguilar. 2005. Microbial co-operation in the rhizosphere. J. Exp. Bot. 56(417), 1761-1778.
Calvo, P., L. Meneses y D. Zúñiga. 2008. Estudio de las poblaciones microbianas de la rizosfera del cultivo de papa (Solanum tuberosum) en zonas alto andinas. Ecol. Apl. 7(1,2), 141-148.
Cepeda, M. 2008. Prueba a nivel de invernadero y determinación de la sobrevivencia de un biofertilizante producido a partir de bacterias solubilizadoras de fósforo utilizando un medio de cultivo alternativo (Ecuador). Escuela Politécnica del Ejército, Santo Domingo de las Tsáchilas, Ecuador.
Costantini, A., A. Segap, D. Lopes de Almeida y H. De-Polli. 1998. Efecto de diferentes fertilizantes sobre el carbono de biomasa microbiana, respiración y rendimiento bajo cultivo de lechuga. Pesq. Agropec. Bras. 33, 71-76.
Da Silva, P. y E. Nahas. 2002. Bacterial diversity in soil in response to different plants, phosphate fertilizers and liming. Braz. J. Microbiol. 33, 304-310. Doi: 10.1590/S1517-83822002000400005
Desireé, M., D. Medina, G.G. Morales, F. Daniel, H. Castillo, Y. María, Y. y O. Fuente. 2013. Actinomicetos antagónicos contra hongos fitopatógenos de importancia agrícola. Rev. Mex. Cienc. Agríc. 4(8), 1187-1196.
Escobar, C., Y. Horna, C. Carreño y G. Mendoza. 2011. Caracterización de cepas nativas de Azotobacter sp. y su efecto en el desarrollo de Lycopersicon esculentum Mill. "tomate" en Lambayeque. Scientia Agropecuaria 2, 39-49.
Fundora, L., J. González y L. Cabrera. 2009. Incrementos en los rendimientos del cultivo de boniato por la utilización combinada del fitoestimulan-tefitoma S-E y el biofertilizante económic® en condiciones de producción. Cultivos Tropicales 30(3), 14-17.
Goudjal, Y., O. Toumatia, A. Yekkour, N. Sabaou, F. Mathieu y A. Zitouni. 2014. Biocontrol of Rhizoctonia solanidamping-off and promotion of tomato plant growth by endophytic actinomycetes isolated from native plants of Algerian Sahara. Microbiological Research 169(1), 59-65. Doi: 10.1016/j.micres.2013.06.014
Jorquera, M.A., D. E. Crowley, G. Gajardo y M.L. Mora. 2010. Mechanisms and practical considerations involved in plant growth promotion by rhizobacteria. J. Soil Sci. Plant Nutr. 10(3), 293-319. Doi: 10.4067/S0718-95162010000100006
Mäder, P., F. Kaiser, A. Adholeya, R. Singh, H.S. Up- pal, A.K. Sharma, R. Srivastava, V. Sahai, M. Aragno, A. Wiemken, B.N. Johri y P.M. Fried. 2011. Inoculation of root microorganisms for sustainable wheat-rice and wheat-black gram rotations in India. Soil Biol. Biochem. 43(3), 609-619. Doi: 10.1016/j.soilbio.2010.11.031
Madigan, M.T., J.M. Martinko, J. Parker T.D. Brock, C. Rodríguez y M. Sánchez. 2004. Brock biología de los microorganismos. Pearson Educación, México.
Peña, H. e. I. Reyes. 2007. Aislamiento y evaluación de bacterias fijadoras de nitrógeno y disolventes de fosfatos en la promoción del crecimiento de la lechuga (Lactuca sativa L.). Rev. Interciencia 32(8), 560-565.
Plaster, E. 2000. La ciencia del suelo y su manejo. Editorial Paraninfo, Madrid.
Ramos E. y D. Zúñiga. 2008. Efecto de diferentes inoculantes sobre la actividad microbiana en la rizosfera del cultivo de pallar (Phaseolus lunatus var. sieva) en condiciones de campo. Ecol. Apl. 7, 131-139.
Richardson, A.E. y R.J. Simpson. 2011. Soil microorganisms mediating phosphorus availability update on microbial phosphorus. Plant Physiol. 156(3), 989-996. Doi: 10.1104/pp.111.175448
Shennan, C. 2008. Biotic interactions, ecological knowledge and agriculture. Phil. Trans. Royal Soc. London. Ser. B: Biol. Sci. 363(1492), 717-739. Doi: 10.1098/rstb.2007.2180
Sylvia, D., J. Fuhrmann, D. Zuberer y P. Hartel. 2004. Principles and applications of soil microbiology. 2nd ed. Prentice Hall, Upper Saddle River, N.J.
Richardson, E. 2001. Prospects for using soil microorganisms to improve the acquisition of phosphorus by plants. Funct. Plant Biol. 28(9), 897-906. Doi: 10.1071/PP01093
Terry, E., Z. Terán, R. Martínez-Viera y M.d.l.A. Pino. 2002. Biofertilizantes, una alternativa promisoria para la producción hortícola en organopónicos. Cultivos Tropicales 23(3), 43-46.
Toal. M., C. Yeomans, K. Killham y A.A. Meharg. 2000. A review of rhizosphere carbon flow modelling. Plant Soil 222, 263-281. Doi: 10.1023/A:1004736021965
Thakur, D., A. Yadav, B.K. Gogoi y T.C. Bora. 2007. Isolation and screening of Streptomyces in soil of protected forest areas from the states of Assam and Tripura, India, for antimicrobial metabolites. J. Med. Mycol. 17(4), 242-249. Doi: 10.1016/j.myc-med.2007.08.001
Vargas, P., R. Ferrera-Cerrato, J.J. Almaraz-Suárez y G. Alcántar. 2001. Inoculación de bacterias promotoras de crecimiento en lechuga. Terra 19(4), 327-335.
Vestberg, M., S. Kukkonen, K. Saari, P. Parikka, J. Hut- tunen, L. Tainio, N. Devos, F. Weekers, C. Kevers, P. Thonart, M.-C. Lemoine, C. Cordier, C. Alabouvette y S. Gianinazzi. 2004. Microbial inoculation for improving the growth and health of micropropagated strawberry. Appl. Soil Ecol. 27, 243-258. Doi: 10.1016/j.apsoil.2004.05.006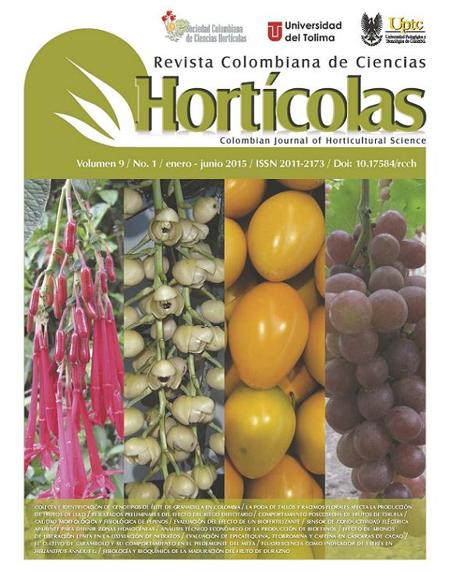 Downloads
How to Cite
Castellanos S., D. E., Rincón M., J. M., & Arguello A., H. (2015). Evaluación del efecto de un biofertilizante ligado a un soporte orgánico mineral en un cultivo de lechuga en la Sabana de Bogotá bajo condiciones de invernadero. Revista Colombiana De Ciencias Hortícolas, 9(1), 72–85. https://doi.org/10.17584/rcch.2015v9i1.3747
Section
Vegetable section
License
The copyright of the articles and illustrations are the property of the Revista Colombiana de Ciencias Hortícolas. The editors authorize the use of the contents under the Creative Commons license Attribution-Noncommercial-ShareAlike 4.0 International (CC BY-NC-SA 4.0). The correct citation of the content must explicitly register the name of the journal, name (s) of the author (s), year, title of the article, volume, number, page of the article and DOI. Written permission is required from publishers to publish more than a short summary of the text or figures.