Rambután: un nuevo frutal tropical para Colombia con potencial para el mercado interno y de exportación.
Keywords:
adaptación, calidad de fruta, introducción, genotipos, clones
Abstract
El Rambután (Nephelium lappaceum) es una especie frutal exótica de origen asiático con gran potencial para el mercado interno y de exportación. En el Meta se encuentran cultivos con plantas francas (sin injertar). Estas plantas son dioicas (plantas machos y plantas hembras); las plantas hembras que producen frutos de deficiente calidad y por esas razones estos cultivos presentan dificultades comerciales y de rentabilidad. El cultivo moderno y tecnificado del rambután se hace con clones seleccionados por rendimiento y calidad injertados sobre patrones de la misma especie. Por tal motivo, Corpoica introdujo desde Honduras en el año 2006 cinco clones: Jetlee, R134, R156, R162, R167; los cuales fueron injertados y plantados en varios centros experimentales en el país. Las plantas establecidas en el Centro de Investigación La Libertad se le llevaron registros de crecimiento, rendimiento y de presencia de problemas sanitarios, con el fin de conocer la adaptación ecológica del cultivo a las condiciones ambientales de la región. A nivel productivo el clon R134 mostró ser uno de los más productivos. El clon R162 presentó el mayor desarrollo vegetativo en altura y volumen de copa. Los clones se mostraron susceptibles a la época seca del piedemonte del Meta. El ciclo de floración inició después de un periodo de estrés hídrico; de cuajado de fruto a madurez fisiológica transcurren 114 días. Respecto de la calidad del fruto, todos los clones y los de origen varietal desconocido presentaron características adecuadas para su comercialización. En cuanto a plagas y enfermedades se encontró que la mayor limitación está relacionada con la enfermedad del "Cáncer del tallo" (Dolabra nepheliae) la cual puede llegar a producir la muerte de los árboles. La comercialización se realiza en canastillas y se recomienda mayor evaluación para conocer el comportamiento postcosecha.
Downloads
Download data is not yet available.
References
Arias, M. e I. Calvo. 2014. El cultivo de Rambután o Mamón Chino. Ministerio de Agricultura y Ganadería, San José, Costa Rica.
Barreto, L.F., R.A. de Andrade, L.F. Barreto, R.C. de Paula, L.L. de Lima y A.B.G. Martins. 2015. Characterization of rambutan plants by foliar aspects. Afr. J. Agric. Res. 10(36), 3607-3613. Doi: 10.5897/AJAR2015.9651
Booth, C. y W.P. Ting. 1964. Dolabra nepheliae gen. nov., sp. nov., associated with canker of Nephelium lappaceum. Trans. Br. Mycol. Soc. 47(2), 235-237. Doi: 10.1016/S0007-1536(64)80057-7
Del Ángel, A., J. Adame y T. Villagómez. 2014. Características sensoriales y físico-químicas de seis clones de Rambután (Nephelium lappaceum L.), como indicadores del potencial de cultivo en Veracruz, México. Rev. Fac. Agron. (LUZ) 31, 253-273
Janick, J. y R.E. Paull. 2008. The encyclopedia of fruit and nuts. CABI Publishing, Wallingford, UK. [ Links ]
Kader, A.A. 2002. Postharvest technology of horticultural crops. UCANR Publications, University of California, Davis, CA.
Kader, A.A. 2006. Rambután (Mamón Chino): Recomendaciones para mantener la calidad postcosecha. Postharvest Technol. Res. Inf. Center, University of California, Davis, CA.
Kosiyachinda, S., P.F. Lam, D.B. Mendoza Jr., W. Broto y K. Wanichkul. 1987. Maturity indices for harvesting of rambutan. pp. 32-38. En: Lam, P.F. y S. Kosiyachinda (eds.). Rambutan: fruit development, postharvest physiology and marketing. ASEAN Food Handling Bureau, Kuala Lumpur, Malasia.
Landrigan, M., S.C. Morris y B.W. McGlasson. 1996. Postharvest browning of rambutan is a consequence of water loss. J. Amer. Soc. Hort. Sci. 121(4), 730-734.
Leong, P.C. 1982. Summary report on mango and rambutan project in Singapore. pp. 30-33. En: Proc. Workshop on Mango and Rambutan. University of the Philippines, Los Baños, Laguna, Filipinas.
Linares, H. 2007. Rambután. Ficha/45/UE. Apoyo al Sector de la Micro y Pequeña Empresa en Guatemala. Mineco y Unión Europea, Bruselas.
Lourith, N., M. Kanlayavattanakul, K. Mongkonpaibool, T. Butsaratrakool y T. Chinmuang. 2016. Rambutan seed as a new promising unconventional source of specialty fat for cosmetics. Ind. Crops Prod. 83, 149-154. Doi: 10.1016/j.indcrop.2015.12.045
MAG. 2007. Plan estratégico de la cadena productiva de rambután. San Jose, Costa Rica.
Maridueña, M.F., G.S. Villafuerte Holguín, M.E. Moreno Quito y V.H. Gonzáles. 2010. Proyecto para la exportación de rambután (achotillo) a la comunidad económica europea. Facultad de Economía y Negocios, Escuela Superior Politécnica del Litoral, Guayaquil, Ecuador.
Martínez, B.L., Á.M. Castillo y L.V Ramon. 2006. Diagnóstico del sistema de producción de rambután (Nephelium lappaceum L.) en la región del Soconusco, Chiapas. Universidad Autónoma Chapingo, Chapingo, México.
Mendoza, D.B., E.B. Pantastico y F.B. Javier. 1971. Storage and handling of rambutan (Nephelium lappaceum L.). Malayan Agr. J. 46(2), 164-182.
Morton, J.F. 1987. Roselle. pp: 281-286. En: Fruits of warm climates. Julia F. Morton, Miami, FL.
Nakasone, H.Y. y R.E. Paull. 1998. Tropical fruits. Cab International, New York, NY.
O'Hare, T.J. 1995. Postharvest physiology and storage of rambutan. Postharvest Biol. Technol. 6(3), 189-199. Doi: 10.1016/0925-5214(95)00022-X
Orduz, J. y J. Baquero. 2003. Aspectos básicos para el cultivo de los cítricos en el piedemonte llanero. Rev. Achagua 7(9), 7-19.
Paull, R.E. y N.J. Chen. 1987. Changes in longan and rambutan during postharvest storage. HortScience 22(6), 1303-1304.
Paull, R.E. y O. Duarte. 2012. Tropical fruits. Vol. 2. CABI, Wallingford, UK.
Pérez R., A. y J. Pohlan. 2004. Prácticas de cosecha y poscosecha del rambután, en el Soconusco. Chiapas, México. LEISA Rev. Agroecol. 20(3), 24-26.
Rabanales, M.R., D.W. Roubik, M. a Guzmán, R. Vandame, M. Salvador y M.L. Adriano. 2015. High yields and bee pollination of hermaphroditic rambutan (Nephelium lappaceum L., Sapindaceae) in Chiapas, Mexico. Fruits 70(1), 23-27. Doi: 10.1051/fruits/2014039
Ramírez, T., C. Alix y A. Rafie. 2003. Manual para el cultivo de rambután en Honduras. Fundación Hondureña de Investigación Agrícola (FHIA), La Lima, Honduras.
Rossman, A.Y., R. Goenaga y L. Keith. 2007. First report of Dolabra nepheliae on rambutan and litchi in Hawaii and Puerto Rico. Plant Dis. 91(12), 1685. Doi: 10.1094/PDIS-91-12-1685C
Rossman, A., J. Melgar, D. Walker, A. Gonzales, T. Ramirez y J. Rivera. 2012. First report of Dolabra nepheliae associated with corky bark disease of Rambutan and Pulasan in Honduras. Plant Dis. 96(5), 765. Doi: 10.1094/PDIS-01-12-0081-PDN
Rossman, A.Y., C.L. Schoch, D.F. Farr, K. Nishijima, L. Keith y R. Goenaga. 2010. Dolabra nepheliae on rambutan and lychee represents a novel lineage of phytopathogenic Eurotiomycetes. Mycosci. 51(4), 300-309. Doi: 10.1007/S10267-010-0042-Y
Turrell, F.M. 1946. Tables of surfaces and volumes of spheres and of prolate and oblate spheroids, and spheroidal coefficients. University of California Press, Davis, CA.
Vargas, A. 2003. Descripción morfológica y nutricional del fruto de rambután (Nephelium lappaceum). Agron. Mesoam. 14(2), 201-206. Doi: 10.15517/am.v14i2.11949
Wanichkul, K. y S. Kosiyachinda. 1982. Fruit development and harvesting index of rambutan (Nephelium lappaceum Linn.) var. Seechompoo. pp. 117-124. En: Proc. Workshop on Mango and Rambutan. University of the Philippines, Los Baños, Filipinas.
Zalasky, H., A. Nawawi, W.P. Ting y L.H. Tai. 1971. Dolabra nepheliae and its imperfect state associated with canker of Nephelium lappaceum and N. mutabile. Can. J. Bot. 49(4), 559-561. Doi: 10.1139/b71-087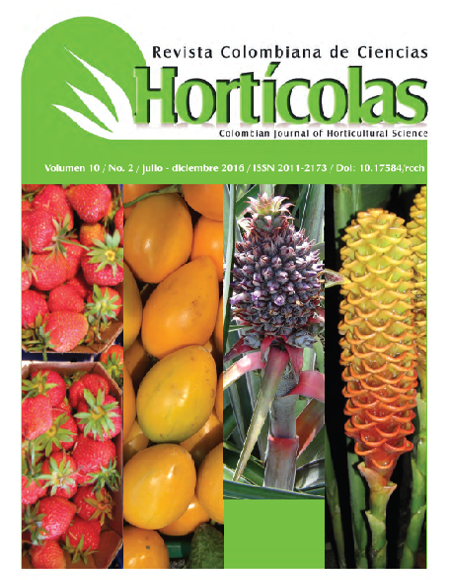 Downloads
How to Cite
Arias Cruz, M. E., Velásquez Ramírez, H. A., Mateus Cagua, D., Chaparro Zambrano, H. N., & Orduz Rodríguez, J. O. (2017). Rambután: un nuevo frutal tropical para Colombia con potencial para el mercado interno y de exportación. Revista Colombiana De Ciencias Hortícolas, 10(2), 262–272. https://doi.org/10.17584/rcch.2016v10i2.5761
License
The copyright of the articles and illustrations are the property of the Revista Colombiana de Ciencias Hortícolas. The editors authorize the use of the contents under the Creative Commons license Attribution-Noncommercial-ShareAlike 4.0 International (CC BY-NC-SA 4.0). The correct citation of the content must explicitly register the name of the journal, name (s) of the author (s), year, title of the article, volume, number, page of the article and DOI. Written permission is required from publishers to publish more than a short summary of the text or figures.