Efecto de la aplicación de cachaza fresca y de dos sistemas de producción maíz y maíz en asocio con fríjol sobre las propiedades físicas de un Inceptisol
Abstract
La cachaza fresca de trapiche panelero es un subproducto obtenido del proceso de elaboración de panela, que tiene alto potencial como enmienda orgánica. Sin embargo, este residuo que equivale al 3% de la caña molida es arrojado a las fuentes hídricas o cerca de los trapiches generando problemas graves de contaminación ambiental. En la zona de la Hoya del Río Suárez (Boyacá, Colombia) el principal cultivo es la caña panelera, pero es apta para cultivos de pancoger como el maíz y el fríjol. Con el objetivo de evaluar el efecto de la cachaza
fresca de trapiche panelero y dos sistemas de producción (maíz y maíz asocio fríjol) sobre las propiedades físicas de un Inceptisol, se aplicaron cuatro dosis de cachaza (0, 5, 10 ó 15 t ha-1) a cada uno de los sistemas de producción. Después de la cosecha se encontró que el sistema maíz asocio fríjol presentó el mayor diámetro ponderado medio en seco y húmedo y mayor porosidad, estas propiedades físicas junto con la densidad aparente fueron favorecidas con el incremento de la aplicación de cachaza. Con la aplicación de 15 t ha-1 de
cachaza en el sistema maíz asocio fríjol se garantizó mayor efecto sobre las propiedades físicas del suelo.
Downloads
Download data is not yet available.
References
Acosta, M.V.; Z. Reicher; M. Bischoff y R.F. Turco. 1999. The role of tree leaf mulch and nitrogen fertilizer on turfgrass soil quality. Biol. Fertil. Soils 29(1), 55-61.
Arrieche, I. y O. Mora. 2005. Efecto de la aplicación de residuos orgánicos sobre el cultivo del maíz en suelos agrícolas del estado de Yaracuy, Venezuela. Bioagro 17(3), 155-159.
Boone, F.R. y B.W. Veen. 1994. Mechanisms of crop responses to soil compaction. Developments in Agricultural Engineering 11: Soil Compaction and Crop Production. Elsevier Science, Amsterdam, The Netherlands.
Bottenberg, H.; J. Masiunas y C. Eastman. 1999. Strip tillage reduces yield loss of snapbean planted in rye mulch. HortTechnol. 9(2), 235-240.
Campos, B.C.; D.J. Reinert y R. Nicolodi. 1995. Estabilidade estrutural de um Latossolo Vermelho-Escuro distrófico após sete anos de rotação de culturas e sistemas de manejo de solo. Rev. Bras. Ci. Solo 19, 121-125.
Carpenedo, V. y J. Mielniczuk. 1990. Estado de agregação e qualidade dos agregados de latossolos roxos, submetidos a diferentes sistemas de manejo. Rev. Bras. Ci. Solo 14, 99-105.
Cuevas J.B.; S.O. Seguel; A. Ellies y J. Dörner. 2006. Efectos de las enmiendas orgánicas sobre las propiedades físicas del suelo con especial referencias a la adición de lodos urbanos. J. Soil Sci. Plant Nutr. 6(2), 1-12.
Cunha, E.; L.C. Balbino; L.F. Stone; W.M. Leandro y G.C. De Oliveira. 2007. Influência de rotações de culturas nas propriedades físico-hídricas de um Latossolo Vermelho em plantio direto. Eng. Agríc. 27(3), 665-674.
Edwards, A.P. y J.M. Bremer. 1967. Microagregates in soil. J. Soil Sci. 18, 64-73.
Emerson, W.W. y D. Mcgarry. 2003. Organic carbon and soil porosity. Aust. J. Soil Res. 41, 107-118.
Fassbender, W.H. 1986. Química de suelos. IICA, San José.
Felton, G.K. 1995. Temporal variation of soil hydraulic properties on municipal solid waste amended mine soils. Trans. ASAE 38, 775-782.
Harris, R.F.; G. Chesters y O.N. Allen. 1966. Dynamics of soil aggregation. Adv. Agron. 18, 107-169.
Hernández, I.; E. Medina y H.D. López. 1995. Respiración edáfica y aportes de materia orgánica por las raíces y la hojarasca en un cultivo de caña de azúcar. Agron. Trop. 45, 12-142.
Herrick, J.E. y R. Lal. 1995. Soil physical property changes during dung descomposition in a tropical pasture. Soil Sci. Soc. Amer. J. 59, 908-912.
Hudson, B. 1994. Soil organic matter and available water capacity. J. Soil Water Conserv. 49, 189-194.
IGAC. 2006. Métodos analíticos de laboratorio de suelos. 6a ed. Instituto Geográfico Agustín Codazzi, Bogotá.
Kay, B.D.; A.P. Da Silva y J.A. Baldock. 1997. Sensitivity of soil structure to changes in organic C content: predictions using pedotransfer functions. Can. J. Soil Sci. 77, 655-667.
Khan, K.; A. Gattinger; F. Buegger; M. Schloter y R.G. Joergensen. 2008. Microbial use of organic amendments in saline soils monitored by changes in the 13C/12C ratio. Soil Biol. Biochem. 40, 1217-1224.
Le Bissonnais, Y. y D. Arrouays. 1997. Aggregate stability and assessment of soil crustability and erodability: II. Application to humic loamy soils with various organic carbon contents. Eur. J. Soil Sci. 48, 39-48.
MacRae, A. y G.R. Mehuys. 1985. The effect green manuring on the physical properties of températe area soils. Adv. Soil Sci. 3, 71-94.
Mohee, R.R. y B. Panray. 1999. Life cycle analysis of compost incorporated sugarcane bioenergy systems in Mauritius. Biomass Bioenergy 17, 73-83.
Mulumba, L. y N.R. Lal. 2008. Mulching effects on selected soil physical properties. Soil Tillage Res. 98, 106–111.
Painuli, D.K. y L.P. Abrol. 1986. Role of some organics in improving sodic soils. lndian J. Agríe. Sel. 56(4), 267-76.
Paturau, J.M. 1969. By-products of sugar cane industry. An introduction to their industrial utilization in América. Elsevier Publ. Comp., London.
Pernes-Debuyser, A. y D. Tessier. 2004. Soil physical properties affected by long-term fertilization. Eur. J. Soil Sci. 55, 505-512.
Píccolo, G.A. 1995. Efecto de diferentes cultivos utilizados como abonos verdes sobre un Rodudalf típico (Misiones, Argentina). Ciencia del Suelo 13, 101-103.
Rasul, G.; A. Appuhn; T. Muller y R.G. Joergensen. 2006. Salinity induced changes in the microbial use of sugar cane filter cake material under acidic soil conditions. Appl. Soil Ecol. 31, 1-10.
Rodríguez, G. y M. Gottret. 2006. Aprendiendo del pasado para proyectarnos hacia el futuro e impacto de la tecnología de la panela en la Hoya del Río Suárez y Cundinamarca. Corpoica; CIAT, Cali, Colombia.
Sánchez-Hernández R.; V.M. Ordaz-Chaparro; G.S. Benedicto-Valdés; C.I. Hidalgo-Moreno y D.J. Palma-López. 2006. Regeneración estructural de un suelo arcilloso por aportes de vermicompost en la chontalpa, tabasco, México. Universidad y Ciencia 22(1), 13-26.
Silva, I.R. y J. Mielniczuk. 1998. Sistemas de cultivo e características do solo afetando a estabilidade de agregados. Rev. Brasil. Ci. Solo 22(2), 311-17.
Soane, B.D.; P.S. Blackwell; J.W. Dickson y D.J. Painter. 1981. Compaction by agricultural vehicles: a review. 1. Soil and wheel characteristics. Soil Tillage Res. 1, 207-237.
Tisdall J.M. 1994. Possible role of soil microorganisms in aggregation in soil. Plant Soil 159, 115-121. Tisdall, J.M. y J.M. Oades. 1982. Organic matter and water-stable aggregates in soils. J. Soil Sci. 33, 141-163.
Unger, P.W. y O.R. Jones. 1998. Long-term tillage and cropping systems affect bulk density and penetration resistance of soil cropped to dryland wheat and grain sorghum. Soil Till. Res. 45, 39-57.
Van Rooyen, P. C. y H. W. Webber. 1977. Long-term effects of five amelioration on a saline-sodic soil of South Africa. Geoderma 19, 213-225.
Velázquez-Rodríguez, A.; D. Flores-Román y O.A. Acevedo-Sandoval. 2001. Formación de agregados en tepetate por influencia de especies vegetales. Agrociencia 35, 311-320.
Zérega, L. 1993. Manejo y uso agronómico de la cachaza en suelos cañameleros. Rev. Caña Azúcar 11(2), 71-92.
Zurro, P. 2005. Producción de abonos y fertilizantes a partir de subproductos de la industria azucarera orgánica. En: http://www.elparanaense.com.ar/pdf/MemoriaabonosIngSanJavier MNES.pdf; consulta: noviembre de 2008.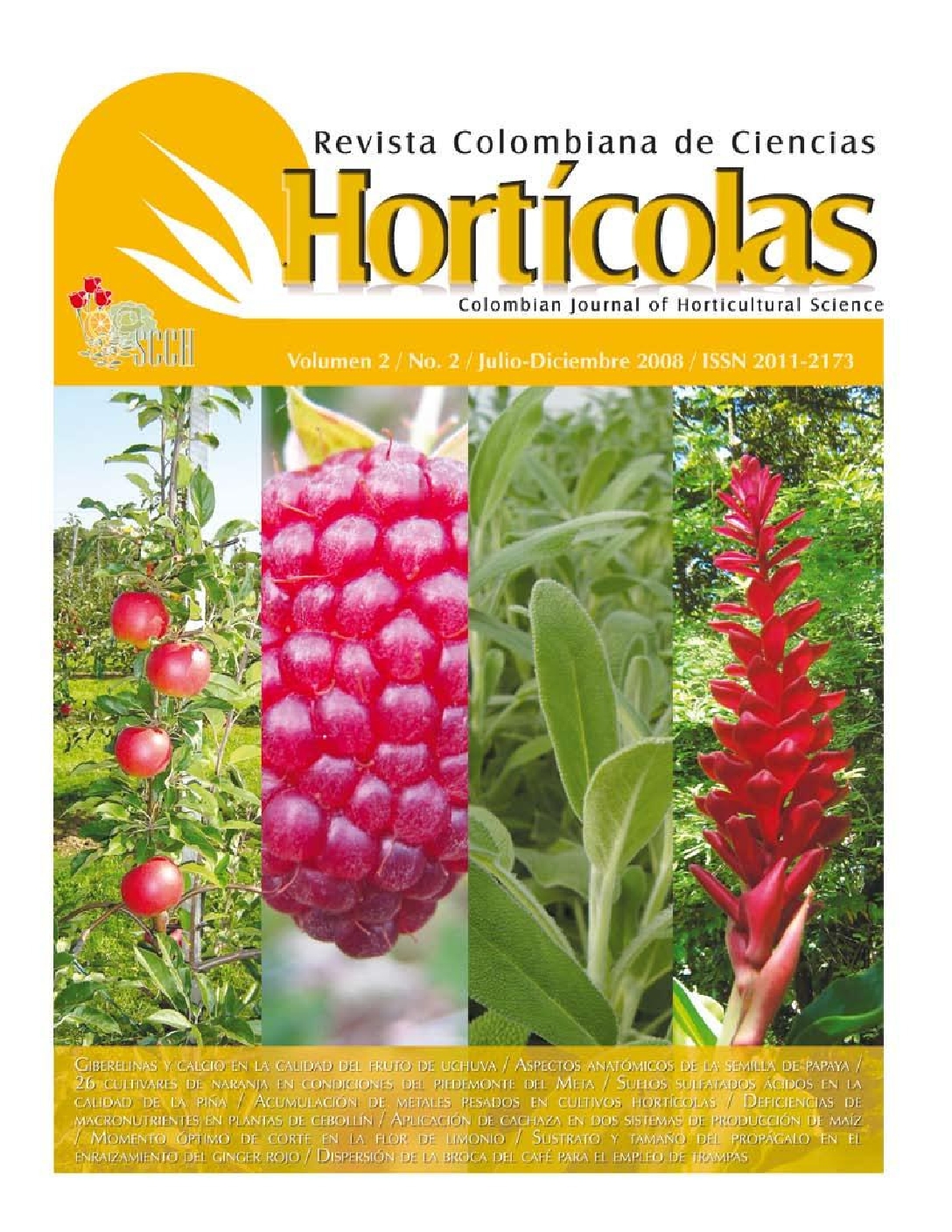 Downloads
Metrics
Views/Downloads
Abstract

433

PDF (Español)

316
How to Cite
Forero, F E, Torres, J, & Balaguera-López, H E. (2011). Efecto de la aplicación de cachaza fresca y de dos sistemas de producción maíz y maíz en asocio con fríjol sobre las propiedades físicas de un Inceptisol. Revista Colombiana de Ciencias Hortícolas, 2(2), 205–216. https://doi.org/10.17584/rcch.2008v2i2.1188
Section
Vegetable section
License
The copyright of the articles and illustrations are the property of the Revista Colombiana de Ciencias Hortícolas. The editors authorize the use of the contents under the Creative Commons license Attribution-Noncommercial-ShareAlike 4.0 International (CC BY-NC-SA 4.0). The correct citation of the content must explicitly register the name of the journal, name (s) of the author (s), year, title of the article, volume, number, page of the article and DOI. Written permission is required from publishers to publish more than a short summary of the text or figures.