El tamaño del cladodio y los niveles de auxina influyen en la propagación asexual de pitaya (Selenicereus megalanthus Haw.)
Abstract
La pitaya es una fruta de gran aceptación en los mercados nacionales e internacionales, debido a su exótico sabor dulce y refrescante y a sus propiedades medicinales. Comercialmente, la pitaya es propagada asexualmente mediante estacas o cladodios, sin embargo, los estudios y las técnicas al respecto, que garanticen la obtención de plantas  con un  sistema radical abundante, uniforme y de buena calidad,  son muy pocos, por  lo  cual se presentan problemas como bajo prendimiento en campo, retardo en la producción, baja producción y corta
vida útil de  las plantas. En el presente estudio se evaluó el efecto de cuatro concentraciones de ácido indolbutírico
(AIB) (0, 1.500, 3.000 ó 4.500 mg L-1 ) y de dos tamaños de cladodio (40 ó 60 cm de altura) en la propagación asexual de pitaya durante 90 días, se utilizó un diseño completamente al azar. Se encontró que la aplicación de 4.500 mg L-1  de AIB a las estacas de 60 cm, como tratamiento o como factores independientes, garantizaron los mejores resultados al generar mayor enraizamiento, número de raíces y brotes,  longitud de raíces y brotes, masa fresca y seca de raíz y brotes, por lo tanto, este tratamiento es recomendable para la propagación asexual de pitaya.

Palabras clave adicionales: enraizamiento, sistema radical, longitud de raíz, brotes, cactáceas.
Downloads
Download data is not yet available.
References
Agronet. 2010. Producción y área cosechada de Pitaya en Colombia en 2008. Disponible en: http://www.agronet.gov.co/; consulta: junio de 2010.
Bastos, D.; R. Pio; J.A. Scarpare; M. Neubern; L.F. Paes De Almeida; T.P. Dias y S. Bakker. 2006. Propagation of red pitaya (Hylocereus undatus) by cuttings. Ciênc. Agrotec. 30(6), 1106-1109.
Biasi, L. A.; C.V. Pommer y P.A. Pino. 1997. Propagação de porta-enxertos de videira mediante estaquia semilenhosa. Bragantia 56(2), 367-376.
Castillo M.; Y.H. De Fréitez y N. Hernández. 2005. Efecto de la auxina AIB en la propagación de azahar de la india (Murraya paniculata (L. Jack)) por acodo aéreo. Bioagro 17(2), 123-126.
CCI. Corporación Colombia Internacional. 2008. La pitaya. En: www.cci.org.co; consulta: enero de 2009.
Celenza, J.L.; P. L. Grisafi y G.R. Fink. 1995. A pathway for lateral root formation in Arabidopsis thaliana. Genes Dev. 9, 2131-2142.
Costa, J M. y H. Challa. 2002. The effect of the original leaf area on growth of softwood cuttings and planting material of rose. Scientia Hort. 95, 111-121.
De Andrade R.A.; A.B. Geraldo y M.T. Habib. 2007. Influência da fonte de material e do tempo de cura na propagação vegetativa da pitaya vermelha (Hylocereus undatus Haw). Rev. Bras. Frutic. 29(1), 183-186.
Dueñas, Y.; C.E. Narváez y L.P. Restrepo. 2008. Inhibición de lesiones por frío de pitaya amarilla (Acanthocereus pitajaya) a través del choque térmico: catalasa, peroxidasa y polifenoloxidasa. Acta Biol. Colomb. 13(1), 95 -106.
ElObeidy, A.A. 2006. Mass propagation of pitaya (dragon fruit). Fruits 61(5), 313-319.
Ermel, F.F.; S. Vizoso; J. P. Charpentier; C. Jay-Allemand; A.M. Catesson e I. Couée. 2000. Mechanisms of primordium formation during adventitious root development from walnut cotyledon explants. Planta 211, 563-574.
Fachinello, J.C.; A. Hoffmann; J.C. Nachtigal, E. Kersten y G.R. Fortes. 1995. Propagação de plantas frutíferas de clima temperado. 2a. ed. Universidad Federal de Pelotas. Pelotas, Brasil.
Hartmann, H.T.; D. E. Kester; F.T. Davies Junior y R.L. Geneve. 2002. Plant propagation: principles and practices. 7. ed. Prentice Hall, Upper Saddle River, NJ.
Hinojosa, G.F. 2000. Auxinas. pp. 15-54. En: Cid, L.P.B. (ed.) Introdução aos hormônios vegetais. Embrapa, Brasília, DF.
Li, S.W.; L.G. Xue; S. J. Xu; H.Y. Feng y L Z. An. 2009. IBA-induced changes in antioxidant enzymes during adventitious rooting in mung bean seedlings: The role of H2O2. Environ. Exp. Bot. 66, 442-450
López-Gómez, R.; J.C. Díaz-Pérez y G. Flores-Martínez. 2000. Propagación vegetativa de tres especies de cactáceas: Pitaya (Stenocereus griseus), Tunillo (Stenocereus stellatus) y Jotilla (Escontria chiotilla). Agrociencia 34(4), 363-367.
Mizrahi, Y.; A. Nerd e Y. Sitrit. 2002. New fruits for arid climates. pp. 378-384. En: Janick, J. y A. Whipkey (eds.). Trends in new crops and new uses. Alexandria, Egipto.
Moreno, N.; J.G. Álvarez-Herrera; H.E. Balaguera-López y G. Fischer. 2009. Propagación asexual de uchuva (Physalis peruviana L.) en diferentes sustratos y a distintos niveles de auxina. Agron. Colomb. 27(3), 341-348.
Norberto, P.M.; N.N. J. Chalfun; M. Pasqual; R.D. Veiga; G.E. Pereira y J.H. Mota. 2001. Efeito da época de estaquia e do AIB no enraizamento de estacas de figueira (Ficus carica L.). Ciênc. Agrotec. 25(3), 533-541.
Pasqual, M.; N.N. J. Chalfun; J.D. Ramos; M.R. do Vale y C.R. de Silva. 2001. Fruticultura comercial: propagação de plantas frutíferas. Universidad Federal de Lavras, Brasil.
Ryugo, K. 1993. Fruticultura - Ciencia y arte. AGT Editor, México, DF.
Salisbury, F. y C. Ross. 1994. Fisiología vegetal. Grupo Editorial Iberoamérica S.A., México, DF.
Santelices, R. 2007. Efecto del ácido indolbutírico (AIB) y de la presencia de hojas en el arraigamiento de estacas de Nothofagus glauca (Phil.) Krasser cosechadas en dos épocas diferentes. Ecología Austral 17, 151-158.
Taiz L. y E. Zeiger. 2006. Plant physiology. 4th ed. Sinauer Associates, Inc., Publishers, Sunderland, MA.
Torrey, J.G. 1996. Endogenous and exogenous influences on the regulation of lateral root formation. pp. 31-66. En: Jackson, M.B. (ed.). New root formation in plants and cuttings. M. Nijhoff, Dordrecht, The Netherlands.
Veierskov, B. 1988. Relations between carbohydrates and adventitious root formation. pp.70-78. En: Davies, T.D.; B.E. Haissig y N. Sankla (eds.). Adventitious root formation in cuttings. Dioscorides Press, Portland, OR.
Zietemann, C. y S. R. Roberto. 2007. Efeito de diferentes substratos e épocas de coleta no enraizamento de estacas herbáceas de goiabeira, cvs. Paluma e Século XXI. Rev. Bras. Frutic. 29(1), 31-36.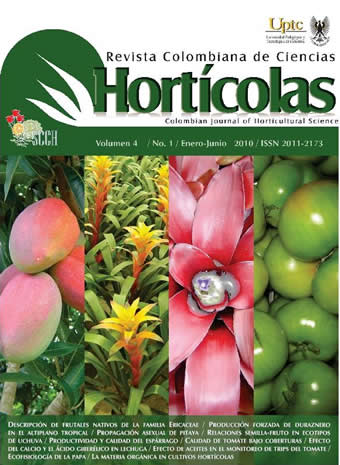 Downloads
Metrics
Views/Downloads
Abstract

1257

PDF (Español)

621
How to Cite
Balaguera-López, H E, Morales, E I, Almanza-Merchán, P J, & Balaguera L, W A. (2011). El tamaño del cladodio y los niveles de auxina influyen en la propagación asexual de pitaya (Selenicereus megalanthus Haw.). Revista Colombiana de Ciencias Hortícolas, 4(1), 33–42. https://doi.org/10.17584/rcch.2010v4i1.1222
License
The copyright of the articles and illustrations are the property of the Revista Colombiana de Ciencias Hortícolas. The editors authorize the use of the contents under the Creative Commons license Attribution-Noncommercial-ShareAlike 4.0 International (CC BY-NC-SA 4.0). The correct citation of the content must explicitly register the name of the journal, name (s) of the author (s), year, title of the article, volume, number, page of the article and DOI. Written permission is required from publishers to publish more than a short summary of the text or figures.