Problemas sociopsicológicos de la protagonista de Karna's Wife: The Outcast's Queen, de Kavita Kane. Un estudio analítico
Palabras clave:
discriminaciones sociales, matrimonios en grupo, matrimonios en pareja, matrimonios monógamos, identidad social inferior, psique perturbada
Resumen
Este artículo estudia los problemas sociales y psicológicos del protagonista de la novela Karna's Wife: The Outcast's Queen de la escritora india Kavita Kane. Para ello, se revisan las causas de los problemas sociales y psicológicos de los marginados en la literatura de la era épica de la India. Por esto, este artículo presenta una investigación sobre las condiciones sociales que causan un trauma en la mente del protagonista. Para acercarse al problema se hace una revisión desde el psicoanálisis freudiano donde se determina que el malestar y la angustia surgen de causas inconscientes. Por otro lado, se acude al marxismo para determinar que el trauma emerge de las condiciones materiales de la vida social. Se encuentra que la crítica literaria marxista es iluminadora a la hora de entender al protagonista de la obra ya que se comprende la relación dialéctica entre la psiquis y las relaciones sociales. Finalmente, se concluye que las discriminaciones sociales causan, de manera adversa, los problemas psicológicos como se puede ver en la novela de Kavita Kane que el artículo estudia.
Descargas
Los datos de descargas todavía no están disponibles.
Citas
"An Interview with Kavita Kane". Bookish. November 8, 2013. Web. June 1, 2020. https://www.indiabookstore.net/bookish/an-interview-with-kavita-kane/
Cherry, Kendra. "The Preconscious, Conscious, and Unconscious Minds". Verywellmind, March 24, 2020. Web. June 3, 2020. https://www.verywellmind.com/the-conscious-and-unconscious-mind-2795946#:~:text=The%20unconscious%20mind%20is%20a,pain%2C%20anxiety%2C%20or%20conflict
Day David M. & Stéphanie B. Marion. "Applying Social Psychology to the Criminal Justice System". Applied Social Psychology: Understanding and Addressing Social and Practical Problems, edited by Jamie A. Gruman, Frank W. Schneider & Larry M. Coutts. SAGE Publications. 2017. pp. 245-272. Printed.
Engels, Friedrich. Origin of the Family, Private Property, and the State. Hottingen-Zurich, Marx/Engels Selected Works, 1884. E-book. Web. June 5, 2020. https://www.marxists.org/archive/marx/works/download/pdf/origin_family.pdf
Joshi, Nikul. "Caste System in Ancient India". World History Encyclopedia, 20 November 2017. Web. June 4, 2020. https://www.worldhistory.org/article/1152/caste-system-in-ancient-india/
Kane, Kavita. Karna's Wife: The Outcast's Queen. New Delhi, Rupa Publications, 2013. Printed.
Krithika, R. "Through another pair of eyes: A chat with author Kavita Kane". The Hindu, March 5, 2020. Web. July 7, 2020. https://www.thehindu.com/books/books-authors/a-chat-with-author-kavita-kane/article30990543.ece
News18. "Now Mahabharata in Contemporary English". July 3, 2012. Web. August 4, 2020. https://www.news18.com/news/books/now-mahabharata-in-contemporary-english-485494.html
Swami Harshananda. "Suta". Hindupedia. Web. June 6, 2020. http://www.hindupedia.com/en/Suta#cite_note-2
Tarakam, Bojja. Dalitulu – Rajyam (Dalits and State). Hyderabad, Book Trust, 2008. Printed.
The Ambedkarite Today. "What is caste and why is it important to talk about?". March 18, 2018. Web. https://www.ambedkaritetoday.com/2018/04/what-is-caste.html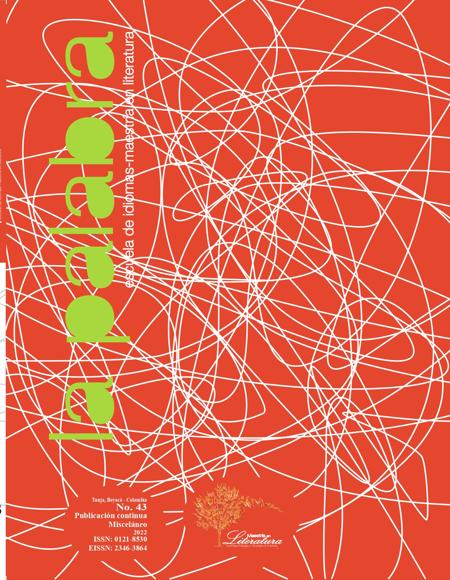 Cómo citar
Srinivas, S., & Bakyaraj, R. (2022). Problemas sociopsicológicos de la protagonista de Karna's Wife: The Outcast's Queen, de Kavita Kane. Un estudio analítico. La Palabra, (43), 1–15. https://doi.org/10.19053/01218530.n43.2022.14075