Sustainability and environmental regional autonomous corporations in Boyacá - Colombia
Keywords:
economic growth, economic development, environmental sustainability, planning and development policy.
Abstract
To promote the sustained growing of economic development, this must
be linked to social structure in order to enhance the population life quality
and environmental sustainability. In this paper are analyzed the development
national plans from 1990 and the guidelines which involucrate all
the regional autonomous corporations. Furthermore, the origins of environmental
sustainability problematic, related to autonomous corporations
as regional environment authorities are established. Recently, there were
attempts for articulating regional measures whit legal framework and the
sectoral guidelines that govern environmental policies, whose responsibility
belongs to autonomous corporations located in Boyacá.
Downloads
Download data is not yet available.
References
Azqueta, D. (2002), Introducción a la economía ambiental, Madrid: McGrawHill.
Becerra, R. et al. (2014, marzo). Desarrollo de la agricultura colombiana. Cuadernos Fedesarrollo,48, 54-55
Bermejo, R. (1995). De la economía a la ecología. Madrid: Trotta.
Burgess, R. (2003). Ciudad y sostenibilidad: Desarrollo urbano sostenible. Cuadernos de la CEPAL, 9(88), 193-214.
Cepal. (2014). Evaluaciones del desempeño ambiental: Colombia 2014. Bogotá: Cepal.
Chaves, P. J. (2004). Desarrollo tecnológico en la primera revolución industrial. Norba Revista de Historia, 17, 93-109.
Constanza, R., et al. (1997, 15 de mayo). The Value of the World's Ecosystem and Natural Capital. Nature, 387.
Contraloría General de Boyacá (2013). Informe sobre el estado de los recursos naturales y del ambiente en el departamento de Boyacá 2012-2013
Landes, D.S. (1979). Progreso tecnológico y revolución industrial. Madrid: Tecnos. Leal, C. G. (2010). Ecourbanismo, ciudad, medio ambiente y sostenibilidad. Bogotá:Ecoe.
Ministerio del Medio Ambiente. (1997). Política nacional de producción más limpia. Bogotá: MMA.
Naranjo N. L. (2012) Construcción de un pensamiento económico o ecológico. Acerca de cómo se articula la ciencia de la economía ecológica. En Bioeconomía, de los límites del crecimiento a la incertidumbre global, (pp. 61-80). Ciudad: Editorial.
Pierri, N. (2005). Historia del concepto de desarrollo sustentable. En: Foladori, G y Pierri, N., Sustentabilidad? Desacuerdos sobre el desarrollo sustentable., (1 ed.) Montevideo: Trabajo y Capital.
Red de Desarrollo Sostenible de Colombia. (2010). Redes. Recuperado de http://www. rds.org.co/politicas.htm
Rodríguez, R. I. (2011, jul.-dic.). Las tesis de los límites físicos del crecimiento: una revisión a los informes del Club de Roma. Perspectivas Revista de Análisis de Economía Comercio y Negocios Internacionales, 5(2), 75-103.
Romero, E. (2012). Desarrollo Sostenible. Hacia la Sostenibilidad Ambiental. Bogotá, D.C.: Produmedios.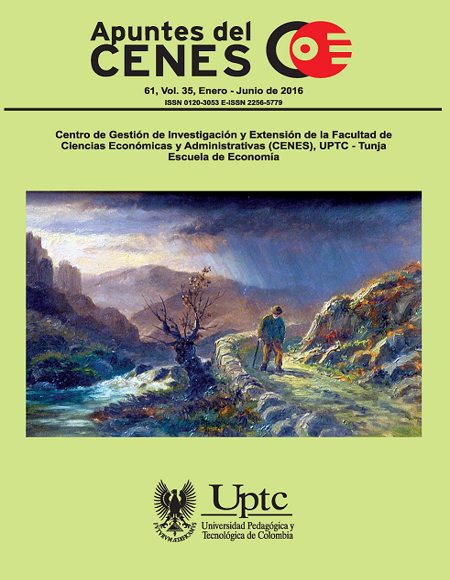 Downloads
How to Cite
Salamanca Sarmiento, C. H. (2016). Sustainability and environmental regional autonomous corporations in Boyacá - Colombia. Apuntes Del Cenes, 35(61), 85–113. https://doi.org/10.19053/22565779.4147
License
Copyright (c) 2016 Carlos Humberto Salamanca Sarmiento
This work is licensed under a Creative Commons Attribution-NonCommercial-ShareAlike 4.0 International License.
By submitting articles for evaluation, the author agrees to transfer the publishing rights to Revista Apuntes del CENES for publishing in any format or mean and that the attached partial use license will be signed.
The journal is under licence Attribution-NonCommercial-ShareAlike 4.0 International (CC BY-NC-SA 4.0)