Producción y calidad poscosecha de tomate (Solanum lycopersicum L.) larga vida sometido a la aplicación de ácido giberélico
Abstract
El objetivo de esta investigación fue evaluar el efecto de la aplicación exógena de ácido giberélico sobre la producción y calidad poscosecha de tomate híbrido Ichiban. Se utilizó un diseño completamente al azar con seis tratamientos correspondientes a diferentes dosis de ácido giberélico (0, 1, 10, 100, 1.000 ó 10.000 mg L-1). El ácido giberélico se aplicó de forma localizada en el momento en que cada racimo formó sus frutos, por tanto, se hicieron ocho aplicaciones (ocho racimos/planta), cada fruto recibió una sola aplicación. Al momento de la cosecha se midió la producción y posteriormente el comportamiento poscosecha durante 21 días. Los resultados indicaron que la aplicación de 100 mg L-1 de ácido giberélico generó la mayor producción de calidad extra, primera, un considerable rendimiento total y una baja producción de las calidades correspondientes a frutos de menor tamaño (cuarta, tercera y segunda), lo cual hace que sea la dosis que más favorece la producción de frutos de mayor tamaño. La dosis de 10.000 mg L-1 de ácido giberélico no favorece la producción de tomate, debido a que generó la menor producción total, extra, primera y altas producciones de los frutos de menor calidad (tercera y cuarta). La aplicación de ácido giberélico no produjo un efecto negativo en la calidad poscosecha de los frutos de tomate, pues no cambió significativamente la pérdida de peso, los sólidos solubles totales y la firmeza de los frutos de tomate.
Palabras clave adicionales: pérdida de peso, sólidos solubles totales, firmeza.
Downloads
Download data is not yet available.
References
Agronet. 2012. Área cosechada, producción y rendimiento de tomate. En: http://www.agronet.gov.co/www/htm3b/ReportesAjax/VerReporte.aspx; consulta: octubre de 2012.
Amarante, C.V.T., A.M.F. Drehmer, F. De Souza y P. Francescatto. 2005. Pulverização pré-colheita com ácido giberélico (GA3) e aminoetoxivinilglicina (AVG) retarda a maturação e reduz as perdas de frutos na cultura do pessegueiro. Rev. Bras. Frutic. 27(1), 1-5.
Amézquita, N., H.E. Balaguera-López y J.G. Álvarez- Herrera. 2008. Efecto de la aplicación precosecha de giberelinas y calcio en la producción, calidad y rajado del fruto de uchuva (Physalis peruviana L.). Rev. Colomb. Cienc. Hortíc. 2(2), 133-144.
Andrews, P.K. y L. Shulin. 1995. Cell wall hydrolytic enzyme activity during development of nonclimacteric sweet cherry (Prunus avium L.) fruit. J. Hort. Sci. 70 (4), 561-567.
Baldet, P., M. Hernould, F. Laporte, F. Mounet, D. Just, A. Mouras, C. Chevailier y C. Rothan. 2006. The expression of cell proliferation-related genes in early developing flowers is affected by a fruit load reduction in tomato plants. J. Exp. Bot. 57, 961-970.
Ben-Arie, R., Y. Saks, L. Sonego y A. Frank. 1996. Cell wall metabolism in gibberellin-treated persimmon fruits. Plant Growth Regul. 19, 25-33.
Casierra, F. y M.C. Cardozo. 2009. Análisis básico del crecimiento en frutos de tomate (Lycopersicon esculentum Mill. cv. Quindío) cultivado a campo abierto. Rev. Fac. Nal. Agr. Medellín 62(1), 4815-4822.
Casierra-Posada, F. y R. Salamanca. 2008. Influencia del acido giberélico y del nitrato de calcio sobre la duración poscosecha de frutos de fresa (Fragaria sp.). Rev. Colomb. Cienc. Hortíc. 2(1), 33-42.
Casierra-Posada, F. y O. Aguilar-Avendaño 2008. Calidad en frutos de tomate (Solanum lycopersicum L.) cosechados en diferentes estados de madurez. Agron. Colomb. 26(2), 300-307.
Casierra-Posada, F., M.C. Cardozo y J.F. Cárdenas-Hernández. 2007. Análisis del crecimiento en frutos de tomate (Lycopersicon esculentum Mill.) cultivados bajo invernadero. Agron. Colomb. 25(2), 299-305.
Chang, J.C. y T.S. Lin. 2006. GA3 increases fruit weight in 'Yu Her Pau' litchi. Sci. Hortic. 108, 442-443.
Choi, C., P.A. Wiersma, P. Toivonen y F. Kappel. 2002. Fruit growth, firmness and cell wall hydrolytic enzyme activity during development of sweet cherry fruit treated with gibberellic acid (GA3). J. Hort. Sci. Biotechnol. 77(5), 615-621.
Clayton, M., W.V. Biasi, I.T. Agar, S.M. Southwick y E.J. Mitcham. 2003. Postharvest quality of 'Bing' cherries following preharvest treatment with hydrogen cyanamide, calcium ammonium nitrate, or gibberellic acid. HortScience, 38(3), 407-411.
Escobar, H. y R. Lee. 2001. Producción de tomate bajo invernadero. Cuadernos del centro de investigaciones y asesorías agroindustriales CIIA. Fundación Universidad de Bogotá Jorge Tadeo Lozano, Bogotá [ Links ].
Facteau T.J., N.E, Chestnut, K.E. Rowe y C. Payne. 1992. Brine quality of gibberellic acid-treated 'Napoleon' sweet cherries. HortScience 27(2), 118-122.
FAO. 2012. Estadísticas cultivo de tomate. En: http://www.faostat3.fao.org/home/index_es.html; consulta, octubre de 2012.
Fu, X., D. Sudhakar, J. Peng, D.E. Richard, P. Christou y N. Haarberd. 2001. Expression of Arabidopsis AGI in transgenic rice represses multiple gibberellin responses. Plant Cell 13, 1791- 1802.
Gustafson, F.G. 1960. Influence of gibberellic acid on setting and development of fruits in tomato. Plant Physiol. 35(4), 521-523.
Ho, L.C. 1988. Metabolism and compartmentation of imported sugars in sink organs in relation to sink strength. Annu. Rev. Plant Physiol. Plant Mol. Biol. 39, 355-378.
Kappel, F. y R. MacDonald. 2002. Gibberellic acid increases fruit firmness, fruit size, and delays maturity of 'Sweetheart' sweet cherry. J. Amer. Pomol. Soc. 56(4), 219-222.
Kataoka, K. Y. Yashiro, T. Habu, K. Sunamoto y A. Kitajima. 2009. The addition of gibberellic acid to auxin solutions increases sugar accumulation and sink strength in developing auxin-induced parthenocarpic tomato fruits. Sci. Hortic. 123, 228-233.
Kondo, S. y N. Mizuno. 1989. Relation between early drop of apple fruit and endogenous growth regulators, and effects of MCPB, GA3 plus GA4 and BA sprays on fruit abscission. J. Jpn. Soc. Hort. Sci. 58, 9-16.
Matsuoka, M. 2003. Gibberellins signaling: how do plant cells respond to GA signals? Plant Growth Regul. 22, 123-125.
Olszewski N, T.P. Sun y F. Gubler. 2002. Gibberellin signalling, biosynthesis, catabolism, and response pathways. Plant Cell (Suppl.) 14, 561-580.
Pantástico, E.R. 1981. Fisiología de postrecolección. Vol.1. Ed. Limusa S.A., México.
Paroussi, G., D.G. Voyiatzis, E. Paroussi y P.D. Drogour. 2002. Growth, flowering and yield responses to GA3 of strawberry grown under different environmental conditions. Sci. Hortic. 9, 103-113.
Podestá, L., F. Gil, M. Rodríguez y C. Arjona. 2001. Efecto del ácido giberélico y del calcio sobre el tamaño, agrietamiento y otros parámetros de calidad en frutos de cerezo (Prunus avium L.) cv. Bing. Invest. Agr. Prod. Prot. Veg. 16 (1), 37-48.
Retamales, J., F. Bangerth, T. Cooper y R. Callejas. 1995. Effects of CPPU and GA3 on fruit quality of sultanina table grape. Acta Hort. 394, 149-157.
Roussos, P.A., N.K. Denaza y T. Damvakaris. 2008. Strawberry fruit quality attributes alter application of plant growth stimulating compounds. Sci. Hortic. 119(2), 138-146.
Sanches, F.R., I.C. Leite y P.R.C.E. Castro. 2001. Efeito do ácido giberélico (AG3) na floração e produção da lima ácida 'tahiti' (Citrus latifolia Tan.). Rev. Bras. Frutic. 23(3), 504-509.
Serrani, J.C., R. Sanjuan, O. Ruiz-Rivero, M. Fos y J.L. García-Martínez. 2007. Gibberellin Regulation of Fruit Set and Growth in Tomato. Plant Physiol. 145, 246-257.
berellins are required for seed development and pollen tube growth in Arabidopsis. Plant Cell 14, 3133-3147.
Singh, U.S. y R.K. Lal. 1980. Influence of growth regulators on setting, retention, and weight of fruits in two cultivars of litchi. Sci. Hortic. 12, 321-326.
Streck, N.A., G.A. Buriol, J.L. Andriolo y M.A. Sandri. 1998. Influência da densidade de plantas e da poda apical drástica na produtividade do tomateiro em estufa de plástico. Pesqui. Agropecu. Bras. 33(7), 1105-1112.
Taiz, L. y E. Zeiger. 2006. Plant physiology. 4th ed. Sinauer Associates Publishers, Sunderland, MA.
Usenik, V., D. Kastelec y F. Tampar. 2005. Physicochemical changes of sweet cherry fruits related to application of gibberellic acid. Food Chem. 90(4), 663-671.
Vieira, C.R.Y., E.J. Pires, M.M. Terra, M.A. Tecchio y R.V. Botelho. 2008. Efeitos do ácido giberélico e do thidiazuron sobre as características dos frutos e do mosto da uva 'Niagara Rosada'. Rev. Bras. Frutic. 30(1), 12-19.
Wu, J., J.H. Zhong, K. Xu, Q.P. Wei y Z.L. Wei. 2001. Effect of exogenous GA3 on fruit development and endogenous hormones in Fujiminori grape. J. Fruit Tree 18 (4), 209-212.
Zabadal, T.J. y T.W. Dittmer. 2000. Influence of gibberellic acid sprays on berry size and shot berry on 'Vanessa' grapevines. Acta Hort. 527, 153-156.
Zhang, C., K. Tanabe, F. Tamura, A. Itai y M. Yoshida. 2007. Roles of gibberellins in increasing sink demand in Japanese pear fruit during rapid fruit growth. Plant Growth Regul. 52, 161-172.
Zhenming, N., X. Xuefeng, W. Yi, L. Tianzhong, K. Jin y H. Zhenhai. 2008. Effects of leaf-applied potassium, gibberellin and source-sink ratio on potassium absorption and distribution in grape fruits Sci. Hortic. 115 164-167.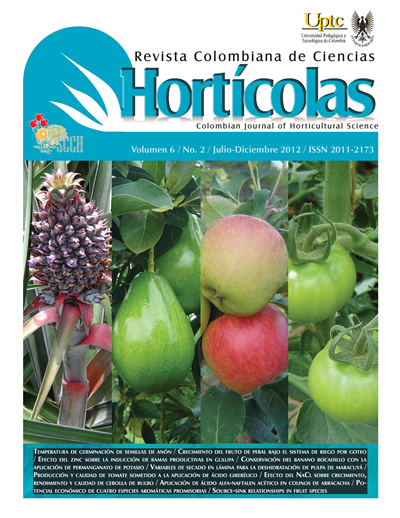 Downloads
Metrics
Views/Downloads
Abstract

987

PDF (Español)

1229
How to Cite
Laiton P., G A, Almanza-Merchán, P J, & Balaguera-López, H E. (2013). Producción y calidad poscosecha de tomate (Solanum lycopersicum L.) larga vida sometido a la aplicación de ácido giberélico. Revista Colombiana de Ciencias Hortícolas, 6(2), 183–195. https://doi.org/10.17584/rcch.2012v6i2.1976
Section
Vegetable section
License
The copyright of the articles and illustrations are the property of the Revista Colombiana de Ciencias Hortícolas. The editors authorize the use of the contents under the Creative Commons license Attribution-Noncommercial-ShareAlike 4.0 International (CC BY-NC-SA 4.0). The correct citation of the content must explicitly register the name of the journal, name (s) of the author (s), year, title of the article, volume, number, page of the article and DOI. Written permission is required from publishers to publish more than a short summary of the text or figures.