The Cotton-Textile Circuit in Formosa, Argentina 2003-2015
Keywords:
state; Argentina; neoliberalism; new regionalism; flexibility; cotton;
Abstract
This paper analyzes the subnational public policy in Argentina. Specifically, the state intervention in Formosa is studied, a province of the lagging periphery, differentiated by its low economic dynamism and historically marginalized in the national socio-spatial configuration. It is intended to show that, despite the "postneoliberal" turn of the Argentinian state in the period considered, the local/regional policies implemented in Formosa follow a neoliberalizing course. We take as a specific case study the policy followed around a sector/territorial intervention on some links of the cotton-textile chain based in the province between 2003 and 2015. We concluded that, based on the ideas of New Regional Orthodoxy, the regional public policy is oriented to impose market discipline by state channels, keeping subordinated political and social agendas to the priority of maintaining investor confidence and the good climate business, territorial competitiveness and flexible labor market.
Downloads
Download data is not yet available.
References
1. ADE Formosa. (s.f.). Agencia de Desarrollo Empresarial ADE. www.adeformosa.org.ar

2. Adriani, H. L. (2016). Territorio y desarrollo en la Argentina posconvertibilidad. En M. Féliz, E. López & M. García (coords.) Desarmando el modelo. Desarrollo, conflicto y cambio social tras una década de neodesarrollismo (pp. 261-76). El Colectivo.

3. Amin, A. & K. Robins (1990). The Re-emergence of Regional Economies? The Mythical Geography of Flexible Accumulation. Society and Space, 8, 7-34. https://doi.org/10.1068/d080007

4. Argentina. (s.f.). Planificación. http://www.planificacion.gob.ar/contenidos/2605

5. Arza, V. & Van Zwanenberg, P. (2015). Obstáculos para la coexistencia de modelos alternativos de agricultura: el caso del algodón en Argentina. Desarrollo Económico, 64(2), 411-37.

6. Cao, H. & Vaca, J. (2006). Desarrollo regional en la Argentina: la centenaria vigencia de un patrón de asimetría regional. Revista Latinoamericana de Estudios Urbanos y Regionales, 32(95), 95-111. http://dx.doi.org//10.4067/S0250-71612006000100006

7. Cetrángolo, O. & Gatto, F. (2002). Dinámica productiva provincial a fines de los años Noventa. Serie Estudios y Perspectivas 14. Cepal.

8. Consejo Federal de Inversiones –CFI-. (s.f.). Planificación estratégica regional. http://cfi.org.ar/accionar/lineas-de-trabajo/planificacion-estrategica-regional

9. Criado, R. & Vázquez, N. (2007). Calidad del empleo y formas de inserción laboral en las pequeñas unidades industriales. En 8.° Congreso Nacional de Estudios del Trabajo. Buenos Aires.

10. El Comercial. (2012, 8 de mayo). Fontex: Cooperativas cobran sin aporte jubilatorios. Diario El Comercial. http://www.elcomercial.com.ar/index.php?option=com_content&view=article&id=76828:fontex--cooperativas-cobran-sin-aporte-jubilatorio&catid=54&Itemid=55

11. Emprender en la Región TV. (2013, 13 sept.). Programa de Desarrollo Textil Fontex. [Video]. https://www.youtube.com/watch?v=hyqNWQhLec4

12. Féliz, M. (2019). El tiempo que nos tocó. Dependencia, crisis y luchas sociales en la Argentina reciente. El Colectivo.

13. Fernández, V. R. (2016). Desde el laboratorio neodesarrollista a la resurgencianeoliberal. Una revisión creativa del 'doble movimiento' polanyiano en América Latina. Revista Estado y Políticas Públicas, (7), 21-47.

14. Fernández, V. R. & Cardozo, L. G. (2012). Nueva estatidad bajo la emergencia regional. La reelaboración del proyecto neoliberal y sus alteraciones en la periferia. Revista Brasileira de Estudios Urbanos e Regionais, 14(2), 11-33. https://doi.org/10.22296/2317-1529.2012v14n2p11

15. Fernández, V. R. & Trevignani, M. F. (2015). Cadenas globales de valor y desarrollo: perspectivas críticas desde el Sur Global. Revista de Ciencias Sociais, 58(2), 499-536. https://doi.org/10.1590/00115258201551

16. Fernández, V. R. & Comba, D. A. (2017). Sistemas regionales de innovación en la periferia: una perspectiva crítica. Redes, 22(1), 376-401. http://dx.doi.org/10.17058/redes.v22i1.8429

17. Formosa. (2012). El segmento textil es uno de los que refleja el sostenido crecimiento de la economía local. https://www.formosa.gob.ar/noticia/13880/52/el_segmento_textil_es_uno_de_los_que_refleja_el_sostenido_crecimiento_de_la_economia_local

18. Formosa. (s.f.). Cedeva. https://www.formosa.gob.ar/cedeva

19. FTC Noticias. (2014, 23 ene.). Formosa Fontex. [Video]. https://www.youtube.com/watch?v=-Ep45QGP0Cc

20. García, A. (2016). Auge y caída de la planificación regional en Argentina: entre la búsqueda de una autonomía enraizada y el escenario económico del capitalismo periférico. Cuadernos de Geografía: Revista Colombiana de Geografía, 27(1), 180-94. http://dx.doi.org/10.15446/rcdg.v27n1.58053.

21. Giuliano, E. F. (2015). Sociedades periféricas y multiterritorios. Análisis de la estructura social de Formosa en el ciclo 1980-2002. La Colmena.

22. Glover, D. (2010). The Corporate Shaping of GM Crops as a Technology for the Poor. Journal of Peasant Studies, 37(1), 67-90. https://doi.org/10.1080/03066150903498754

23. Hadjimichalis, C. (2011). SMEs, Entrepeneurialism, and Local/Regional Development. In Pike, A. Rodríguez-Posse & J. Tomaney (eds.) Handbook of Local and Regional Development (pp. 381-93). Routledge.

24. Harvey, D. (2004). El nuevo imperialismo. Akal.

25. Ipaippa. (2004). Programa de Asistencia Integral al Pequeño Productor Agropecuario. Ipaippa.

26. INTI. (s.f.). ¿Conocés al Inti? inti.gob.ar/conoces-al-inti

27. Jessop, R. (2008). El futuro del Estado capitalista. De la Catarata.

28. JICA. (s.f.). Agencia de Cooperación Internacional del Japón. http://www.jica.go.jp/spanish/index.html

29. Katz, C. (2013). Manifestaciones de la crisis en América Latina y las paradojas del neodesarrollismo argentino. Caderno CRH, 26(67), 49-64 http://dx.doi.org/10.1590/S0103-49792013000100004

30. Madoery, O. (2011). Política y territorio en Argentina. Desenvolvimento regional em debate, 1(1), 24-39. https://doi.org/10.24302/drd.v1i1.63

31. Manzanal, M. (2000). Neoliberalismo y territorio en la Argentina de fin de siglo. Economía, Sociedad y Territorio, 2(7), 433-58. https://doi.org/10.22136/est002000438

32. McMichael, P. (2013). Value Chain Agriculture and Debt Relations: Contradictory Outcomes. Third World Quarterly, 34(4), 671-90. https://doi.org/10.1080/01436597.2013.786290

33. Neffa, J. C. (2008). Empleo informal, trabajo no registrado y trabajo precario. Dimensiones teóricas y conceptuales. En J. C. Neffa (coord.) La informalidad, la precarización laboral y el empleo no registrado en la provincia de Buenos Aires (pp. 15-139). Ministerio de Trabajo de la Provincia de Buenos Aires/CEIL.

34. Panigo, D. & Chena, P. (2011). Del neo-mercantilismo al tipo de cambio múltiple para el desarrollo. Los dos modelos de la posconvertibilidad. En Ensayos en honor a Marcelo Diamand (pp. 241-66). Miño y Dávila.

35. Pinassi, M. O. & Adoue, S. B. (2019). Primer prólogo. En M. Féliz, El tiempo que nos tocó. Dependencia, crisis y luchas sociales en la Argentina reciente (pp. 11-17). El Colectivo.

36. PROSAP. (s.f.). Programa de servicios agrícolas provinciales. http://www.prosap.gov.ar

37. Salvia, S. (2019). El modo de acumulación en la Argentina reciente. Del neoliberalismo a la posconvertibilidad. En A. Bonnet & A. Piva (comps.) El modo de acumulación en la Argentina contemporánea (pp. 51-70). Imago Mundi.

38. Salvia, A., Fraguglia, L. & Metlika, U. (2006). ¿Disipación del desempleo o espejismo de la Argentina postdevaluación? Lavboratorio, 8(19).

39. Salvia, A. & Gutiérrez-Ageitos, P. (2013). La estructura social del trabajo en Argentina en el cambio de siglo: cuando lo nuevo no termina de nacer. Papeles de Trabajo, 19(76), 163-200.

40. Sapkus, S. (2014). Cambo agrario y reconfiguración de las relaciones sociales en Formosa. Publicar en Ciencias Sociales, 13(16), 103-20.

41. Tickell, A. & Peck, J. (2003). Making Global Rules. Globalization or Neoliberalization? In J. Peck & H. W. Young (eds.) Making the Global Economy (pp. 163-1). Sage.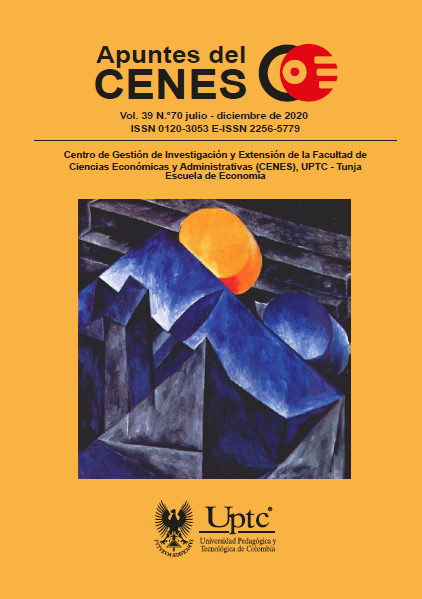 Downloads
Metrics
Views/Downloads
Abstract

402

PDF (Español)

398

XML (Español)

8
How to Cite
Sapkus, S O, & Giuliano, E F. (2020). The Cotton-Textile Circuit in Formosa, Argentina 2003-2015. Apuntes del Cenes, 39(70), 209–232. https://doi.org/10.19053/01203053.v39.n70.2020.10483
Section
Regional economics
License
Copyright (c) 2020 Sergio Omar Sapkus, Ernesto Fabian Giuliano
This work is licensed under a Creative Commons Attribution-NonCommercial-ShareAlike 4.0 International License.