The euro and the consumer as political phenomena in the current development of Europe
Keywords:
Consumer economics, economic systems
Abstract
The capitalist economic systemis not getting off worldwidesince 2008. Soitseems that political institutions should try to finda new legal frame work for economic relations. One question remains unanswered until today: if legal guarantees shall be subject to the economic systemor, other wise, the economy shall be permeated by the prevalence of the rights and liberties of the individual? In order to do a first approach to any answers, we should ponder the understanding of the new economic pattern of a transnational market, for example the Euro, with the new concept of legal subject in the same market, that is, the consumer. This article tries tocover this idea in the European Union framework.
Downloads
Download data is not yet available.
References
Airbus. (2013). The success story of Airbus. Retrieved from http://www.airbus.com/company/history/
Beater, A. (2000). Ver braucherschutz und Schutzzweckdenken im Wettwebersrecht. Tübingen:Mohr Siebeck.
Buchter,H. (2012, 11 de oct.).USA:Der ganz große Unterschied. Zeit Online. Recuperado de http://www.zeit.de/2012/ 41/USA-Wahl Florida-Armut-Reichtum
ComitéEconómico y Social Europeo -CESE-. (s.f.). A citizens orientated approachto the Single Market. Retrieved from http://www.eesc.europa.eu/resources/docs/qe-30-12-329-en-c.pdf
CVCE (2012). L'échec d'Euratom.Recuperado dehttp://www.cvce.eu/collections/unit-content/-/unit/ 02bb76df-d066-4c08-a58a-d4686a3e68ff/957de4a8-4422-4e8f-9194 ebf39fdf7065
Diario Oficial de la Unión Europea (s.f.).Versión Consolidada del Tratado de la Unión Europea. Recuperado de http://eu r - l ex. eur opa . eu/LexUr i Ser v/LexUriServ.do?uri=OJ:C:2010:083:0013: 0046:ES:PDF
Diekman, F.& Demling, A. (2012, 23 de oct.).Zweifel an EU-Statistik: So wird Deutschland arm gerechnet. Spiegel Online. Recuperado de http://www.spiegel.de/wirtschaft/soziales/ statisti k-zu-armut-und-sozialer -ausgrenzung-verzerrt-die-wirklichkeit-a-862962.html
Duwendag, D. (1999). Geldtheorie und Geldpolitik in Europa: Eine problemor ientierteEinfuhrungmiteinemKompen diummonetarer Fachbegriffe. Berlin:Springer.
Eco, H. (2013, 30 demarzo). En busca de un héroe. El Espectador. Recuperado de http://www.elespectador.com/opinion/columna 413109-busca-de-un-heroe
Euroinphoto.eu (2013). Der Euro -Geschichte und Bedeutung. Recuperadode http://www.euroinphoto.eu
Euro-Krisenländer weisen hohe Haushalts defizite aus. (2013, 22 de abril). Frankfurter Allgemeine. Recuperado de http://www.faz.net/aktuell/wirtschaft/europas-schuldenkris e/wegen rezession-euro-krisenlaender-weisenhohe-haushaltsdefi zite-aus 12157863.html
Fuchs, M. (2011). Sind Prinzipien und Techniken des Verbraucherschutzrechts im Sozialrecht anwendbar? en Verbraucherschutz im Sozialrecht. Berlín:LitVerlag.
Gierke, O. (1895). Deutsches Privatrecht. Leipzig:Duncker &Humblot.
Handelsblatt. (2011). Klage gegen eurohilfen" das euro-abenteuer geht zuende". Recuperado de http://www.handelsblatt.com/politik/deutschland/klage-gegen-euro hilfen-das-euroabenteuer-geht-zu-ende/4575850.html
Jurpc. (2009). Recuperado de http://www.jurpc.de/rechtspr/20090102.htm
Kaiser, S. (2011, 28 de junio). Steuerkonzept: Wer von Kirchhofs Plänen profitiert - und wer nicht. Spiegel Online. Recuperado de http://www.spiegel.de/wirtschaft/soziales/steuerkonzept-er-von kirchhofsplaenen-profitiert-und-wer-nicht-a-771115.html
Krugmann, P. &Wells, R. (2007). Introducción a la economía, macroeconomía. Barcelona: Reverte.
Lindberg, L.N. (1963). The political dynamics of European economic integration. Stanford, Calif: Stanford University Press.
Luhmann, N. (1998). Social Systems. In Zeitschrift, Human Studies. Geistes un Sozialwissenschaften, Recht. Volumen 21, 2. Netherlands: SpringerVerlag.
Mises, L. (1953). The theory of money and credit. New Haven, Conn.: Yale University Press. Retrieved from http:// mises.org/books/tmc.pdf
Parsons, T. (1991). The social system. London:Routledge, Taylor & Francis Group.
Rey, P. (2003). The economics of vertical restrains. In Stiglitz, J. E., &
Arnott, R. (2003). Economics for an imperfect world: Essays in honor of Joseph E. Stiglitz. Cambridge, Mass:MIT Press.
Rickens, C. (2012, 13 de enero). Frankreich-Herabstufung: Der heilsame Schock. Recuperado de http://www.spiegel.de/ wi r t sch aft /soziales / frankreich-herabstufung-der-heilsame-schock-a 808948.html
Rojo, L.A. (2009). Fluctuaciones económicas y crisis recientes. Real Academia de Ciencias Morales y Políticas. [Online]. Recuperado dehttp://www.racmyp.es/docs/anales/A85/A85-25.pdf
Rüthers, B.&Stadler,A. (2011).Allgemeiner Teil des BGB. (16).Tübingen: C.H. Beck.
Sen, A. (2000). Desarrollo y libertad. E. Rabasco & L. Toharia (trad.). Buenos Aires: Planeta.
Spiegel Online (2005, 27 de mayo). Online-Einkauf: BGH stärkt Verbraucherrechte. Recuperado de http://www.spiegel.de/net zwelt/web/0,1518,381956,00.html
SpiegelOnline (2010, 13 de febrero).Debatteüber EU Wirtschaftspolitik: Junckerfürchtet Zerfall der Euro-Zone. Recuperado de http://www.spiegel.de/wirtschaft/soziales /0,1518,677689,00.html
Spiegel Online. (2012, 12 de sept.). Verfassungsrichter zu ESM: Karls ruhe genehmigt Rettungsschirm mit Vorbehalten. Recuperado de http://www.spiegel.de/politik/deutschland/ karlsruhe verfassungsgericht-lehnteilantraege-gegen-esm-ab-a-855298.html
Stöver,B. (2007).Der kalte Krieg,Geschichteeines radikalen Zeitalters: 1947-1991.München: C. H. Beck.
VerbraucherzentraleBundesverband. (2011). Recuperado de http://www.vzbv.de Verbraucherzentrale Hessen. (s.f.). Die Siebziger Jahre: Aufwertung der Verbraucherarbeit in Krisenzeiten. Recuperado de http://50jahre.ver braucher.de/1970-1979.html
Von Vogel, A. (2006). Verbraucherver tragsrecht und allgemeines Vertrag srecht: Fragen der Kohärenz. Berlín:De Gruyter.
Zeppernick, R. (2002). Die Bedeuting des Euro für Europa und dieWeltwirtschaft. Konrad Adenauer Stiftung Recuperado de http://www.kas.de/wf/doc/kas_368- 544-1-30.pdf?080708123058
Zorn, C. (2010). Zur Aktualität von Niklas Luhmann, Einleitung in sein Werk. Wiesbaden: VS Verlag für Sozialwis senschaften.
Zwiedineck, O. (1955). Mensch und Wirtschaft. Berlín:Duncker &Humblot.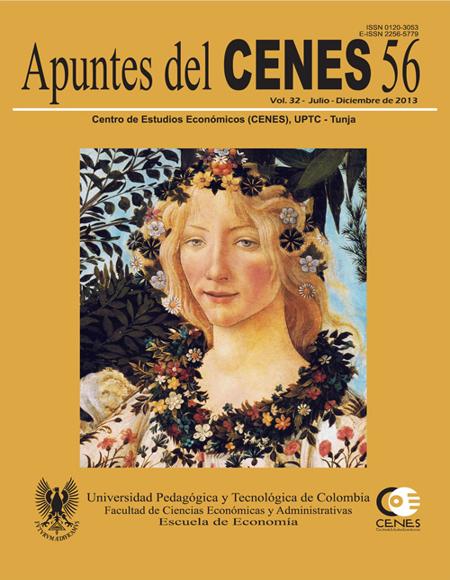 How to Cite
Castro, J. G. (2014). The euro and the consumer as political phenomena in the current development of Europe. Apuntes Del Cenes, 32(56), 81–104. https://doi.org/10.19053/22565779.2444
License
Copyright (c) 2013 José Guillermo Castro
This work is licensed under a Creative Commons Attribution-NonCommercial-ShareAlike 4.0 International License.
By submitting articles for evaluation, the author agrees to transfer the publishing rights to Revista Apuntes del CENES for publishing in any format or mean and that the attached partial use license will be signed.
The journal is under licence Attribution-NonCommercial-ShareAlike 4.0 International (CC BY-NC-SA 4.0)