ANALYSIS OF SHOLAR HISTORY TEXTBOOKS- CASE STUDY ON SPANISH CIVIL POST WAR
Keywords:
Journal of Latin American Education History, school textbooks, historical memory, Spanish history, content analysis, franco dictatorshi, franco fight.
Abstract
The objective has been analyzing the text in History subject, specifically, analyzing the contents that are nowadays reflected on scholar textbooks in a specific history period of time of Spain, taking place in the Post war since 1939. The Franco Dictatorship Repression and Franco fight  lasted  begining the 60s. The corresponding contents at this period are located curricularly on the corresponding courses between 15 and 17 years old. The methodology used was qualitative using research instruments from the critical analysis of content and the teachers` interviews. After having done this lengthy study, we have found that thte History textbooks keep on ignoring or hiding facts that were developed after Republican failure experience in the 30s in Spain, specially the ones related to the Franco Dictatorship Repression and the resistance of many men and women in front of her. The findings of this research seem to remember what the Argentian writerJuan Gelman, victim of military didactorship, said: "The dictators dissapear and the organizers of oversight inmediately appear".
Downloads
Download data is not yet available.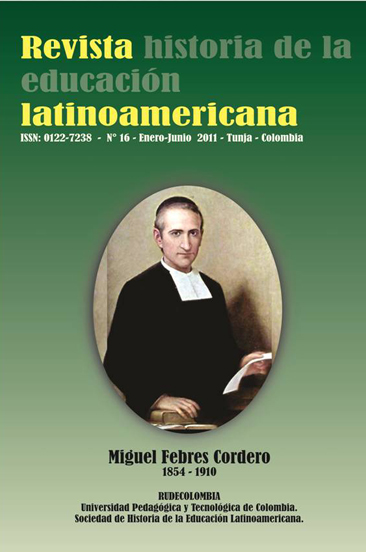 Downloads
How to Cite
Díez Gutiérrez, E. J. (2012). ANALYSIS OF SHOLAR HISTORY TEXTBOOKS- CASE STUDY ON SPANISH CIVIL POST WAR. Revista Historia De La Educación Latinoamericana, (16), 87–118. https://doi.org/10.19053/01227238.1584
License
Los autores/as conservarán sus derechos de autor y garantizarán a la revista el derecho de primera publicación de su obra, el cuál estará simultáneamente sujeto a la Licencia de reconocimiento de Creative Commons que permite a terceros compartir la obra siempre que se indique su autor y su primera publicación esta revista.
Los autores/as podrán adoptar otros acuerdos de licencia no exclusiva de distribución de la versión de la obra publicada (p. ej.: depositarla en un archivo telemático institucional o publicarla en un volumen monográfico) siempre que se indique la publicación inicial en esta revista.
Se permite y recomienda a los autores/as difundir su obra a través de Internet (p. ej.: en archivos telemáticos institucionales o en su página web) antes y durante el proceso de envío, lo cual puede producir intercambios interesantes y aumentar las citas de la obra publicada. (Véase El efecto del acceso abierto).