Deregulation of initial teacher training. A neoliberal experience
Keywords:
Education policy; education expenditures; education subsidy; Chile; privatization
Abstract
This paper addresses the problem of deregulation of initial teacher training under a neoliberal system. Chile was used as a social laboratory of political and economic transformation by a group of Chilean economists trained in the United States (Chicago Boys). The text provides historical background of the process carried out by the civil-military dictatorship in Chile, continued by the following governments. This political and historical framework makes it possible to visualize the Chilean university system, in which state institutions are affected by a self-financing model.
We emphasize the analysis around the regulation/deregulation dichotomy as a public/private distinction. An example is the expansion of a private and deregulated offer of teacher training by regional state universities with low basal state contribution. Through these cases it is possible to observe that a model based on supply and demand advances in the destruction of the frontiers between public and private sectors. As a good laboratory, the example of Chile can be used to observe the effects of a neoliberal public policy.
Downloads
Download data is not yet available.
References
Bellei, Cristian. El gran experimento. Mercado y privatización de la educación chilena. (Santiago: LOM ediciones, 2015), 254.

Bellei, Cristian; Cabalin, Cristian. Chilean Student Movements: Sustained Struggle to Transform a Market-Oriented Educational System. Current Issues in Comparative Education, v. 15, no. 2 (2013): 108–123.

Bellei, Cristian.; Valenzuela, Juan Pablo. "¿Están las condiciones para que la docencia sea una profesión de alto estatus en Chile?" Fin de ciclo. Cambios en la gobernanza del sistema educativo. (Santiago: UNESCO-PUC, 2010), 1–26.

Bravo, Andrés. "Historia y gestión del asentamiento de la Universidad Arturo Prat en la ciudad de Victoria" Documento de trabajo, no publicado, 2011.

Bravo, José. Educación pública, autonomía universitaria y cambio político: notas para el análisis del movimiento universitario en chile, 2011. Revista Historia de la Educación Latinoamericana, v.1, no.21 (2013): 263–282.
https://doi.org/10.19053/01227238.2473

Cabalin, Cristian. "Neoliberal Education and Student Movements in Chile: Inequalities and Malaise". Policy Futures in Education, v. 10, no. 2 (2012): 219–228.
https://doi.org/10.2304/pfie.2012.10.2.219

Comisión. "Informe comisión sobre formación inicial docente". (Santiago: CPEIP, 2005), 91.

Contreras Gutiérrez, Alejandra. La enseñanza jesuita en Chile colonial: sus colegios, universidades y una aproximación a sus métodos y contenidos. Revista Historia de la Educación Latinoamericana, vol.16 no. 22 (2014): 35-50.
https://doi.org/10.19053/01227238.2687.

Darling-Hammond, Linda y Lieberman, Ann. "Teacher education around the world: Changing policies and practices". (Nueva York: Routledge, 2013), 202.
https://doi.org/10.4324/9780203817551

De Castro, Sergio. El Ladrillo: bases de la política económica del gobierno militar chileno. (Santiago: Centro de Estudios Públicos, 1992), 193.

Délano, Manuel y Traslaviña, Hugo. La herencia de los Chicago Boys. (Santiago: Ornitorrinco, 1989), 209.

Diniz-Pereira, Julio. "As licenciaturas e as novas políticas educacionais para a formação docente". Educação & sociedade, v. 20, no. 68 (1990): 109–125.
https://doi.org/10.1590/S0101-73301999000300006

Ganga, Francisco. A.; Vera, José. "Reflexiones en torno al nuevo escenario de la gestión universitaria". Cuadernos de la Facultad de Humanidades y Ciencias Sociales. Universidad Nacional de Jujuy, n. 30 (2006): 41–61.

Kornbluh, Peter. "The Declassified Pinochet File: Delivering the Verdict of History". Radical history review, v. 2016, n. 124 (2016): 203–216.
https://doi.org/10.1215/01636545-3160071

Kremerman, Marco. "El desalojo de la educación pública". Serie "Ideas para el buen vivir". (Santiago:Fundación SOL. N 11, 2011), 13.

López, Ana. "De la dictadura militar a la democracia pactada de la Concertación y la derecha: El modelo de la Universidad-Empresa en Chile (1973-2008)". Lucha de clases, v. 1(2011).

Mineduc. Estadísticas de la educación 2016. (Santiago: Mineduc, 2017), 177.

Monckeberg, María Olivia. Privatización de las Universidades. (Santiago: Copa Rota, 2005), 603.

Monckeberg, María Olivia. Con fines de lucro. (Santiago: Penguin Random House, 2013), 642.

Nef, Jorge. "The Chilean model: fact and fiction". Latin American perspectives, v. 30, n. 5 (2003): 16–40.
https://doi.org/10.1177/0094582X03256253

Nef, Jorge. "El concepto de Estado subsidiario y la educación como bien de mercado: Un bosquejo de análisis político". Enfoques educacionales, v. 2, (2007): 1-10.

OCDE. Establecimiento de un marco para la evaluación e incentivos docentes. Consideraciones para México. (Paris: OECD, 2011): 134.

Oliva, María Angélica. "Política educativa y profundización de la desigualdad en Chile". Estudios Pedagógicos (2008): 207-226.
https://doi.org/10.4067/S0718-07052008000200013

Pino-Yancovic, Mauricio. "Parents' defense of their children's right to education: Resistance experiences against public school closings in Chile". Education, Citizenship and Social Justice, v. 10, no. 3, (2015): 254–265.
https://doi.org/10.1177/1746197915607279

Reyes León, Daniel y Santos, Marcelo. "Los profesores taxis-El hedor de lo heredado: La desprofesionalización académica y su parque humano". Le Monde Diplomatique. Edición Chilena, 2011. Revisado desde: https://www.lemondediplomatique.cl/LOS-PROFESORES-TAXIS-El-hedor-de.html

Rifo Melo, Mauricio "Historia de la transformación en la educación superior chilena (1973-1990)". Revista Historia de La Educación Latinoamericana, v. 19, no. 28, (2017), 13–36.
doi.org/10.19053/01227238.4925

Ruffinelli, Andrea. Actualización de la sistematización de la oferta de Programas. Especiales de Pedagogía en Educación Básica de las Instituciones de Educación Superior Chilenas. Resumen Ejecutivo. (Santiago: CIDE, Universidad Alberto Hurtado, 2007): 1-243.

Ruffinelli, Andrea y Sepúlveda, Luis. "Sistematización de la oferta de programas especiales de pedagogía en educación básica de las instituciones de educación superior chilenas". Universidad Santiago: CIDE, Universidad Alberto Hurtado (2005): 1-29.

Simbürger, Elisabeth y Neary, Mike. "Taxi Professors: Academic Labour in Chile, a Critical-Practical Response to the Politics of Worker Identity". Workplace: A Journal for Academic Labor, v. 0, no. 28 (2016): 48-73.

Sisto, Vicente. "Entre la Privatización y La Reconstrucción de lo Público en Chile: Movimientos Estudiantiles y el Debate acerca del Devenir de la Universidad". Horizontes Sociológicos, v. 0, no. 1 (2015): 57–63.

Soto, Maximiliano. "Políticas Educacionales en Chile durante el Siglo XX". Revista Mad, v. 0, no. 10 (2004): 30–42.

Valdés, Juan Gabriel. La escuela de Chicago: operación Chile. (Buenos Aires: Grupo Editorial Zeta, 1989), 321.

Valdés, Juan Gabriel. Pinochet's Economists: The Chicago School of Economics in Chile. (New York: Cambridge University Press, 1995), 352.

Zeichner, Ken. "The Adequacies and Inadequacies of Three Current Strategies to Recruit, Prepare, and Retain the Best Teachers for All Students". Teachers College record, v. 105, 3 (2003): 490-519.
https://doi.org/10.1111/1467-9620.00248

Zeichner, Ken; Peña-Sandoval, César. "Venture philanthropy and teacher education policy in the US: The role of the New Schools Venture Fund". Teachers College record, v. 117, no. 6 (2015): 1–24.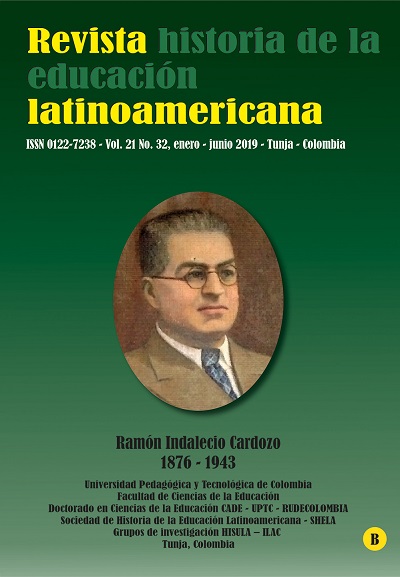 How to Cite
Silva-Peña, I., & Peña-Sandoval, C. (2019). Deregulation of initial teacher training. A neoliberal experience. Revista Historia De La Educación Latinoamericana, 21(32), 137–154. https://doi.org/10.19053/01227238.8724
License
Los autores/as conservarán sus derechos de autor y garantizarán a la revista el derecho de primera publicación de su obra, el cuál estará simultáneamente sujeto a la Licencia de reconocimiento de Creative Commons que permite a terceros compartir la obra siempre que se indique su autor y su primera publicación esta revista.
Los autores/as podrán adoptar otros acuerdos de licencia no exclusiva de distribución de la versión de la obra publicada (p. ej.: depositarla en un archivo telemático institucional o publicarla en un volumen monográfico) siempre que se indique la publicación inicial en esta revista.
Se permite y recomienda a los autores/as difundir su obra a través de Internet (p. ej.: en archivos telemáticos institucionales o en su página web) antes y durante el proceso de envío, lo cual puede producir intercambios interesantes y aumentar las citas de la obra publicada. (Véase El efecto del acceso abierto).