Planting method, nitrogen fertilization and inoculation for diazotrophic bacteria for Cantaloupe melon plants
Keywords:
Cucumis melo L. var. reticulatus Naud, Muskmelon, Azospirillum brasilense, Sustainable management, Soil acidification
Abstract
The objective of this study was to evaluate the effects on plant development, productivity and fruit quality from combinations of planting methods, nitrogen fertilizer applications and inoculation with Azospirillum brasilense in Cantaloupe melons cultivated in a protected environment. A randomized blocks design was adopted with a 2×2×2 factorial scheme with five replications. The treatments consisted of combinations of planting methods (pre-established seedlings or direct field sowing), inoculation with A. brasilense (with or without) and nitrogen fertilization (with and without). During the vegetative phase, the height, stem diameter, number and length of plant internodes and relative chlorophyll content were evaluated. Fifty-five days after planting, the leaf nitrogen content, leaf area and dry mass were measured. At harvest, the number of days between planting and harvesting was calculated, and the fresh weight, circumference, length, bark and pulp thickness and fruit productivity were evaluated. It was verified that A. brasilense did not affect any of the evaluated characteristics. On the other hand, direct field seed sowing decreased the production time and provided good plant development. However, the size and productivity of the fruits were higher when pre-established seedlings were used, with or without inoculation with A. brasilense, fertilized with nitrogen. It was concluded that the combinations of the different sowing methods, nitrogen fertilization and inoculation with A. brasilense affected the development and characteristics of the Cantaloupe melon plants and fruits.
Downloads
Download data is not yet available.
References
Andrade, A.T., A.B.T. Condé, R.L. Costa, A.W.V. Pomela, A.L. Soares, F.A.D. Martins, W.T. Lima, and C.B. Oliveira. 2016. Produtividade de milho em função da redução do nitrogênio e da utilização de Azospirillum brasilense. Rev. Bras. Milho Sorgo 15, 229-239. Doi: 10.18512/1980-6477/rbms.v15n2p229-239

Araújo, É.O., A.C.T. Vitorino, F.M. Mercante, D.P. Nunes, and S.D.P.Q. Scalon. 2014. Qualidade de sementes de milho em resposta à adubação nitrogenada e à inoculação com bactérias diazotróficas. Agrária 9, 159-165. Doi: 10.5039/agraria.v9i2a2695

Borcioni, E., Á.F. Mógor, and F. Pinto. 2016. Influence of the application of fulvic acid on seedling root growth and yield in lettuce. Rev. Cienc. Agron. 47, 509-515. Doi: 10.5935/1806-6690.20160061

Brunes, R.R., A.D.C. Lucio, M. Toebe, D.V. Schwertner, and F. Haesbaert. 2015. Relationships among traits in bell pepper derived from seeds with different levels of physiological quality. Caatinga 28, 108-118. Doi: 10.1590/1983-21252015v28n313rc

Bulegon, L.G., V.F. Guimarães, V.A. Egewarth, M.G. Santos, A.L. Heling, S.D. Ferreira, A.P.G.S. Wengrat, and A.G. Battistus. 2016. Crescimento e trocas gasosas no período vegetativo da soja inoculada com bactérias diazotróficas. Nativa 4, 277-286. Doi: 10.14583/2318-7670.v04n05a03

Cardoso, M.R.D., F.F.N. Marcuzzo, and J.R. Barros. 2014. Classificação climática de KÖPPEN-GEIGER para o estado de Goiás e o Distrito Federal. Acta Geogr. 8(16), 40-55.

Chang, J., X. Wu, Y. Wang, L.A. Meyerson, B. Gu, Y. Min, H. Xue, C. Peng, and Ge, Y. 2013. Does growing vegetables in plastic greenhouses enhance regional ecosystem services beyond the food supply? Front Ecol. Environ. 11(1), 43-49. Doi: 10.1890/100223

Coelho, E.L., P.C.R. Fontes, F.L. Finger, and A.A. Cardoso. 2003. Qualidade do fruto de melão rendilhado em função de doses de nitrogênio. Bragantia 62, 173-178. Doi: 10.1590/S0006-87052003000200001

Donagemma, G.K., V.D.B. Campos, S.B. Calderano, W.G. Teixeira, and J.H.M. Viana. 2011. Manual de métodos de análise de solo. 2nd ed. Empresa Brasileira de Pesquisa Agropecuária, Rio de Janeiro, Brazil.

FAO. 2017. FAOSTAT. Food and agriculture data. In: http://www.fao.org/faostat/en/#data/QC; consulted: November, 2019.

Ferreira, D.F. 2014. Sisvar: a guide for its Bootstrap procedures in multiple comparisons. Cienc. Agrotecnol. 38(2), 109-112. Doi: 10.1590/S1413-70542014000200001

Fontes, P.C.R., E.L. Coelho, A.A. Cardoso, and F.L. Finger. 2004. Produtividade do melão rendilhado em ambiente protegido e no campo, em função de doses de nitrogênio. Biosci. J. 20, 15-20.

Gonçalves, J.F.C., C.E.M. Silva, G.C. Justino, and A.R. Nina Junior. 2012. Efeito do ambiente de luz no crescimento de plantas jovens de mogno (Swietenia macrophylla King). Sci. For. 40, 337-344.

Guevara, Y.V., Y. Ruisánchez, A. Hernández, and S.J. Rodríguez. 2013. Evaluación del biofertilizante Nitrofix en el cultivo de tomate. Solanum lycopersicum L. sobre 51 un suelo ferralítico rojo típico. Rev. ICIDCA 47, 3-7.

Hungria, M. 2011. Inoculação com Azospirillum brasilense: inovação em rendimento a baixo custo. Embrapa Soja, Londrina, Brazil.

Lu, X., Q. Mao, F.S. Gilliam, Y. Luo, and J. Mo. 2014. Nitrogen deposition contributes to soil acidification in tropical ecosystems. Glob Change Biol. 20, 3790-3801. Doi: 10.1111/gcb.12665

Nibau, C., D.J. Gibbs, and J.C. Coates. 2008. Branching out in new directions: the control of root architecture by lateral root formation. New Phytol. 179, 595-614. Doi: 10.1111/j.1469-8137.2008.02472.x

Pulido, L.E., N. Medina, and A. Cabrera A. 2003. La biofertilización con rizobacterias y hongos micorrízicos arbusculares en la producción de posturas de tomate Lycopersicon esculentum Mill. y cebolla Allium cepa L. II. Colonización radical y estado nutricional. Cultivos Tropicales 24, 5-13.

Queiroga, F.M., S.Â.D. Costa, F.H.F. Pereira, P.B. Maracajá, and A.L. Sousa Filho. 2011. Efeito de doses de nitrogênio na produção e qualidade de frutos de melão gália. Rev. Verde 6, 96-100.

Santos, H.G., P.K.T. Jacomine, L.H.C. Anjos, V.A. Oliveira, J.F. Lumbreiras, M.R. Coelho, J.A. Almeida, T.J.F. Cunha, and J.B. Oliveira. 2013. Sistema brasileiro de classificação de solos. 3th ed. Empresa Brasileira de Pesquisa Agropecuária, Brasilia.

Saubidet, M.I., N. Fatta, and A.J. Barneix. 2002. The effect of inoculation with Azospirillum brasilense on growth and nitrogen utilization by wheat plants. Plant Soil 245, 215-222. Doi: 10.1023/A:1020469603941

Silva, F.C. 2009. Manual de análises químicas de solos, plantas e fertilizantes. 2nd ed. Empresa Brasileira de Pesquisa Agropecuária, Brasilia.

Silva, M.D.C., T. Silva, E.M. Bonfim-Silva, and N. Lorraine. 2014. Características produtivas e qualitativas de melão rendilhado adubado com nitrogênio e potássio. Rev. Bras. Eng. Agr. Amb. 18(6), 581-587. Doi: 10.1590/S1415-43662014000600003

Souza, M.H.C., M.V.T. Silva, O.C. Melo, F.L. Oliveira, and A.F. Neto. 2014. Avaliação Pós-Colheita do Melão Amarelo submetido Danos Mecânicos. Rev. Verde 9, 195-200.

Taiz, L., E. Zeiger, I.M. Moller, and A. Murphy. 2017. Plant physiology and development. 6th ed. Sinauer Associates, Sunderland, MA.

Vargas, P.F., R. Castoldi, H.C.D.O. Charlo, and L.T. Braz. 2008. Qualidade de melão rendilhado. Cucumis melo L. em função do sistema de cultivo. Cienc. Agrotec. 32, 137-142. Doi: 10.1590/S1413-70542008000100020

Vendruscolo, E.P., A. Seleguini, L.F.C. Campos, A.H.A. Rodrigues, and S.F. de Lima. 2018. Desenvolvimento e produção de melão Cantaloupe em função do espaçamento e ambientes de cultivo no Cerrado brasileiro. Rev. Colomb. Cienc. Hortic. 12(2), 397-404. Doi: 10.17584/rcch.2018v12i2.7794

Vendruscolo, E.P., L.F.C. Campos, A. Seleguini, A.P.B. Martins, and S.F. Lima. 2017. Economic viability of muskmelon cultivation in different planting spacing in Brazil central region. Rev. Fac. Nac. Agron. Medellín 70, 8319-8325. Doi: 10.15446/rfna.v70n3.62656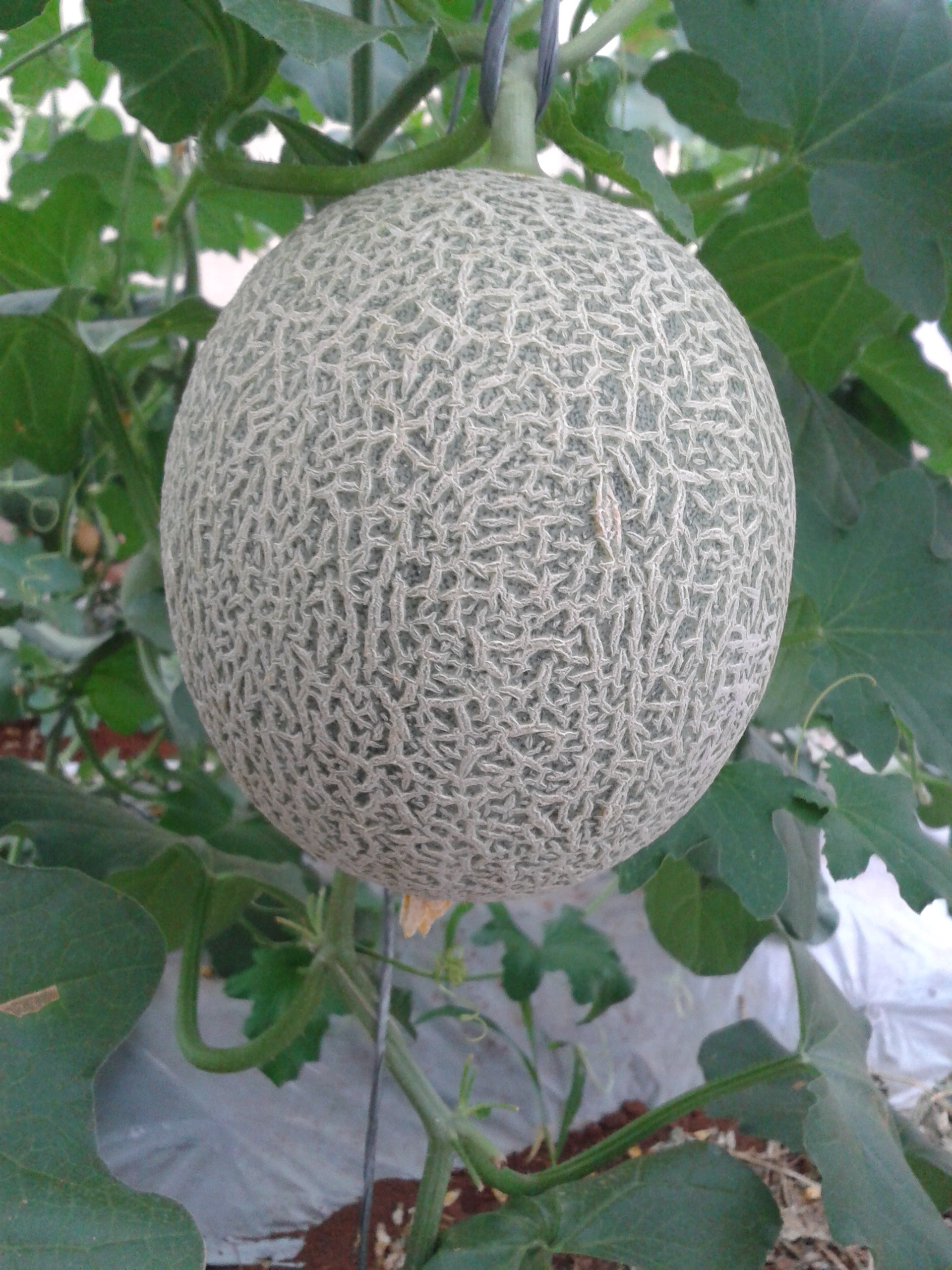 Downloads
How to Cite
Vendruscolo, E. P., Oliveira, P. R., Campos, L. F. C., Seleguini, A., & Lima, S. F. de. (2019). Planting method, nitrogen fertilization and inoculation for diazotrophic bacteria for Cantaloupe melon plants. Revista Colombiana De Ciencias Hortícolas, 13(1), 18–25. https://doi.org/10.17584/rcch.2019v13i1.9720
License
The copyright of the articles and illustrations are the property of the Revista Colombiana de Ciencias Hortícolas. The editors authorize the use of the contents under the Creative Commons license Attribution-Noncommercial-ShareAlike 4.0 International (CC BY-NC-SA 4.0). The correct citation of the content must explicitly register the name of the journal, name (s) of the author (s), year, title of the article, volume, number, page of the article and DOI. Written permission is required from publishers to publish more than a short summary of the text or figures.