Growth, yield and quality of tomato fruits in narrow cultivation with the use of paclobutrazol
Keywords:
Creeping tomato, spacing, Growth regulator, Fruit residue
Abstract
The aim of the study was to evaluate the effect of applying a paclobutrazol growth regulator on plants and plant spacing in the planting lines of industrial tomatoes was evaluated. The experiment was conducted from July to October. A randomized block strategy in a 5×2 factorial design (spacing x presence or absence of paclobutrazol) was used. The length of the main stem and stem diameter of the plants, chlorophyll content in leaves, total production (t ha-1), average number of fruits and fresh fruit weight, distribution of ripe, unripe and rotten fruits, number of ripe and unripe fruits, average weight of ripe and unripe fruits, soluble solids content, titratable acidity, pH, SS/TA ratio, percentage of compression and maximum strength to break and paclobutrazol residue in fruits were all determined. The results showed that Paclobutrazol influences the length of rods and chlorophyll content in leaves up to 15 days after transplanting, showing that the effect of the regulator is limited during the culture cycle. And, the regulator did not influence the production parameters of the industrial tomatoes. The application of PBZ did not influence any of the chemical or physical quality parameters that were evaluated. The plant densities studied did not alter the production and fruit quality components of the tomato. No residues of paclobutrazol were detected in tomato fruits for industrial processing that received an application of the regulator in the seedlings.
Downloads
Download data is not yet available.
References
Adpawar, R.M., P.B. Kale, V.S. Kale, N.S. Guputa e S.G. Bharad. 2000. Effect of spacing and staking on growth, yield and quality of tomato var. Dhanshree. Ann. Plant Physiol. 14(1), 26-31.
Berova, M. e Z. Zlatev. 2000. Physiological response and yield of paclobutrazol treated tomato plants (Lycopersicon esculentum Mill.). J. Plant Growth Regul. 30(2), 117-123. Doi: 10.1023/A:1006300326975
Carvalho, L.A. e J. Tessarioli Neto. 2005. Produtividade de tomate em ambiente protegido, em função do espaçamento e número de ramos por planta. Hort. Bras. 23(4), 986- 989. Doi: 10.1590/S0102-05362005000400025
Embrapa Hortaliças. 2003. Cultivo de tomate para industrialização. Em: Sistema de Produção, Em: Sistema de Produção, http://sistemasdeproducao.cnptia.embrapa.br/FontesHTML/Tomate/TomateIndustrial/cultivares.htm ; consulta: dezembro de 2016.
Rabelo, M. 2014. Faeg participa do Congresso Brasileiro de Tomate Industrial, Michelle Rabelo, 27 nov. 2014. Em: Federação da Agricultura e Pecuária de Goiás, Em: Federação da Agricultura e Pecuária de Goiás, http://sistemafaeg.com.br/noticias/10796-faeg-participa-docongresso-brasileiro-de-tomate-industrial ; consulta: dezembro de 2016.
Fery, R.L. e J. Janick. 1970. Effect of planting pattern and population pressure on the yield response of tomato. HortScience 5, 443-444.
Fontes, P.C.R. e D.J.H. Silva. 2005. Cultura do tomate. pp. 457-475. In: Rezende, P.C. (ed.). Olericultura: teoria e prática. Universidade Federal de Viçosa, Viçosa, Brasil.
Instituto Adolfo Lutz. 1985. Normas analíticas do Instituto Adolfo Lutz: métodos químicos e físicos para análises de alimentos. 3ª ed. IMESP, São Paulo, Brasil.
Nichols, M.A. 1987. Plant spacing: key to greater process vegetable crop productivity. Acta Hortic. 220, 223-228.
Nimer, E. 1979. Climatologia do Brasil. IBGE, Rio de Janeiro, Brasil.
Nunhems Tech Sheet. 2014. N901 Tomate híbrido - Processamento. Em: Nunhems, Em: Nunhems, http://nunhems.com.br/www/NunhemsInternet.nsf/CropData/BR_PT_TOP/$file/BR_TOP_N901.pdf ; consulta: julho de 2014.
Peil, R.M.N., A.R. Albuquerque Neto e C.V. Rombaldi. 2014. Densidade de plantio e genótipos de tomateiro cereja em sistema fechado de cultivo em substrato. Hort. Bras. 32(2), 234-240. Doi: 10.1590/S0102-05362014000200021
Schwarz, K., J.T.V. Resende, A.P. Preczenhak, J.T. Paula e D.M. Dias. 2013. Desempenho agronômico e qualidade físico-química de híbridos de tomateiro em cultivo rasteiro. Hort. Bras. 31(3), 410-418. Doi: 10.1590/S0102-05362013000300011
Seleguini, A., S. Seno e G.B. Zizas. 2002. Influência do espaçamento entre plantas e número de cachos por plantas na cultura do tomateiro, em condições de ambiente protegido. Hort. Bras. 20(2), 25-28.
Seleguini, A. , S. Seno e M.J.A. Faria Júnior. 2006. Espaçamento entre plantas e número de rácimos para tomateiro em ambiente protegido. Acta Sci. Agron. 28(3), 359-363.
Seleguini, A., E.P. Vendruscolo, L.F.C. Campos e M.J.A. Faria Júnior. 2016. Efeito do paclobutrazol sobre o crescimento de plantas e produção de tomate (Solanum lycopersicum L.) em ambiente protegido. Sci. Agropecu. 7(4), 355-363. Doi: 10.17268/sci.agropecu.2016.04.04
Silva, K.S. e M.J.A. Faria Junior. 2011. Uso de paclobutrazol como estratégia para redução do porte e da brotação lateral de plantas de tomateiro. Ciênc. Agrotec. 35(3), 539-546. Doi: 10.1590/S1413-70542011005000004
Symons, P.R.R. 1989. Paclobutrazol: it's application and effect on aspects of plant morphology, anatomy, biochemistry and physiology. Department of Horticultural Science; University of Natal, Pietermaritzburg, KZN.
Taiz, L., E. Zeiger, I.M. Moller e A. Murphy. 2017. Fisiologia e desenvolvimento vegetal. 6ª ed. Artmed, Porto Alegre, Brasil.
Wamser, A.F., S. Mueller, A. Suzuki, W.F. Becker e J.P. Santos. 2012. Produtividade de híbridos de tomate submetidos ao cultivo superadensado. Hort. Bras. 30(1), 168-174. Doi: 10.1590/S0102-05362012000100028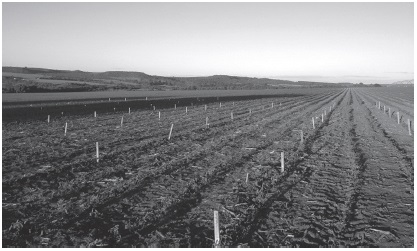 Downloads
Metrics
Views/Downloads
Abstract

538

PDF (Português )

376
How to Cite
Ferreira, N C, Vendruscolo, E P, Seleguini, A, Dourado, W de S, Benett, C G S, & Nascimento, A dos R. (2017). Growth, yield and quality of tomato fruits in narrow cultivation with the use of paclobutrazol. Revista Colombiana de Ciencias Hortícolas, 11(1), 72–79. https://doi.org/10.17584/rcch.2017v11i1.5690
Section
Vegetable section
License
The copyright of the articles and illustrations are the property of the Revista Colombiana de Ciencias Hortícolas. The editors authorize the use of the contents under the Creative Commons license Attribution-Noncommercial-ShareAlike 4.0 International (CC BY-NC-SA 4.0). The correct citation of the content must explicitly register the name of the journal, name (s) of the author (s), year, title of the article, volume, number, page of the article and DOI. Written permission is required from publishers to publish more than a short summary of the text or figures.