DON VASCO DE QUIROGA, PROMOTER OF THE INDIGENOUS EDUCATION
Keywords:
Reductions, Educating Native People, Utopia.
Abstract
This work  has been   done  by investigating Augustinian and  Vasco de Quiroga´s teaching Work in Mexico. He´s still being called "Tata Vasco". He was  founder of towns, schools and hospitals in Mexico, which were later called "reducciones".Vasco de Quiroga was born in Madrigal de las Altas Torres between 1470 and 1479. Being a great jurist and listener, he founded the Santa Fe de la Laguna institution with some Augustinian´s help in 1533. He was appointed as Michoacán's Bishop in 1536, where he made a fine wok by founding villages, hospitals and  schools such  as San Nicolás, first a seminary and college, and later into a university. He Was also a great natives` rights defender and  opponent to slavery. His message still appears today in Vasco de Quiroga University's motto:  "Teaching by truth", and the same in its mission. It encourages people to believe in Vasco de Quiroga´s catholic humanism in order to change society by means of education."Tata Vasco" was a pioneer educating native people in Nueva España virreinato. His essay   "People with schools and hospitals" seemed to be a utopia. Later, it became  a model for "reducciones", followed by Franciscans and Jesuits inParaguay.
Downloads
Download data is not yet available.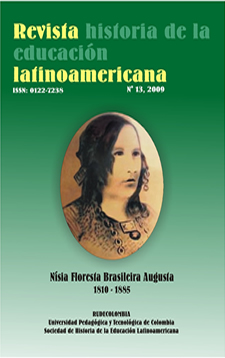 Downloads
How to Cite
Campo del Pozo, F. (2011). DON VASCO DE QUIROGA, PROMOTER OF THE INDIGENOUS EDUCATION. Revista Historia De La Educación Latinoamericana, (13). https://doi.org/10.19053/01227238.1534
License
Los autores/as conservarán sus derechos de autor y garantizarán a la revista el derecho de primera publicación de su obra, el cuál estará simultáneamente sujeto a la Licencia de reconocimiento de Creative Commons que permite a terceros compartir la obra siempre que se indique su autor y su primera publicación esta revista.
Los autores/as podrán adoptar otros acuerdos de licencia no exclusiva de distribución de la versión de la obra publicada (p. ej.: depositarla en un archivo telemático institucional o publicarla en un volumen monográfico) siempre que se indique la publicación inicial en esta revista.
Se permite y recomienda a los autores/as difundir su obra a través de Internet (p. ej.: en archivos telemáticos institucionales o en su página web) antes y durante el proceso de envío, lo cual puede producir intercambios interesantes y aumentar las citas de la obra publicada. (Véase El efecto del acceso abierto).