ENLIGHTENED NEOGRANADIAN UNIVERSITY AND INDEPENDENCE OF COLOMBIA (1810 - 2010)
Keywords:
University reform, independence of Colombia, chair of public law of nature and nations, chair of real law (ius patrium), Lawyers Granadans Illustrated.
Abstract
The paper reviews the communis opinio by which the intendente D. Juan Francisco Gutiérrez de Piñeres blocked in 1779 the university reform that had been passed by the fiscal D. Francisco Antonio Moreno y Escandón in 1774 in the Nuevo Reino de Granada (Colombia). This is true regarding the Philosophy and Theology curricula, but not quite so regarding Law. As a matter of fact, the two enlightened politicians, the Neogrenadean and the Castillian not only kept the Law curriculum of 1774, but also, in the line of modifying the Philosophy and Theology curricula in orden to go back to the old system -the Scholastic methodology-, that at the time was in clear decadency, added a new subject, Public Law, Natural Law and Ius gentium, following tlhe account made by Heinnecius (1681 - 1741) in his book "Elementa iuris naturae et gentium" (1738); Heinnecius was an author belonging to the European movement that was defending the understanding of Natural Law through the human reasoning, and therefore a propugnant of te new liberal ideas. In the few Spanish universities that had introduced the reform, it was abolished by Royal Decree of 31st of July of 1794, applied one year later in the Nuevo Reino de Granada. Therefore, during fifteen years the Castillian and Neogrenadean lawyers were exposed to the liberal ideas of underlying the Enlighment. And therefore, too late to deactivate that time-bomb in both sides of the Atlantic. Of those lawyers, 28 from New Grenade were executed at the time of the war of independence in Colombia. The consequence was that newly independent republic lost a portioned of their-trained people, a curcumstance that had a negative influence later on the development of the political process in the Colombian society.


Downloads
Download data is not yet available.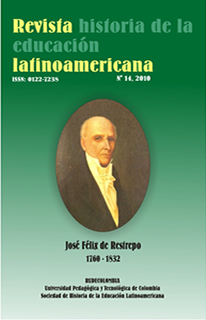 Downloads
How to Cite
Betancourt Serna, F. (2011). ENLIGHTENED NEOGRANADIAN UNIVERSITY AND INDEPENDENCE OF COLOMBIA (1810 - 2010). Revista Historia De La Educación Latinoamericana, (14). https://doi.org/10.19053/01227238.1550
License
Los autores/as conservarán sus derechos de autor y garantizarán a la revista el derecho de primera publicación de su obra, el cuál estará simultáneamente sujeto a la Licencia de reconocimiento de Creative Commons que permite a terceros compartir la obra siempre que se indique su autor y su primera publicación esta revista.
Los autores/as podrán adoptar otros acuerdos de licencia no exclusiva de distribución de la versión de la obra publicada (p. ej.: depositarla en un archivo telemático institucional o publicarla en un volumen monográfico) siempre que se indique la publicación inicial en esta revista.
Se permite y recomienda a los autores/as difundir su obra a través de Internet (p. ej.: en archivos telemáticos institucionales o en su página web) antes y durante el proceso de envío, lo cual puede producir intercambios interesantes y aumentar las citas de la obra publicada. (Véase El efecto del acceso abierto).