Identity of the People from Boyacá, Carranguera Music
Keywords:
sociolinguistics; identity; carranguera music
Abstract
The objective of this research article is to explain the identity features of the people from Boyaca, such as typical dress, dialect, regional products, and some customs,  from a sociolinguistic analysis of the lyrics of the representative songs of Jorge Velosa. In this paper, the song "I am also Boyaco[1]" is taken as a specific case study. Initially, the relationship between language, culture, and identity is succinctly presented; later the generalities of carranguera music and its main exhibitor Jorge Velosa are exhibited; it concludes with a partial analysis of a sociophonetic, sociogrammatical, sociolexical and sociocultural type of the studied song.
[1] "Boyaco" is the abbreviated demonym for people from Boyaca.
Downloads
Download data is not yet available.
References
Abello, I. Zubiría, S. & Sánchez, S. (1998). Cultura: teorías y gestión (1.a ed.). Colombia, San Juan de Pasto: Ediciones Unariño.

Calderón, N. (2009). El corpus del español hablado en Tunja. Cuadernos de Lingüística Hispánica, (12), 17-30.

Calderón, N. & Durán, B. (2009). Caracterización sociolingüística de la comunidad de habla de Tunja. Cuadernos de Lingüística Hispánica, (14) ,139-158.

Delbecque, N. (2000). Las cópulas ser y estar. Categorización frente a deixis. Revista española de lingüística aplicada. Volumen Extra (1), 239-280.

Duranti, A. (2000). Antropología lingüística. España: Cambridge University Press.
Editorial, Ramon Sopena. (1980). Los quince mil verbos españoles. Su gramática, clasificación y conjugación. Barcelona.

Fishman, J. (1982). Sociología del lenguaje. Madrid: Cátedra.

Giddens, A. (1997). Vivir en una sociedad postradicional. En U. Beck, A. Giddens & S. Lash (eds.) Modernización reflexiva (83-99). Madrid: Alianza.

Giménez, G. (2010). Cultura, identidad y procesos de individualización. México: Universidad Nacional Autónoma.

Guiraud, P. (1960). La semántica. México: Fondo de cultura económica.

Hall, S. (2010). Sin garantías: trayectorias y problemáticas en estudios culturales. Popayán-Lima-Quito: Envión Editores, Universidad Andina Simón Bolívar Sede Ecuador, Instituto de Estudios Sociales y Culturales Pensar, Pontificia Universidad Javeriana, Instituto de Estudios Peruanos.

Halliday, M. (1986). El lenguaje como semiótica social. México: Fondo de Cultura Económica.

Hudson, R. (1981). La sociolingüística. Barcelona: Anagrama.

León, C. (2005). En: Gómez L. Muiscas: Representaciones, Cartografías y etnopolíticas de la memoria. Bogotá: Editorial Pontificia Universidad Javeriana.

López, H. (1994). Método de investigación sociolingüística. España: Ediciones Colegio de España.

Mora, S. (1998). El habla popular boyacense, análisis lingüístico de un texto oral. Bogotá, Colombia: Boletín Instituto Caro y Cuervo.

Müller, M. (1983). En: Labov, W. Modelos sociolingüísticos. Madrid: Cátedra.

Sistema Nacional de Información Cultural, SINIC. (2019). Colombia cultural-VocabularioBoyacá.Recuperadode:http://www.sinic.gov.co/SINIC/ColombiaCultural/ColCulturalBusca.aspx?AREID=3&SECID=8&IdDep=15&COLTEM=220

Velosa, J. & Torres. H. (1989). Yo también soy boyaco. En A ojo cerrado [LP]. Colombia: Discos Fuentes.

Velosa, J. (2000). El Saceño. En Una historia carranguera [CD]. Colombia: FM.

Velosa, J. (2008, 6 de ago.). Línea Colombialogía Entrevista 1. Programadora Radio Nacional, 34 frecuencias RTVC. Colombia.

Velosa, J. (2014, 24 de sep.). La carranga tiene su cuento. En Conferencia dictada en la Universidad del Cauca, Popayán, Colombia.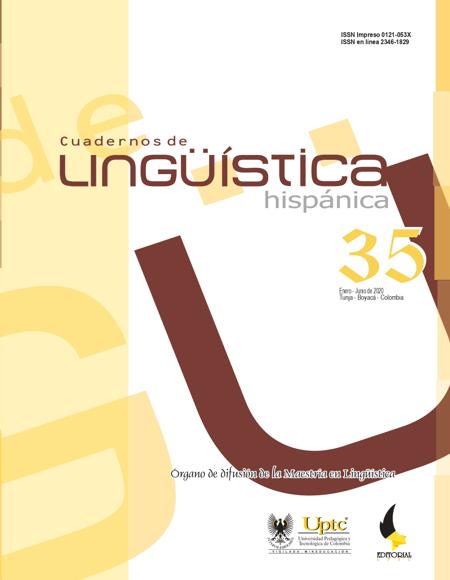 Downloads
How to Cite
Cárdenas, O. A. (2020). Identity of the People from Boyacá, Carranguera Music. Cuadernos De Lingüística Hispánica, (35), 111–130. https://doi.org/10.19053/0121053X.n35.2020.10031
Section
Language and communication