Discursive Strategies for the Social Construction in the Post-Conflict Era (2015-2017)
Keywords:
critical discourse analysis, postconflict, social actors, language, press, Colombia
Abstract
The objective is to analyze the linguistic and rhetorical resources used in the discursive construction about the social actors of the post-conflict, through the study of nine editorials of the newspaper El Espectador, between the years 2015-2017. The research is woven from the perspective of Critical Discourse Analysis (CDA), in order to make a theoretical formulation about journalistic discursive manifestations and a critical reflection on the social realities of journalistic language. The methodology was developed in two stages: an exploratory-descriptive and an analytical one. In the first, a compilation of the editorials under study is made to be submitted to the qualitative analysis program NVivo 11, reporting significant elements such as the frequency of words, co-texts, and the cloud mark and the conglomerates. The second involved the realization of a linguistic analysis to interpret the strategies of legitimation, naturalization and concealment used to discursively construct the social actors of the post-conflict.
Downloads
Download data is not yet available.
References
Calsamiglia, H. & Tusón, A. (2002). Las cosas del decir. Manual de análisis del discurso. Barcelona: Ariel.

Charaudeau, P. (2003). El discurso de la información. La construcción del espejo social. Barcelona: Gedisa.

Cruz, C.N. (2016). El enfoque de legitimación y dinámica política (LDP) como propuesta para el estudio de la estabilidad y el cambio de las políticas públicas. (Tesis doctoral). Universidad Complutense de Madrid, España.

Hernández, N. (2015). La construcción mediática de perdedores y vencedores en el campo político: análisis de las metáforas, tópicos y lexicalización. Cuadernos de Lingüística Hispánica, (25), 81-98. doi: http://dx.doi.org/10.19053/ 0121053X.3479

Molina, J. (2009). La representación social del fenómeno del desplazamiento forzado en la prensa colombiana. Universitas Humanística, 67, 127-146.

Pardo, N. G (2007). Cómo hacer análisis crítico del discurso. Una perspectiva latinoamericana. Recuperado de http://www.bdigital.unal.edu.co/10250/1/C%C3%B3mo%20hacer %20ACD.pdf

Prieto, C. D. (1999). El juego del discurso. Manual de análisis de estrategias discursivas. Buenos Aires: Lumen Hvmanitas.

Serrano, S. & Villalobos, J. (2008). Las estrategias argumentativas en textos escritos por estudiantes de formación docente. Letras, 77(50), 76–102.

Tibatá H. & Torres, D. (2018). Communicative Interaction for the Construction of the Wasteland in Postconflict's Colombia. Asian Journal of Humanities and Social Studies, 6(2), 60-72. https://doi.org/10.24203/ajhss.v6i2.5271

Van Leeuwen, T (1996). The representation of social actors in discourse. In C. R. Coldas-Coulthard & M.
Coulthard, (ed.), Texts and practices: Readings in critical discourse analysis (pp.32-70). London: Routledge.

Van Dijk, T. A. (1995). Discourse Analysis as Ideology Analysis. In C. Schäffner & A. Wenden (ed.), Language and Peace (pp. 17-36). Amsterdam: Harwood Academic Publishers.

Van Dijk, T. A (1999). El análisis crítico del discurso. Barcelona: Anthropos.

Van Dijk, T. A. (2003). Ideología y discurso. Una introducción multidisciplinaria. Barcelona: Ariel.

Van Dijk, T. A. (2009). Discurso y poder. Barcelona: Gedisa.

Wodak, R. & Meyer, M. (2003). Métodos del análisis crítico del discurso. Barcelona: Gedisa.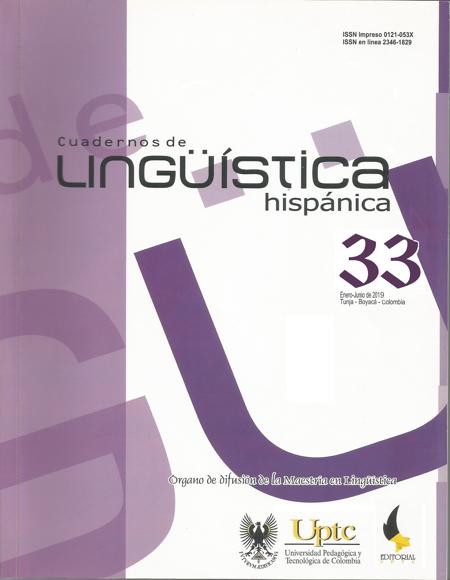 Downloads
How to Cite
Torres, D., & Rincón Rodríguez, A. M. (2019). Discursive Strategies for the Social Construction in the Post-Conflict Era (2015-2017). Cuadernos De Lingüística Hispánica, (33), 107–123. https://doi.org/10.19053/0121053X.n33.2019.7978
Section
Language and communication