Alfabetización Informacional: una vía de acceso a la información confiable
Keywords:
information literacy, reliable digital information, ethics and action plan
Abstract
Objective: To elaborate an action plan to implement the information literacy programme (IFLA) with the participation of students of the ICT and learning environments class at the UPTC. The purpose is to access reliable digital content, analyze the diagnosis, and design workshops that allow addressing the proposed elements.
Originality/support: This discussion arises from teaching in higher education. Considering that the interaction with information has mutated due to digital contexts, it is necessary for students to filter and strengthen skills that lead them a critical view of the information they access.
Method: this action research work has a qualitative approach with a theoretical foundation.
Strategy/ information gathering: the design, application and analysis of diagnostic instruments allowed us to understand that this university has material and intellectual resources for an ethical management of information.
Conclusions: Ethics is the emerging category of this research. This category, when properly used, empowers the construction of knowledge in societies. Likewise, its strengthening depends to a great extent on the involvement of higher education teachers.
Downloads
Download data is not yet available.
References
Aguaded, Ignacio, Isidro Marín y Mari Carmen Caldeiro, "Desarrollo de la competencia mediática en el contexto iberoamericano", Revista Letral, n.o 20, 2018: 156-182. http://revistaseug.ugrindex.php/letral/article/view/7814/6847

Andrada, Pablo, "Estado de la cuestión de la formación docente en educación en medios", Comunicación y Medios n.o 31, 2015: 83-96. https://auroradechile.uchile.cl/index.php/RCM/article/view/36700/39652

Castañeda-Peña, Harold, Liliana González, Gloria Marciales, Jorge Barbosa y Juan Barbosa, "Recolectores, verificadores y reflexivos: perfiles de la competencia informacional en estudiantes universitarios de primer semestre", Revista Interamericana de Bibliotecnología, vol. 33, n.o 1, 2010. http://www.scielo.org.co/scielo.php?pid=S0120-09762010000100008&script=sci_arttext&tlng=pt

Chisaba, María, César Hernández y Marisol Ramírez. "El taller como estrategia metodológica para el aprendizaje de expresiones idiomáticas del inglés en niños de cuarto de primaria. Tesis de grado de licenciatura en Educación Básica con énfasis en Humanidades, Universidad Libre, 2013. https://repository.unilibre.edu.co/bitstream/handle/10901/8210/TRABAJO%20DE%20GRADO.pdf?sequence=1&isAllowed=y

Denzin, Norman, ed. Sociological Methods. A Sourcebook. Chicago: Aldine Publishers, 1970.
Ferrés, Joan, "La competencia en comunicación audiovisual: dimensiones e indicadores", Comunicar, vol. 29, n.o 15, 2007: 100-107.

Flores, Carolina; Roig, Rosabel. "Factores personales que inciden en la autovaloración de futuros maestros sobre la dimensión pedagógica del uso de TIC" Revista iberoamericana de educación superior, vol. 10, n.°. 27, 2019. https://www.redalyc.org/articulo.oa?id=299159574008

Gil, Javier, "La estadística en la investigación educativa", Revista de Investigación Educativa, vol. 21, n.o, 2003: 233. https://revistas.um.es/rie/article/view/99191/94791

Gómez, Francisco, "Desinformación en Internet y hegemonía en redes sociales", Gestión de las Personas y Tecnología, vol. 5, n.o 16, 2013: 26-34. https://dialnet.unirioja.es/servlet/articulo?codigo=4759721

Gutiérrez, Víctor, "Plan de acción", 2008. https://es.scribd.com/doc/6490905/Plan-de-Accion

Lara, Pablo, "Uso de contenidos digitales: tecnologías de la información, sociedad del conocimiento y universidad", Revista de Universidad y Sociedad de Conocimiento, vol. 2, n.o 2, 2005: 1-5. http://www.redalyc.org/pdf/780/78020107.pdf

Lau, Jesús, "Conceptual Relationship of Information Literacy and Media Literacy". En Conceptual Relationship of Information Literacy and Media Literacy in Knowledge Societies. 76-91. París: UNESCO, 2013.

Lee, Alice y Clement So, "Alfabetización mediática y alfabetización informacional: similitudes y diferencias". Comunicar, vol. 21, n.o 42, 2014: 137-146. http://dx.doi.org/10.3916/C42-2014-13

Lewin, Kurt, "Acción-investigación y problemas de las minorías", Revista de Psicología Social, vol. 3, n.o 2, 1988.

Ministerio de Educación Nacional, Competencias TIC para el desarrollo profesional docente, Bogotá: Imprenta Nacional, 2013. https://www.mineducacion.gov.co/1759/articles- 39097_archivo_pdf_competencias_tic.pdf

Morduchowicz, Roxana. Ruidos en la web. Cómo se informan los adolescentes en la era digital. Buenos Aires: Ediciones B, 2018.

Naval, Concepción y Elena Arbués, "La alfabetización mediática de los futuros profesores de educación primaria y secundaria". En Sociedad del conocimiento y educación, coord. Lorenzo García. Madrid: 2012. https://www.researchgate.net/profile/Lorenzo_Garcia-Aretio2/publication/234646907_Sociedad_del_conocimiento_y_educacion/links/0912f50fed876df407000000.pdf#page=93

Partnership for 21st century skills (P21), "Framework definitions", 2009. http://www.p21.org/storage/docu- ments/P21_Framework_Definitions.pdf

Pérez, M.a Amor y Águeda Delgado, "De la competencia digital y audiovisual a la competencia mediática: dimensiones e indicadores", Comunicar, vol. 20, n.o 39, 2012: 25-34. doi:10.3916/C39,2012-02-02

Ruiz, Enrique, "Desarrollo de contenidos digitales educativos en comunidades de aprendizaje", http://bibliotecadigital.conevyt.org.mx/colecciones/documentos/somece2002/Grupo2/Ruiz.pdf

Sáenz, Francisco J., "Alfabetización Informacional: qué es y cómo se adquiere InVito, el blog de la Biblioteca Francisco de Vitoria., https://diarium.usal.es/vito/2013/10/02/alfabetizacion-informacional-que-es-y-como-se-adquiere/

Tirado, Alejandro y María Pinto, "75 lecciones aprendidas en programas de alfabetización informacional en universidades iberoamericanas", Revista española de Documentación Científica, vol. 37, n.o 3, 2014. http://dx.doi.org/10.3989/redc.2014.3.1118

Wilson, Carolyn, Alton Grizzle, Ramon Tuazon, Kewame Akyempong y Chi Kim Cheung, Alfabetización Mediática e Informacional: Currículum para profesores. París: UNESCO, 2011. https://unesdoc.unesco.org/ark:/48223/pf0000216099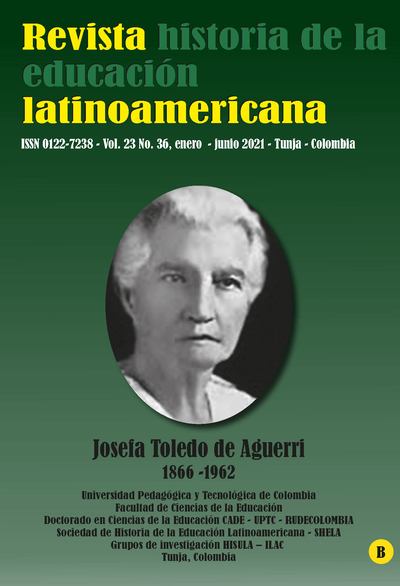 Downloads
Metrics
Views/Downloads
Abstract

1003

PDF (Español)

437

HTML (Español)

90
How to Cite
Gutiérrez Valderrama, F M, & Leguizamón González, M C. (2021). Alfabetización Informacional: una vía de acceso a la información confiable. Revista Historia de la Educación Latinoamericana, 23(36). https://doi.org/10.19053/01227238.11620
License
Los autores/as conservarán sus derechos de autor y garantizarán a la revista el derecho de primera publicación de su obra, el cuál estará simultáneamente sujeto a la Licencia de reconocimiento de Creative Commons que permite a terceros compartir la obra siempre que se indique su autor y su primera publicación esta revista.
Los autores/as podrán adoptar otros acuerdos de licencia no exclusiva de distribución de la versión de la obra publicada (p. ej.: depositarla en un archivo telemático institucional o publicarla en un volumen monográfico) siempre que se indique la publicación inicial en esta revista.
Se permite y recomienda a los autores/as difundir su obra a través de Internet (p. ej.: en archivos telemáticos institucionales o en su página web) antes y durante el proceso de envío, lo cual puede producir intercambios interesantes y aumentar las citas de la obra publicada. (Véase El efecto del acceso abierto).