Re-ethnization and Legitimation of Kankuamo Indigenous in Identity Discourses
Keywords:
identity, re-ethnization, sociological analysis of discourse, Kankuamo Indigenous, Cesar state
Abstract
This article aims to describe the characteristics of the process of re-ethnization of the Kankuamo Indigenous of Cesar state, through the speeches of the actors who participated in the process. These discourses represent scenarios of legitimacy since they are arranged as an instrument of political and administrative recognition, establishing relationships in hegemonic and domination spaces. The analysis is proposed from a documentary sources review, such as ethnological studies that supported such institutional recognition, documents and audiovisual records of the Kankuamo Reservation that are part of the process memory. The political nature of ethnic recovery is discussed, and it is established that the speech appears as a device that materializes in social reproduction through the mechanisms of legitimation such as territory, identity or indigenity..
Downloads
Download data is not yet available.
References
Cabildo Indígena del Resguardo Kuankamo. (2016, 11 de nov.). Somos Kankuamos. [Video]. YouTube. Recuperado de https://www.youtube.com/watch?v=6Tsjsze4fi8&t=46s
Calderón, J. (2019, 16 abr.). Dinámicas, actores. Recuperado de https://www.celag.org/colombia-dinamicas-actores-proximas-elecciones-regionales/#

Castillo, L. C. (2005). El estado-nación pluriétnico y multicultural colombiano: la lucha por el territorio en la reimaginación de la nación y la reinvención de la indentidad étnica de negros e indígenas. (Tesis doctoral). Universidad Complutense de Madrid.

Castillo, L. C. (2015). Etnicidad y nación. El desafio de la diversidad en Colombia. Cali: Universidad del Valle.

Caviedes, M. (2012). Recuperado de https://revistas.unal.edu.co/index.php/maguare/article/view/35326/39563.

Derecho, Justicia y Sociedad –Dejusticia-. (2018, 15 abr.). Resistencia Kankuama: desde el corazón del mundo. [Video]. YouTube. Recuperado de https://www.youtube.com/watch?v=-HilzsypfZw&t=57s

Dussán, A. & Reichel-Dolmatoff, G. (1977). Estudios antropológicos. Bogotá: Universidad de los Andes.

Dussán, A. & Reichel-Dolmatoff, G. (2012). La gente de Aritama. Bogotá: Pontificia Universidad Javeriana.

Giddens, A. (2003). La constitución de la sociedad. Bases para la teoría de la estructuración. Buenos Aires: Amorrortu.
Gros, C. (2012). Políticas de la etnicidad. Identidad, Estado y modernidad. Bogotá: ICANH Instituto Colombiano de Antropología e Historia.

Mincultura. (2019, 21 oct.). Pueblo Yanacona. Recuperado de https:/www.mincultura.gov.co/prensa/noticias/Documents/Poblaciones/PUEBLO%20YANACONA.pdf

Morales, P. (2011). Los idiomas de la reetnización. Corpus Christi y pagamentos entre los indígenas kankuamo de la sierra nevada de Santa Marta. Bogotá: Universidad Nacional de Colombia.

Pumarejo, M. A. & Morales, P. (2003). La recuperación de la memoria histórica de los Kankuamo: un llamado de los antiguos siglos XX-XVIII. Bogotá: Encuentros Universidad Nacional de Colombia.

Ramos, C. A. (2015). Los paradigmas de la Investigación científica. Avances en psicología: revista de la facultad de psicología y humanidades, 23(1), 9-17. https://doi.org/10.33539/avpsicol.2015.v23n1.167

Ruiz, J. (2009). Análisis sociológico del discurso: métodos y lógicas. Forum Qualitative Social Research FQS, 10(2), 1-32. Obtenido de http://www.qualitative-research.net/index.php/fqs/article/view/1298/2777Van Dijk, T. (2009). Discurso y poder. Barcelona: Gedisa.

Van Dijk, T. (2009). Discurso y poder. Barcelona: Gedisa.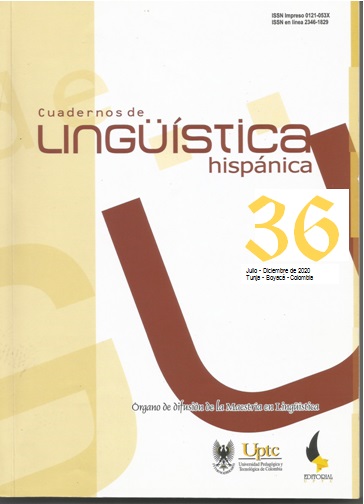 Downloads
How to Cite
Sánchez, C. A., & Bustamante Vélez, L. (2020). Re-ethnization and Legitimation of Kankuamo Indigenous in Identity Discourses. Cuadernos De Lingüística Hispánica, (36), 19–38. https://doi.org/10.19053/0121053X.n36.2020.10875
Section
Language and society