Virtual Social Networks as Contemporary Media Devices
Keywords:
interactive web, globalization, information marketing, virtual social networks, media devices, society of control
Abstract
The objective of this article is to inquire into the way in which virtual social networks are established as modulators of consumption and production of information, framed in the new dynamics of the globalized market. From an analytical and empirical perspective, a mixed nature approach to the content analysis was implemented, in order to study the multimodal resources found in the different interactive tools and mechanisms of the social networks. The main finding of this research is that the disposition of virtual social networks (VSN) towards the production and consumption of information is achieved thanks to the multimodal resources that form part of the interactive tools and mechanisms of the social networks. This fact illustrates the way in which VSN are established as new modulators of media control.
Downloads
Download data is not yet available.
References
Berners-Lee, T. (2000). Tejiendo la red. Madrid: Siglo XXI Editores.
Castells, M. (2009). Comunicación y Poder. Madrid: Alianza.
Deleuze, G. et al. (1990). Michel Foucault, Filosofo. Barcelona: Gedisa.
Deleuze, G. (1999). Conversaciones 1972-1990. Valencia: Pre-Textos.
Ferreira, J. (2007). Escenarios, teorías y epistemologías de comunicación. Río de Janeiro: Ed. E-Paper.
Foucault, M. (2003). Vigilar y castigar: Nacimiento de la Prisión. Buenos Aires: Siglo XXI.
Foucault, M. (1984). Saber y Verdad. Madrid: Ediciones de la Piqueta.
Hard, M., & Negri, A. (2005). Imperio. Barcelona: Paidós.
Lessig, L. (2009). Código 2.0. Madrid: Traficante de sueños.
López-Aranguren, E. (2010). El análisis de contenido. En M. García Ferrando, J. Ibáñez & F. Alvira (Comps.). El análisis de la realidad social. Métodos y técnicas de investigación (3ª ed.). Madrid: Alianza Editorial.
Maigret, E. (2005). Sociología de la comunicación y de los medios. Bogotá: Fondo de Cultura Económica.
Negroponte, N. (1995). Mundo Digital. Barcelona: B.S.A.
Ortega Salamanca, F., & Vargas Cortés, B. (2017). Aproximación sociopragmática a las estrategias conversacionales de los adolescentes. Cuadernos de Lingüística Hispánica, (29), 83-103. doi: https://doi.org/10.19053/0121053X.n29.2017.5849
Ponce, I. (2012). Monográfíco: Redes sociales. Observatorio tecnológico. Madrid: Ministerio de Educación, Cultura y Deporte. Recuperado de http://www.entretodos.yucatan.gob.mx/tiny_mce/plugins/jfilebrowser/archivos/201310021
Scolari, C. (2004). Hacer clic: hacia una socio-semiótica de las interacciones digitales. Barcelona: Gedisa.
Schneier, B. (2013). Do you want the Government Buying your data from Corporations? The Atlantic Journal, 30.
Torres Nabel, L. C. (2010). Cómo analizar redes sociales en Internet; el caso twitter en México. Razón y palabra, (70). Recuperado de http://www.razonypalabra.org.mx/n/n70/torres_revisado.pdf
Zanoni, L. (2008). El imperio Digital: El nuevo paradigma de la comunicación 2.0. Buenos Aires: Ed. B Argentina.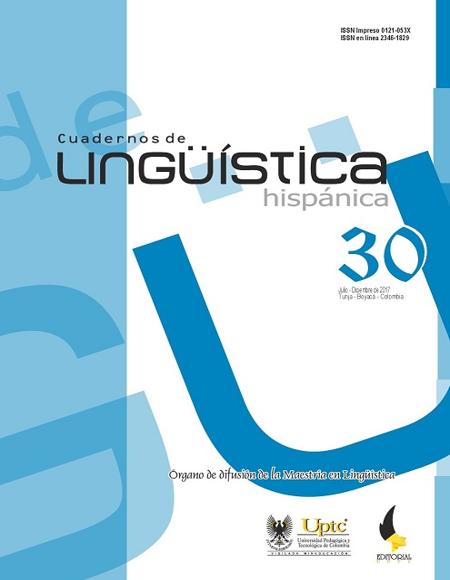 Downloads
How to Cite
Beltrán, D. E. (2017). Virtual Social Networks as Contemporary Media Devices. Cuadernos De Lingüística Hispánica, (30), 105–123. https://doi.org/10.19053/0121053X.n30.0.6190
Section
Language and communication