Time-Oriented Predicative Nominal Sentences
Keywords:
predication, adjunct, reasoning, temporal sentence
Abstract
In this work it is stated that the adjuncts expressed in a time-oriented nominal sentence have a predicative function. Constructions under study are of the type: they refused to be moved on Wednesday. The description of these nominal sentences is based on the fact that semantically the temporal nominal phrase is an eventive predicate and syntactically this grammatical unit may not be required by the verb. The contribution of this work focuses, on the one hand, on the identification of a syntactic reasoning and on the syntactic and semantic characterization of an adjunct; and on the other hand, on the justification of the predicative character of adjuncts. The way verbs and adjuncts saturate their reasoning is not of the same syntactic nature, but semantic. Data for illustrating this language fact have been taken up from different resources.
Downloads
Download data is not yet available.
References
Alcina, J. & Blecua, J. (1994). Gramática española. Barcelona: Ariel.

Bach, E. (1968). Nouns and noun phrases. En E. Bach & R. Harms (eds.), Universals in linguistics theory (pp. 90-122). Nueva York: Holt, Rinehard.

Bello, A. (1984). Gramática de la lengua española. Madrid: EDAF.

Belloro, V. (2007). Spanish clitics doubling. A study of the syntax-pragmatic interface. (Tesis de doctorado). Universidad Estatal de Nueva York en Búfalo.

Bosque, I. (1989). Las categorías gramaticales. Relaciones y diferencias. Madrid: Síntesis.

Bosque, I. & Demonte, V. (Eds.). (1999). Gramática descriptiva de la lengua española, (vol. 3). Madrid: Espasa.

Bosque, I. & Gutiérrez-Rexach, J. (2009). Fundamentos de sintaxis formal. Madrid: Akal.

Davidson, D. (1967). The logical form of action sentences. In D. Davidson, Essays on actions and events (pp. 105-148). Oxford: Oxford University Press. https://doi.org/10.1093/0199246270.003.0006

Deaño, A. (1978). Introducción a la lógica formal. Madrid: Alianza.

Ibáñez, S. (2012). Argumentos, adjuntos y frases preposicionales en español. En Mairal, R., Guerrero, L. & González, C. (eds.), El funcionalismo en la teoría lingüística: la gramática del papel y la referencia (pp. 187-202). Madrid: Akal.

Jackendoff, R. (1972). Semantic interpretation in generative grammar. Cambridge: MIT Press.

Jespersen, O. (1924). La filosofía de la gramática. Barcelona: Anagrama.

Jolly, J. A. (1993). Preposition assignment in English. In R. D. Jr. Van Valin (ed.), Advance in role and reference grammar (pp. 275-310). Amsterdam-Philadelphia: Benjamins. https://doi.org/10.1075/cilt.82.08jol

Kalish, D. & Montague, R. (1965). Logic. Techniques of formal reasoning. New York: Harcourt Brace.

Kroeger, P. (2008). Analyzing syntax. A lexical-functional approach. Cambridge: Cambridge University Press.

Larson, R. (1985). Bare-NP Adverbs. Linguistic Inquiry, (16), 595-621.

Mora-Bustos, A. (2012). Los adjuntos periféricos. En R. Mairal, L. Guerrero & C. González (eds.), El funcionalismo en la teoría lingüística: la gramática del papel y la referencia (pp. 202-224). Madrid: Akal.


Mora-Bustos, A. (2014). Verbos intransitivos y adjuntos. En P. Butragueño & L. Orozco (eds.), Argumentos cualitativos y cuantitativos en sociolingüística: Segundo coloquio de cambio y variación lingüística (pp. 567-594). México: COLMEX. https://doi.org/10.2307/j.ctv6jmww1.24

Mora-Bustos, A. (2019). Adjuntos obligatorios o de régimen verbal. En N. Palacios (ed.), Voces de la lingüística mexicana contemporánea (pp. 205-234). México: COLMEX. https://doi.org/10.2307/j.ctvsf1pxh.10

Mora-Bustos, A. & García Zúñiga, A. (2018). Modificadores adverbiales. En S. Bogard (ed.), Sentido y gramática en español (pp. 205-233). México: COLMEX.

Real Academia Española –RAE-. (2009). Nueva gramática de la lengua española. Madrid: Espasa.

Smith, C.S. (1991). The parameter of aspect. Dordrecht: Kluwer Academic Publishers. https://doi.org/10.1007/978-94-015-7911-7

Tallerman, M. (2009). Understanding Syntax. London: Hodder Arnold.

Torner Castells, S. (2005). Aspectos de la semántica de los adverbios de modo en español. Barcelona: Unisersitat Pompeu Fabra.

Van Valin, R. (2005). Exploring the syntax and semantic interface. Cambridge: Cambridge University Press. https://doi.org/10.1017/CBO9780511610578

Van Valin, R. & R. LaPolla. (1997). Syntax. Structure, meaning, and function. Cambridge: Cambridge University Press. https://doi.org/10.1017/CBO9781139166799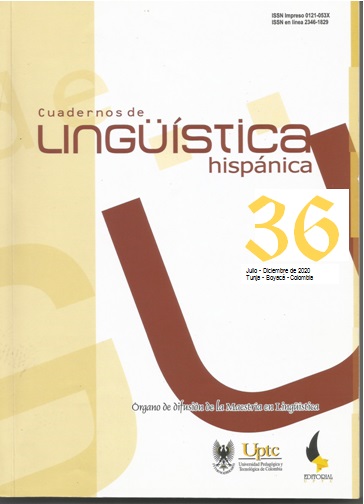 Downloads
Metrics
Views/Downloads
Abstract

485

PDF (Español)

311

XML (Español)

45
How to Cite
Ortiz Villegas, A, & Mora Bustos, A. (2020). Time-Oriented Predicative Nominal Sentences. Cuadernos de Lingüística Hispánica, (36), 39–58. https://doi.org/10.19053/0121053X.n36.2020.10673
Section
Language and society