El léxico etnobiológico en Lengua mapuche
Keywords:
mapudungun, lexicogénesis, fitonimia, zoonimia, simbolismo sonoro.
Abstract
Este trabajo forma parte de una investigación mayor encuadrada en un proyecto PICT de la Universidad Nacional de La Pampa sobre lingüística descriptiva y tipológica de las lenguas indígenas deArgentina, con especial énfasis en la región patagónica.Vinculada al grupo de lingüistas platenses se halla la vida y la obra de BerthaKoessler-Ilg, investigadora alemana que recolectó y estudió tradiciones mapuches desde su llegada a la Patagonia argentina, en 1920, hasta su muerte en 1962. En este artículo se ejemplifica la terminología de fitónimos y zoónimos en mapudungun rastreados en la obra de la folklorista lemana, trabajamos sobre morfología de los términos de flora y fauna, con especial referencia al área neuquina. Se concluyó que existe una significativa motivación en el vocabulario etnobiológico mapuche, ya que para nombrar los elementos del entorno natural, los hablantes emplean, entre otros, procedimientos de simbolismo sonoro.
Downloads
Download data is not yet available.
References
Augusta, F. (1910). Lecturas araucanas. Santiago de Chile: Prefectura Apostólica.
Augusta, F.(1916). Diccionario mapuche- español-mapuche. Santiago de Chile: Imprenta Universitaria.
Berlin, B. (1984). Evidence for pervasive synesthetic sound symbolism in ethnozoological nomenclature. En: Leanne Hinton, Johanna Nichols y John Ohala pp. 76-93).
Berlin, B. (1992). Ethnobiological Classification.Principles of Categorization of Plants and Animals in traditional societies. New Jersey: Princeton University Press.
Berlin, B. (2006). The First Congress of Ethnozoological Nomenclature.Ethnobiology and the Science of Human kind En: Journal of the Royal Anthropological Institute, vol. 12. p.p. 23-44. Matthew Engelke.
Coña, P. y Ernesto Wilhem de M. (1984). Lonco Pascual coña ñituculpazugun =Testimonio de un cacique mapuche. Santiago: Pehuén.
Cúneo, P. (2012). Clasificación nominal y formación de palabras en toba (familiaguaycurú), con especial referencia al léxico etnobiológico. Tesis de Doctorado en Filosofía y Letras.
UBA. FFyL, Universidad de Buenos Aires. Facultad de Filosofía y Letras.
De Saussure, F. (2012). Curso de Lingüística General. Buenos Aires: Losada. Recuperado de http://www.misaves.com.ar/fotos/380_D.jpg; http://www.avesdelima.com/ fsierra/ciene_cernicalo2.jpg; http://www.google.com.ar/imgres?imgurl=http:/ /www.jacobita.cl/sitio/wp-
Hinton, L., Johanna Nicholsy John Ohala(eds.). (1994). Sound Symbolism. Cambridge: Cambridge University Press.
KoesslerIlg, B. (1962).Tradiciones araucanas. Tomo I. Instituto de Filología. Facultad de Humanidades y Ciencias de la Educación. Universidad Nacional de La Plata.
Lamb, S. (2011). Senderos del cerebro. Universidad de Mar del Plata: EUDEM.
Navarro, H. (2012). Bertha KoeslerIlg y las etimologías en mapuzungunI Jornadas de Historia de la Lingüística. Facultad de Filosofía y Letras. Buenos Aires: UBA.
Ohala, J. (1997). Sound Symbolism.Proc. 4th Seoul International Conference on Linguistics [SICOL]: 98-103.
content/uploads/2008/10/sapito-4-ojos-01.jpg&imgrefurl=http://www.jacobita.cl/ fotografia/el-sapito-de-cuatro-ojos&h=450&w=600&sz=113&tbnid=5BM7z
CmO6SgeeM:&tbnh=93&tbnw=124&zoom=1&usg=__xrUo4H86TAQLJ2yXLvxgSYUThnY=&docid=VzzSn2U2iQhonM&sa=X&ei=KgHOUaqoCoHwiwLBt ID4Cg&ved=0CCwQ9QEwAA&dur=1301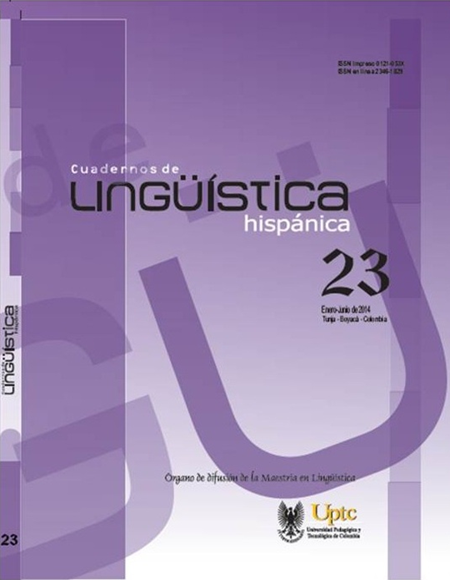 How to Cite
Hartmann, H. N. (2014). El léxico etnobiológico en Lengua mapuche. Cuadernos De Lingüística Hispánica, (23), 13–28. https://doi.org/10.19053/0121053X.2334
Section
Language and society