Educación bilingüe y pluralidad: reflexiones en torno de la interculturalidad crítica
Keywords:
educación bilingüe, Interculturalidad crítica, pluralidad, políticas lingüísticas.
Abstract
En este artículo se plantea el problema de la educación bilingüe en la sociedad globalizada. Se describe las características de dicha sociedad y el rol de las lenguas como medio de comunicación en este contexto. Además, se defiende la idea de que la educación bilingüe debe basarse en la perspectiva intercultural crítica, dado que a partir de ella se logra no solo formar en la diversidad y la pluralidad, sino que además permite problematizar situaciones de poder que mantienen relaciones de desigualdad entre los hablantes de diferentes idiomas. Los postulados teóricos que guían estas reflexiones surgen de autores como Grundy (1998), Habermas (1972), Walsh (2010), Freire (1967), García (2009), entre otros. Se espera que este trabajo contribuya a la discusión en torno de la educación bilingüe y las políticas lingüísticas en Colombia.
Downloads
Download data is not yet available.
References
Bourdieu, P. (1991). Language and symbolic power. Cambridge: Polity.
Brayam, M. (1997). Teaching and assesing intercultural communicative competence. Clevendon: Multilingual matters.
Ferrão Candau, V. M. (2010). Educación intercultural en América Latina: distintas concepciones y tensiones actuales. En: revista Estudios Pedagógicos, N°. 36 (2), p.p. 333-342.
Freire, P. (1967). Pedagogía del oprimido. Bogotá: América Latina.
Garcia, J., & Garcia, D. (2012). Linguistic Policy in Colombia: Teaching English as the Dominant Language vs. Teaching of San Andresian English Creole. Paper presented at the 19th Biennial Conference of the Society for Caribbean Linguistics (SCL). The College of the Bahamas. Nassau, Bahamas.
García, O. (2009). Bilingual Education in the 21st Century: A global perspective. Singapore:Wiley-Blackwell.
Grundy, S. (1998). Producto o praxis del curriculum. España: Ediciones Morata, S.L.
Guerrero, C. (2010). The Portrayal of EFL Teach ers in Official Discourse: The Perpetuation of Disdain. En: revista PROFILE, No. 12(2), p.p. 33-49.
Habermas, J. (1972). Knowledge and human interests. London: Heinemann.
Mejia, A.-M. d.,& Montes,M. E. (2011). El bilingüismo y elmultilingüismo en Colombia: Consideraciones acerca de su valor y promulgación. In E. Yoko & J. Santana (Eds.), Bilinguismos: subjetivação e identificações nas/pelas línguas maternas e estrangeiras (pp. 55-81). Brasil: Pontes Editores.
Muñoz, A. (1995). La educación inercultural hoy. En: revista Didáctica No.7, p.p. 217-249.
Roux, R. (2012). Enseñanza de lenguas extranjeras y formación ciudadana:desarrollando competencias para la globalización cultural. En: revista Revista Internacional Magisterio, No. 58, p.p. 58-64.
Truscott de Mejia, A.-M. (2012). Bilingualism, opening to the world and appreciating pluralism and difference. En: revista Revista Internacional Magisterio, No. 58, p.p. 14-23.
Tubino, F. (2005). La interculturalidad crítica como proyecto ético-político. Paper presented at the Encuentro continental de educadores agustinos., Lima. Recuperado de http://oala.villanova.edu/congresos/educación/ limaponen-
html
Usma, J. (2009).Globalization and Language and Education Reformin Colombia:A CriticalOutlook. En: revista Íkala, revista de lenguaje y cultura, No. 14(22), p.p.19-42.
Walsh, C. (2010). Interculturalidad crítica y educación intercultural. In J. Viaña, L. Tapia & C. Walsh (Eds.), Construyendo Interculturalidad Crítica (pp. 75-96). Bolivia: Instituto Internacional de Integración del Convenio Andrés
Bello.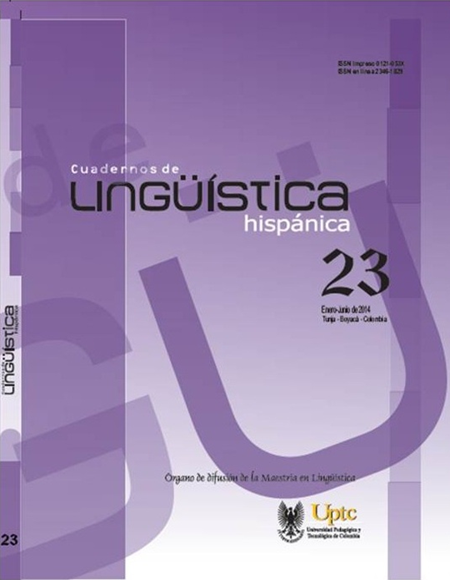 Downloads
How to Cite
León, D. L. G., & León, J. E. G. (2014). Educación bilingüe y pluralidad: reflexiones en torno de la interculturalidad crítica. Cuadernos De Lingüística Hispánica, (23), 49–65. https://doi.org/10.19053/0121053X.2338
Section
Language and society