Press and Social Representations of Indigenous Communities in the Colombian Media
Keywords:
indigenous peoples, legitimation, ideology, social representation, politics, discourse
Abstract
This article uses the methodological perspective of Jean-Blaise Grize and Teun van Dijk's macrostructures to analyze the Colombian media's arguments about indigenous communities. Furthermore, it presents advances in the discursive configuration of these media and their relevant role in the construction of social representations of violence and indigenous groups in Colombia.Otherwise, it is taken into account that the way in which the media present news about violence can promote discrimination against these indigenous peoples;therefore, it could be argued that the naturalization of violence against indigenous peoples in the media is a strategy used to perpetuate certain social and ideological
positions.
Downloads
Download data is not yet available.
References
Abric, J. C. (2001). Pratiques sociales et représentations. In J.-C. Abric (dir.), Pratiques sociales et représentations (pp. 11-28). PUF.
Caviedes, M. (2007). Antropología apócrifa y movimiento indígena. Algunas dudas sobre el sabor propio de la antropología hecha en Colombia. Revista Colombiana de Antropología, 43, 35-59. DOI: https://doi.org/10.22380/2539472X.1102
Caviedes, M. (2011). Oro a cambio de espejos: discurso hegemónico y contrahegemónico en el movimiento indígena en Colombia 1982-1996. [Trabajo de grado, Doctorado en Historia]. Universidad Nacional de Colombia. Repositorio Unal. https://repositorio.unal.edu.co/handle/unal/7618
Cuevas, Y. (2011). Representaciones sociales en la prensa: aportaciones teóricas y metodológicas. Sinéctica, (36), 1-19.
Grize, J.B. (1982). De la logique a l'argumentation. Librairie Droz. DOI: https://doi.org/10.3917/droz.grize.1982.01
Grize, J. B. (1989). The Objects of Discourse: Connexity and Opposition. In Text and Discourse Connectedness (p. 405). John Benjamins. DOI: https://doi.org/10.1075/slcs.16.33gri
Grize, J.B. (1990). Logique et langage. Ophrys.
Grize, J.B. (1993). Logique naturelle et représentations sociales. Papers on SocialRepresentations, 2, 151-159.
Gutiérrez, S. (2003). El discurso argumentativo. Una propuesta de análisis. Escritos, Revista del Centro de Ciencias del Lenguaje, 27, 45-66.
Herrera, J. A. R. (2022). La invisibilización social de los indígenas migrantes en la prensa escrita de Aguascalientes, México. Odisea, Revista de Estudios Migratorios, (9), 55-83.
Jodelet, D. (1986). Les représentations sociales. In J. Ferrand (dir.), Les représentations sociales (pp. 61-79). PUF.
Jodelet, D. & Moscovici, S. (1989). Folies et représentations sociales. Presses Universitaires de France.
Mesa, R. (2002). Medios de comunicación, violencia y escuela. Revista Interuniversitaria de Formación del Profesorado, (44), 209-222.
Moscovici, S. (1979). El psicoanálisis, su imagen y su público. Huemul.
Perelman, C. & Olbrechts-Tyteca, L. (1958). Traité de L´argumentation. La nouvelle rhétorique. Editions de L´Université de Bruxelles.
Rivera, H. (2012). «Salvajes, maliciosos y melancólicos". El afro y el indígena ven los textos escolares de Ciencias Sociales antes y después de 1991. [Tesis Maestría en Educación] Universidad Pedagógica Nacional, Bogotá. http://repository.pedagogica.edu.co/bitstream/handle/20.500.12209/1010/ TO15324.pdf?sequence=1&isAllowed=y
Rodríguez, A. (2020). Objetividad de los juicios morales. Una revisión desde el pragmatismo lingüístico. Revista Guillermo de Ockham, 18(1), 19-31. https://doi.org/10.21500/22563202.4261 DOI: https://doi.org/10.21500/22563202.4261
Rodríguez de las Heras, A. (1983). El poder y la palabra. Laboratorio para la Investigación del Conflicto.
Sarrazin, J. P. (2015). Representaciones del indígena y su conexión con tendencias culturales globalizadas. Anagramas-Rumbos y Sentidos de la Comunicación, 14(27), 163-183. DOI: https://doi.org/10.22395/angr.v14n27a9
Semana. (2018, 10 de mayo). 261 asesinatos de líderes en Colombia encienden las alarmas en las Naciones Unidas. Semana. https://www.semana.com/nacion/ articulo/261-asesinatos-de-lideres-en-colombia-que-generan-alarma-en-lasnaciones-
unidas/566556/
Van Dijk, T. A. (1980). Estructuras y funciones del discurso. Siglo XXI.
Van Dijk, T. A (2003). Dominación étnica y racismo discursivo en España y América. Gedisa.
Van Dijk, T. A. (2005). Estructuras y funciones del discurso: una introducción interdisciplinaria a la lingüística del texto ya los estudios del discurso. Siglo XXI.
Wodak, R. (2003). El enfoque histórico del discurso. En R. Wodak & M. Meyer(comps.), Métodos de análisis crítico del discurso (pp. 101-141). Gedisa.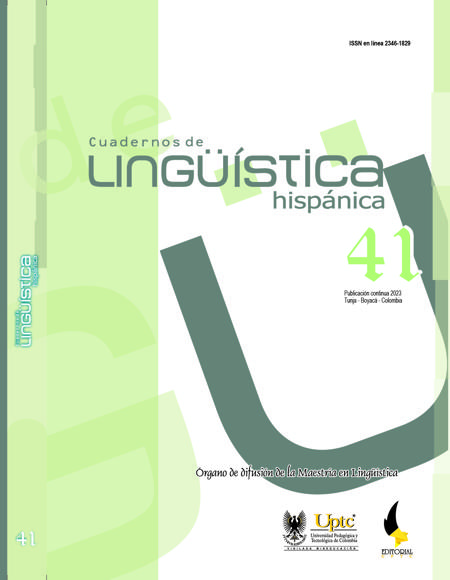 Downloads
Metrics
Views/Downloads
Abstract

106

PDF (Español)

93
How to Cite
Merchán Cante, H H. (2023). Press and Social Representations of Indigenous Communities in the Colombian Media. Cuadernos de Lingüística Hispánica, (41), 1–23. https://doi.org/10.19053/0121053X.n41.2023.15227
Section
Language and communication