Orality made writing in El libro de las ciudades by Celso Román
Keywords:
oral tradition, orality and writing, Celso Román, popular writing
Abstract
The objective of this article is to present evidences of how the literature and orality advance together along the same path, accompanied in writing by the elements it contains, such as fantasy, memory, and tradition. From the orality made in writing in dialogues that suggests the reading of the work of CelsoRomán El libro de lasciudades, and that in turns allows understand that there is a transmission from the oral to writing inspired by the city. In this way,Roman's writing proposes an approach to the traditional orality that reflects craft, artistic and peasant activities that are seen in the city, addingfan  tasy to his narration promoting in this way the popular tradition
Downloads
Download data is not yet available.
References
Buenaventura, N. (1998). La importancia de hablar mierda o los Hilos invisibles del tejido social. Santa Fe de Bogotá. Editorial: Mesa Redonda Magisterio.

Buenaventura, N. (2000.). A contracuento. Santa Fe de Bogotá: Editorial Norma

Blanche-Benveniste, C. (1998). Algunas características de la oralidad. En Estudios lingüísticos sobre la relación entre oralidad y escritura (pp. 29-64). Barcelona: Gedisa

Cassany, D. (1996). Describir el escribir. Cómo se aprende a escribir. Barcelona. Editorial: Paidós.

Colomer, T. (1999). Introducción a la literatura infantil y juvenil. Madrid: Editorial Síntesis S.A.

Cruz Kronfly, F. (1998). La tierra que atardece. Ensayos sobre la modernidad y la contemporaneidad. Santa Fe de Bogotá. Editorial: Ariel.

Educación, M.d (s.f) Literatura y Tradición Oral. Recuperado de https://www.mineducacion.gov.co/cvn/1665/articles-191484_archivo_pdf.pd.

Ferreiro, E. (2002) Nuevas perspectivas sobre los procesos de lectura y escritura. Ciudad de México. Editorial: xxi editores

Havelock, E. (2008). La musa aprende a escribir. Reflexiones sobre oralidad y escritura desde la Antigüedad hasta el presente. Barcelona. Editorial: Paidós.

Kunene, Mazisi. (1994). África, la poesía como fiesta. Magazín Dominical. No. 61

Manrique, J. (S.F). Antología de poesía española. Recuperado de: http://users.ipfw.edu/jehle/poesia.htm

Mansilla Torres, S; (2006). Literatura e identidad cultural. Estudios Filológicos, () 131-143. Recuperado de http://www.redalyc.org/articulo.oa?id=173414185010

Márquez Zea, J; González Jaimes, E I; Hernández Prieto, M d L; (2013). La oralidad y la escritura en el proceso de aprendizaje. Aplicación del método aprende a escuchar, pensar y escribir. Contaduría y Administración, 58() 261-278. Recuperado de http://www.redalyc.org/articulo.oa?id=39525785011

Mostacero, R; (2004). Oralidad, escritura y escrituralidad. Sapiens. Revista Universitaria de Investigación, 5() 53-75. Recuperado de http://www.redalyc.org/articulo.oa?id=41050105

Ong, Walter. Oralidad y escritura. Tecnologías de la palabra. México: Fondo de Cultura Económica, 1987.
Ordóñez, J. E. (2006). Literatura y valores. Cuadernos de Lingüística Hispánica, Enero-, 13-20.
Pérgolis, j. (2005). La ciudad deseada: el deseo de la ciudad y su plaza. México. Ed: Nouko.
Román Capeles, M. (1993). El cuento fantástico en la literatura antillana contemporánea. Indiana: Editorial State University of New York at Buffalo
Román, C. (1997). El libro de las ciudades. Santa Fe de Bogotá. Editorial: Panamericana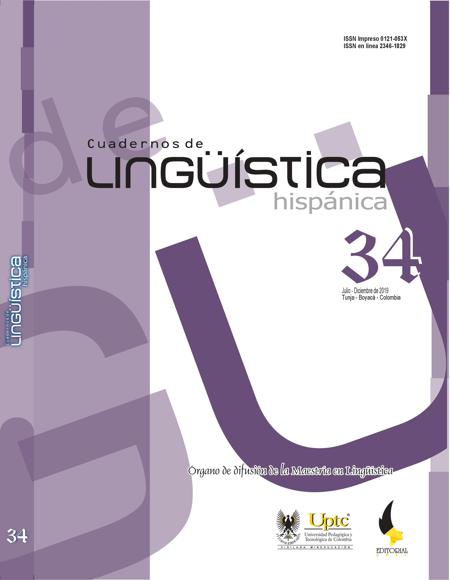 Downloads
How to Cite
Numpaque Acosta, A. M., Alarcón Cepeda, M., & Numpaque Acosta, G. C. (2019). Orality made writing in El libro de las ciudades by Celso Román. Cuadernos De Lingüística Hispánica, (34). https://doi.org/10.19053/0121053X.n34.2019.9385
Section
Language and communication