The educational world and its environment in the face of the pandemic of the xxi century: challenges, responsibilities and inclusion
Keywords:
edications, COVID 19, remote access, pandemic
Abstract
Since the world entered a pandemic with COVID-19 in 2019, our lives have been altered. This issue of RHELA journal focuses on the changes in the education system, on how the pandemic has affected our ways of teaching, of learning. The focus of the pandemic is made from the local or micro analysis in primary or university education to the approaches of international organizationssuch as the UNESCO, UNICEF or international databases such as the Web of Science orDialnet.
Many teachers have thought it appropriate to share their ways of dealing with their day to day with an online teaching, which had been something punctual and becomes everyday. This issue also vindicates the ways of expressing themselves of the normalist teachers who, in a decolonial turn, express themselves in a beautiful way with respect to COVID.  Among others, Pedro Mariscal wrote "Mis Decimas en Parodia"
II 
Never wave hello,
Neither of kiss, nor of embrace.
You can be charged by the clown...
Make it not in vain
This human sacrifice.
Past quarantine
And with your health very full
You come to see me at my house
And you dance to me in the square
In the light of the full moon!"
Other voices depicted in this volume are those of families and their experiences of online teaching at home. The digital divide deepens the wounds of economic inequality between families and educational possibilities can be in danger for a large part of the student body, depending on the geographical location where we are.
The needs of students are alsolistened to who demand tutors for all the time, professionals with a profile of tutoring and psychological orientation that from the culture of the student, understand their worldview and help them overcome various problems. In addition, they need to organize group sessions and networks for group work or smart phones for individual use.
The teaching innovation that is developed throughout this monograph unites the whole society, not only families, students and teachers along with ethnoeducation and radio programs.
Although many of the articles have a qualitative methodological approach to the novelty of the phenomenon and the need for a micro study to be able to delve into eachparticularmethodologicalexperience, the results could be extrapolated to most of the country where the research is carried out, exposing generational and conomic gaps.  Also included are articles with a quantitative approach, bibliographic reviews, among other techniques.
In addition, topics related to history, with the social and political struggles developed by the progressive and revolutionary movements of the last century, accompanied by relevant figures who dedicated their lives to an inclusive rural education, are exposed.
A space has been left for the analysis of one of the scourges of all time: gender violence that, far from abating, has increased and worsened.
We conclude by thanking the valuable contributions that RHELA journal has received in this issue 37. Part of its value lies in the epistemologies and methodologies that undoubtedly help us face our new normal.
Downloads
Download data is not yet available.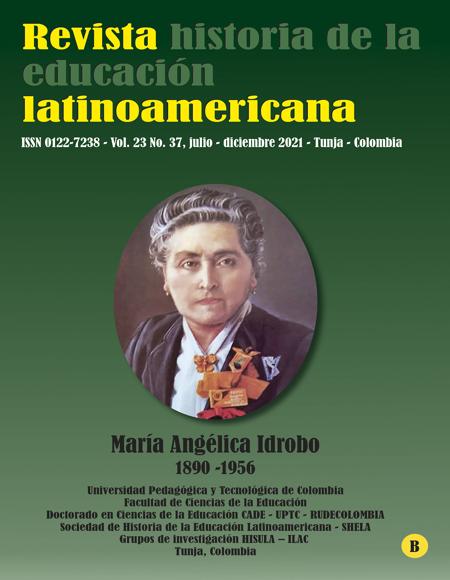 Downloads
Metrics
Views/Downloads
Abstract

515

PDF (Español)

149
How to Cite
Del Pino Espejo , M J, & Villalba, K. (2021). The educational world and its environment in the face of the pandemic of the xxi century: challenges, responsibilities and inclusion. Revista Historia de la Educación Latinoamericana, 23(37). https://doi.org/10.19053/01227238.13907
License
Los autores/as conservarán sus derechos de autor y garantizarán a la revista el derecho de primera publicación de su obra, el cuál estará simultáneamente sujeto a la Licencia de reconocimiento de Creative Commons que permite a terceros compartir la obra siempre que se indique su autor y su primera publicación esta revista.
Los autores/as podrán adoptar otros acuerdos de licencia no exclusiva de distribución de la versión de la obra publicada (p. ej.: depositarla en un archivo telemático institucional o publicarla en un volumen monográfico) siempre que se indique la publicación inicial en esta revista.
Se permite y recomienda a los autores/as difundir su obra a través de Internet (p. ej.: en archivos telemáticos institucionales o en su página web) antes y durante el proceso de envío, lo cual puede producir intercambios interesantes y aumentar las citas de la obra publicada. (Véase El efecto del acceso abierto).