Preliminary Review of the Current Status of Official Translation and Interpretation in Colombia
Keywords:
official translation and interpretation, translator status, official translation, sworn translation, certificated translation, translators in Colombia
Abstract
The objective of this paper is to present a brief state of the art on bibliographic production and the current situation of official translation and interpretation in Colombia. For this purpose, main theoretical, normative and practical references related to academic and marketing aspects of the activity of the translator and interpreter were collected, analyzed and then compared to those existing in the world. After this analysis, which is only a preliminary approach to the need for a conceptual, theoretical and methodological development of the profession, the importance of thinking about some theoretical and commercial initiatives that pave the way for the professionalization of this area in the country was recognized. Likewise, it was found that academic production in this field in Colombia is very incipient and, in its great majority, it has focused on topics related to status, professionalization and legislation.
Downloads
Download data is not yet available.
References
Alto Comisionado para la Paz (2018). El Acuerdo de Paz se habla en lenguas nativas. Recuperado de http://www.altocomisionadoparalapaz.gov.co/herramientas/Paginas/acuerdo-lenguas-nativas/El-Acuerdo-de-Paz-se-habla-en-lenguas-nativas.aspx

Barceló, M., & Delgado, I. (2016). La traduction assermentée en Espagne et en France: Aspects privés et étude comparative. Revista de Llengua i Dret, 66, 124–135.


Biguri, K. (2007). La situación actual de la traducción jurada en lengua vasca. Papers Lextra, 3, 37–40.

Cerón, A. (2009). Reseña: Babel en las empresas colombianas: una mirada actual de la traducción. Comunicación, Cultura y Política, 1(1), 153–154.

Clavijo, B. (2011). Algunos apartes de la traducción jurídica y oficial en Colombia. Revista EAN, 70, 58–67.

Clavijo, B., Mendoza, E., Franco, A., Duque, M., & Rodríguez, E. (2008). Babel en las empresas colombianas: una mirada actual de la traducción. Bogotá: Universidad EAN. https://doi.org/10.21158/01208160.n58.2006.387

Clavijo, B., Panqueva, M. C., Correal, M. C., Duque, M. I., Mendoza, E., Franco, C., & Galindo, J. A. (2006). Necesidad de la traducción en las empresas. Revista EAN, 58, 61–78.

Cortés, G. (2000). Régimen legal de la traduccíon y del traductor público. Íkala, Revista de Lenguaje y Cultura, 5(9–10), 159–162.

de las Heras, M. (2017). La profesión de traductor jurídico en España: Titulación y conocimientos exigidos para su ejercicio a raíz de la creación del título universitario de Licenciado en Traducción e Interpretación en 1991. FITISPos International Journal, 4, 49–68.

Deantonio, A. (2012). Análisis del proceso metodológico de la traducción de la traducción jurídica (trabajo de grado de maestría). Universidad EAN. Recuperado de https://repository.ean.edu.co/bitstream/handle/10882/864/DeantonioAndrea2012.pdf?sequence=1&isAllowed=y

Diario Oficial de Colombia. (1951a). Decreto 2257. Bogotá. Recuperado de http://www.leyex.info

Diario Oficial de Colombia. (1951b). Decreto 382. Bogotá. Recuperado de http://www.leyex.info

Diario Oficial de Colombia. (1982). Decreto 722. Bogotá. Recuperado de http://www.leyex.info

Diario Oficial de Colombia. (1997). Decreto 2369. Bogotá. Recuperado de http://www.leyex.info

Diario Oficial de Colombia. (2005). Ley 962. Bogotá. Recuperado de http://www.leyex.info

Diario Oficial de Colombia. (2010). Ley 1381. Bogotá. Recuperado de http://www.leyex.info

Diario Oficial de Colombia. (2017). Resolución 05274. Bogotá. Recuperado de http://www.leyex.info

Echeverri, J., & Zuluaga, J. (2019). Traducción e intepretación en Colombia, en el limbo. UdeA Noticias virtuales. Recuperado de http://bit.ly/2lSCp8U

El Ghazouani, A. (2008). El mercado profesional en traducción jurídica y jurada y en mediación intercultural: El caso de la Lengua Árabe. Tonos Digital, 15, 1–18.

Feria, M. (2007). La interpretación judicial y la traducción jurada árabe-español en Málaga durante los años noventa. Puentes, 8, 25–29.

Galanes, I. (2010). La acreditación de traductores y/o intérpretes jurados en España: Novedades, contrastes e incoherencias. Sendebar, 21, 251–270.

García, M. (2007). La habilitación de traductores jurados en Galicia. Papers Lextra, 3, 31–36.

Gil, I., & García, S. (2015). El futuro de la traducción jurada propuesta: El colegio profesional de traductores-intérpretes jurados. Miscelánea Comillas, 73(143), 447–462.

Gómez, N. (2019). La formación de traductores en Hispanoamérica: un vistazo a los programas de grado en traducción en seis instituciones de Argentina, Colombia y Venezuela. Mutatis Mutandis, 12(1), 11–50. https://doi.org/10.17533/udea.mut.v12n1a01

Gómez, N., & Gómez, J. I. (2011). Aproximación a una didáctica de la traducción de textos científicos y técnicos inglés-español. Íkala, Revista de Lenguaje y Cultura, 16(27), 135–163.

Guzmán, R. (2008). La traducción jurada en Rusia: situación actual y perspectivas. Sendebar, 19, 189–198.

Hlavac, J. (2013). A cross-national overview of translator and interpreter certification procedures. Translation and Interpreting, 5(1), 32–65. https://doi.org/10.12807/ti.105201.2013.a02

ICONTEC. NTC 5808 (2010). Bogotá: ICONTEC. Recuperado de https://www.mineducacion.gov.co/1621/articles-157089_archivo_pdf_NTC_5580.pdf

Infante, M., & Mora, D. (2012). El papel de los traductores en los tratados de libre comercio (Colombia-Estados Unidos) (trabajo de grado de maestría). Universidad EAN. Recuperado de https://repository.ean.edu.co/bitstream/handle/10882/3024/InfanteMonica2012.pdf?sequence=7&isAllowed=y
Insignares, J. (2009). ¿Hacia el camino de la profesionalización de la traducción gracias a la futura NTC? Mutatis Mutandis, 2(2), 393–397.

Livio, T. (2000). La traduction jurée au Brésil : Aspects historiques et pratiques. En International colloquium organized by the School of Translation and Interpretation of the University of Geneva and the Swiss Translators', Terminologists' and Interpreters' Association (pp. 1–8). Geneva, Switzerland. Recuperado de http://www.tradulex.com/Actes2000/cruzromao.pdf

Lobato, J. (2007). Aspectos deontológicos y profesionales de la Traducción jurídica, jurada y judicial (tesis de doctorado). Universidad de Málaga. Recuperado de http://www.biblioteca.uma.es/bbldoc/tesisuma/17114597.pdf

Martín, J. (2013). Traducciones jurídicas: competencias del traductor e impacto en su interpretación (trabajo de grado de maestría). Universidad EAN. Recuperado de https://repository.ean.edu.co/bitstream/handle/10882/5924/MartinJohann2013.pdf?sequence=4&isAllowed=y

Martínez, L., & Guilman, S. (2005). La figura del Traductor Público en la República Argentina. En Coloquio de la Asociación Colombiana de Traductores e Intérpretes (pp. 1–12). Bogotá, Colombia: ACTTI. Recuperado de http://www.cttic.org/ACTI/2004/papers/Ponencia_ Martinez-Guilman.pdf

Mayoral, R. (1999). Las fidelidades del traductor jurado: Batalla indecisa. En F. García (Ed.), Traducir para la justicia (pp. 17–57). Granada, España.

Mayoral, R. (2000). (Official) Sworn translation and its functions. Babel, 46(4), 300–331. https://doi.org/10.1075/babel.46.4.03may

Montealegre, I. (2013). Estado actual del mercado de la interpretación en Bogotá (trabajo de grado de maestría). Universidad EAN. Recuperado de https://repository.ean.edu.co/bitstream/handle/10882/4965/MontealegreIrma2013.pdf?sequence=1&isAllowed=y

Monzó, E. (2002). La professió del traductor jurídic i jurat. Descripció sociològica de la professió i anàlisi discursiva del transgènere (tesis de doctorado). Departament de Traducció i Comunicació - Universitat Jaume I. Recuperado de https://dialnet.unirioja.es/servlet/tesis?codigo=6994

Ordoñez, P. (2009). La evaluación de traductores e intérpretes jurados: Revisión teórica y análisis del tratamiento informativo de los candidatos a pruebas de acreditación y selección. Íkala, Revista de Lenguaje y Cultura, 14(21), 59–81.

Ortega, J. M. (2011). Cómo acreditar intérpretes a través de la traducción: Análisis crítico de la acreditación profesional de intérpretes jurídicos en España. Trans, Revista de Traductología, 15, 131–153. https://doi.org/10.24310/TRANS.2011.v0i15.3207

Ortiz, L., & Sanabria, A. (2013). Perfil del traductor: incidencia de su formación en el desempeño profesional (trabajo de grado de maestría). Universidad EAN. Recuperado de https://repository.ean.edu.co/bitstream/handle/10882/5065/Ortiz-Sanabria-Tesis.pdf?sequence=1&isAllowed=y

Padilla, M. (2018). Analysis of the current status of interpreting as a profession in Colombia: An exploratory case study (trabajo de grado de maestría). Universidad de Pamplona, Colombia.

Pavlović, T. (2013). Exploring Directionality in Translation Studies. Explorations in English Language and Linguistics, 1(2), 149–165.

Peñarroja, J. (1989a). Intérpretes jurados: Documentos para su historia. Boletín de APETI, pp. 1–5.

Peñarroja, J. (1989b). Intérpretes jurados: Documentos para su prehistoria. Boletín de APETI, pp. 1–5.

Peñarroja, J., & Cardona, E. (1993). Els intèrprets jurats. Revista de Llengua i Dret, 19, 199–203.

Perdu, N.-A., & Ridao, S. (2014). Dificultades de la traducción jurídica y jurada. Tejuelo, 20, 9–26.

Pym, A., Grin, F., Sfreddo, C., & Chan, A. (2012). The status of the translation profession in the European Union. Luxembourg: Publications Office of the European Union.

Quiroz, G., Gómez, N., & Zuluaga, J. (2013). Panorama general del traductor e intérprete oficial en Colombia. Núcleo, 30, 165–203.

Quiroz, G., & Zuluaga, J. (2014). Candidatos a traductor e intérprete oficial en Colombia: Profesionales u oportunistas. Babel, 60(4), 514–538. https://doi.org/10.1075/babel.60.4.06qui

Quiroz, G., Zuluaga, J., & Gómez, N. (2015). Estatus actual del traductor en Colombia. Medellín, Colombia: Editorial Universidad de Antioquia.

Salvador, S. (1996). El certificat de traducció i interpretació jurades i el registre de traductors i intèrprets jurats: De projecte a realitat. Llengua i ús, 5, 51–54.

Stejskal, J. (2003). International certification study: South America revisited. The ATA Chronicle, 5/2(March), 11–14.

Stejskal, J. (2005). Survey of the FIT Committee for information on the status of the translation & interpretation profession. FIT: Féderation Internationale de Traducteurs. Recuperado de http://www.uta.org.ua/data/loads/fit_survey_report-2005-07.pdf

Vigier, F. (2010). El nombramiento de traductores-intérpretes jurados de inglés mediante acreditación académica: Descripción de la formación específica y del grado de satisfacción de los egresados (tesis de doctorado). Departamento de Traducción e Intepretación - Universidad de Granada. Recuperado de https://hera.ugr.es/tesisugr/18896753.pdf

Vigier, F., Klein, N., & Krestinger, P. (2013). Certified translators in Europe and the Americas: Accreditation practices and challenges. En A. Borja & F. Prieto (Eds.), New trends in translation studies (pp. 27–51). Oxford, UK: Peter Lang.

Zamora, J. (2005). La traducción oficial en Costa Rica: ¿Una actividad profesional? (Trabajo de grado de maestría). Facultad de Filosofía y Letras - Universidad Nacional de Costa Rica. Recuperado de http://www.acotipcr.org/wp-content/uploads/2015/10/La-traducci-¦n-Oficial-en-Costa-Rica-una-actividad-profesional.pdf

Zuluaga, J. (2014). Certificarse como traductor e intérprete oficial. Alma Mater, p. 15. Recuperado de https://issuu.com/periodicoalmamater/docs/am_634_agosto_de_2014
Zuluaga, J. (2015). Requisito: traducción oficial. Alma mater, p. 30. Recuperado de https://issuu.com/periodicoalmamater/docs/am_634_agosto_de_2014

Zuluaga, J. (2019). Traducción e interpretación oficial en Colombia. UN Periódico Digital. Recuperado de https://unperiodico.unal.edu.co/pages/blog/detail/traduccion-e-interpretacion-oficial-en-colombia/

Zuluaga, J., & Quiroz, G. (2018). Análisis del desempeño de candidatos a traductor e intérprete oficial en Colombia. Cadernos de Tradução, 38(2), 263–293. https://doi.org/10.5007/2175-7968.2018v38n2p263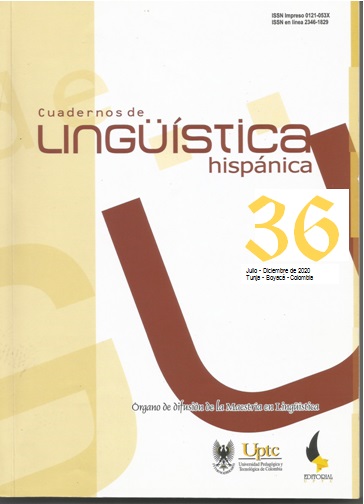 Downloads
How to Cite
Zuluaga Molina, J. F. (2020). Preliminary Review of the Current Status of Official Translation and Interpretation in Colombia. Cuadernos De Lingüística Hispánica, (36), 79–102. https://doi.org/10.19053/0121053X.n36.2020.10814
Section
Language and communication