Construcción de la identidad racial: una mirada desde la familia negra cartagenera
Keywords:
Confrontación, discriminación, familia, racismo y reproducción.
Abstract
El propósito de este artículo es exponer el rol de la familia en la reproducción del racismo y la confrontación por parte de sus miembros ante la discriminación racial. Los discursos socializadores emitidos en el contexto de la familia suelen contener información respecto a cuestiones identitarias, asuntos referentes a la cultura, la raza y la sociedad donde se desenvuelve la familia, respondiendo a ello, se encontró que la familia negra de Cartagena reproduce ideas racistas que circulan en los discursos de la sociedad cartagenera.
Downloads
Download data is not yet available.
References
Ares, P. (1990). Mi familia es así. La Habana: Ed. Ciencias Sociales.
Berger, P. L., y Luckmann, T. (1995). La construcción social de la realidad. Buenos Aires: Amorrortu editores.
Boykin, A. W., y Toms, F. D. (1985). Black child socialization: A conceptual framework. En: H. P. McAdoo y J. L. (Ed.). Black children: Social, educational, and parental environments. (pp. 33–51). Thousand Oaks, CA: Sage Publications.
Bruner, J. (1991). The narrative construction of reality. CriticalInquiry, 18(1), 1-21.
De la Hoz, D., Severich, D., y Correa, C. (2014). Formas de aproximarse a la "palabra de los otros": la entrevista etnográfica. En: C. I. Fonseca Mendoza (comp.), Espacios de discriminación racial en Cartagena. (pp. 117-133). Cartagena de Indias, Colombia: Autoreseditores.com.
Essed, P. (1991). Understanding everyday racism. An interdisciplinary theory. Newbury Park, CA: SAGE publications.
Labov, W. (1988). La transformación de la experiencia en sintaxis narrativa(M. de Cobo, trad.) Universidad del Valle: Centro de traducciones.
Marshall, S. (1995). Ethnic socialization of African American children: Implications for parenting, identity development, and academic achievement. Journal of Youth and Adolescence, 24(4), 377-396.
Mellor, D. (2003). Contemporary racism in Australia: The experiences of Aborigenes. Personality and Social Psychology Bulletin,(29); 474. Recuperado de http://psp.sagepub.com/cgi/content/abstract/29/4/
Merino, M E. (2007). El discurso de la discriminación percibida en Mapuches de Chile. Revista Discurso & Sociedad, 1(4), 604-622. Recuperado de www.dissoc.org
Rocher, G. (1990). Introducción a la Sociología general. Barcelona, España: Herder.
Scott, L. D. (2003). The Relation Of Racial Identity And Racial Socialization To Coping With Discrimination Among African American Adolescents. Journal of Black Studies, (33), 520-538. Doi: 10.1177/0021934702250035
Stevenson, H. C., Davis, G., Abdul-Kabir, S. (2001). Stickin' to, watchin' over, and gettin' with: An African American parent's guide to discipline. San Francisco, StatesUnited of America: Josey-Bass.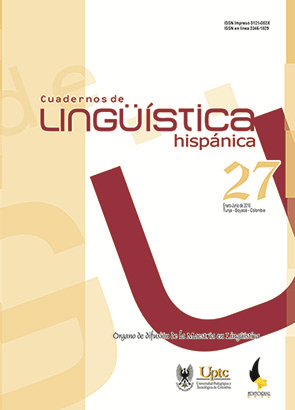 How to Cite
Villarreal Benítez, K. (2016). Construcción de la identidad racial: una mirada desde la familia negra cartagenera. Cuadernos De Lingüística Hispánica, (27), 19–31. https://doi.org/10.19053/0121053X.4208
Section
Language and society