Postulates of the Power and Educational Training in Colombia
Keywords:
ideology, politics power, dominant culture, social participation
Abstract
This paper analyzes the relationship between the postulates of the power and Colombian education, particularly the correspondence between labor training and the reproduction of the established ideological order. The type of research is the critical ana - lyzes of the discourse, through a dialogical method among power theories of Foucault (1988, 2002) and Althusser (1969, 1971, 1988). Oppositions of these two theories about power arise because they have been thought within the institutional frameworks, such as schools (Foucault, 2002) and the unavoidable relationship with political ideologies and policies (Althusser, 1988). Disparities and confrontations among these two theories on power are shown. The conclusion shows the power relations be- tween the Colombian State and the public school scenarios, as well as the way in which power devices work in these scenarios (Jäger, 2003), always from the possibility of human emancipation to transform its environment.
Downloads
Download data is not yet available.
References
Althusser, L. (1969). La revolución teórica de Marx. México, Siglo XXI.

Althusser, L. (1971). Ideología y los aparatos ideológicos de estado. Traducción: Ben Brewster. Nueva York, Monthly Review Press.

Althusser, L. (1988). Para leer «El capital». México, Siglo XXI.

Aronowitz, S. (1973). Falsas promesas. Nueva York, Mc Graw Hill.

Bauman, Z. (2005). Los retos de la educación en la modernidad líquida. Barcelona, Gedisa.

Cortés, C. & Isaza, L. (2017). Noticias falsas en Internet: la estrategia para combatir la desinformación. En: Centro de Estudios en Libertad de Expresión y Acceso a la Información (CELE). Universidad de Palermo, Buenos Aires, pp. 2-26.

Deleuze, G. (2014). El poder: curso sobre Foucault II. Buenos Aires, Cactus.

Foucault, M. (1988). El sujeto y el poder. En: Revista Mexicana de Sociología, Vol. 50, No. 3. (Jul. - Sep., 1988), pp. 3-20.

Foucault, M. (2002). Vigilar y castigar: nacimiento de la prisión. Traducción: Aurelio Garzón del Camino, Buenos Aires, Siglo XXI.

Giroux, H. (1983). Teorías de la reproducción y la resistencia en la nueva sociología de la educación: un análisis crítico. Traducción: Graciela Morza. Buenos Aires, Harvard Education Review.

Giroux, H. (2014). Teoría y resistencia en educación. Una pedagogía para la oposición. Traducción: Ada Teresa Méndez. México, siglo XXI.

Jäger, S. (2003). Discurso y conocimiento: aspectos teóricos y metodológicos de la crítica del discurso y del análisis de dispositivos. En: Wodak, Ruth y Michael Meyer. (Comp.). Métodos de análisis crítico del discurso. 61–100. Barcelona, Gedisa.

Lapierre, J. W. (1959). El poder político. Paris, Gallimard.

Marx, K. & Engels, F. (2000). El manifiesto comunista. Disponible en: https://sociologia1unpsjb.files.wordpress.com/2008/03/marx-manifiesto-comunista.pdf

Meyer, M. (2003). Entre la teoría, el método y la política: la ubicación de los enfoques relacionados con el ACD. En: Wodak Ruth y Michael Meyer. (Comp.). Métodos de análisis crítico del discurso. 35-59 Barcelona, Gedisa.

Servicio Nacional de Aprendizaje. Articulación con el Sistema Educativo. Recuperado de http://www.sena.edu.co/es-co/formacion/Paginas/Articulaci%C3%B3n-con-el-Sistema-Educativo.aspx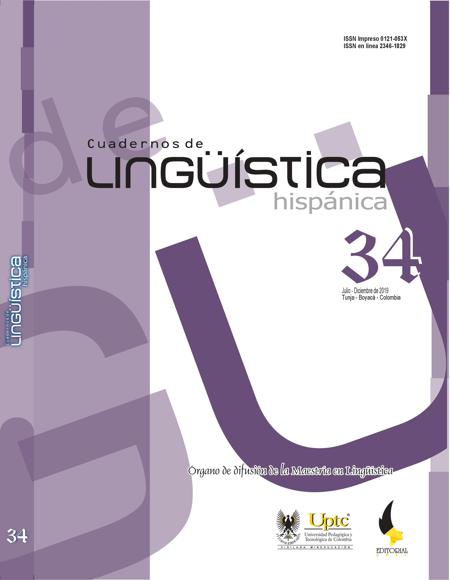 Downloads
How to Cite
Casas, A. (2019). Postulates of the Power and Educational Training in Colombia. Cuadernos De Lingüística Hispánica, (34). https://doi.org/10.19053/0121053X.n34.2019.9380
Section
Language and communication