Traducción y cultura: reflexiones sobre la dimensión cultural de textos y su importancia para la traducción
Keywords:
cultura, traducción, semiótica, pragmática, funcionalismo, específica cultural.
Abstract
En el contexto del cambio cultural en Ciencia de la Traducción en los años 90, se observó la incorporación de factores extralingüísticos en sus estudios. Hoy, la cultura ocupa un lugar generalmente reconocido en la traductología. Sin embargo, quedan abiertas muchas preguntas de índole metodológico y concepcional. Además, el término es usado de un modo general e inflacionario y faltan modelos concretos que permitan operacionalizar la dimensión cultural de los textos para la práctica y la didáctica de la traducción. En este artículo se muestra la compleja interrelación entre lengua, cultura y traducción, a fin de presentar un modelo teórico para describir la dimensión cultural de los textos, que también sea aplicable a la práctica de la traducción. Se parte de una definición semiótica del texto y de la cultura, ya que se considera que la semiótica es la base adecuada para una Ciencia de la Traducción integradora e interdisciplinaria.
Downloads
Download data is not yet available.
References
Abel, G. (2000). Übersetzung als Interpretation. En: Büttemeyer, Wilhelm & Hans Jörg Sandkühler (ed.): Übersetzung: Sprache und Interpretation. Francfort etc.: Peter Lang, p. 85-102.
Franco Aixelá, J. (1995). Specific Cultural Items and their Translation. En: Jansen, P. (ed.): Translation and the Manipulation of Discourse. Leuven: CETRA – The Leuven Research Center for Translation, Communication and Cultures, p. 109-123.
Geertz, C. (1983). Dichte Beschreibung. Beiträge zum Verstehen kultureller Systeme. Francfort: Suhrkamp Verlag.
Gercken, J. (1999) Kultur, Sprache und Text als Aspekte von Original und Übersetzung. Francfort etc.: Peter Lang.
Goodenough, W. H. (1964). Cultural anthropology and linguistics. En: Hymes, Dell (1994) (ed.): Language in Culture and Society. Nueva York: Harper & Row; J. Weatherhill, p. 36-39.
Hofstede, G. (1991). Cultures and Organizations. Software oft the mind: Intercultural Cooperation and ist Importance for Survival. Londres: McGraw-Hill.
Levefere, A., & Bassnett-McGuire, S. (1990). Introduction: Proust`s Grandmother and the Thousand and One Nights: The 'Cultural Turn' in Translation Studies. Translation, History and Culture.Londres: Pinter.
Nord, C. (2007). Übersetzungstypen – Übersetzungsverfahren: Ein paar neue Gedanken zu einem uralten Thema. En: Wotjak, G. (ed.): Quo vadis Translatologie? Ein halbes Jahrhundert universitäre Ausbildung von Dolmetschern und Übersetzern in Leipzig. Berlìn: Frank & Timme, p. 293-310.
Nord, C. (2014). Hürden-Sprünge. Ein Plädoyer für mehr Mut beim Übersetzen.Berlín: BDÜFachverlag.
Posner, R. (1991). Kultur als Zeichensystem. Zur semiotischen Explikation kulturwissenschaftlicher Grundbegriffe. En: Assmann, A., & Dietrich Harth (ed.): Kultur als Lebenswelt und Monument.Francfort: Fischer, p. 37-74.
Reinart, S. (2009). Kulturspezifik in der Fachübersetzung.Berlín: Frank & Timme.
Reiß, K., & Vermeer, H. (1984). Grundlegung einer allgemeinen Translationstheorie.Tubinga: Max Niemeyer Verlag.
Snell-Hornby, M. (1988). Translation Studies – An Integrated Approach.Amsterdam: John Benjamins.
Vermeer, H. (1986). Übersetzen als kultureller Transfer. En: Snell-Hornby, M. (ed.): Übersetzungwissenschaft - eine Neuorientierung. Zur Integration von Theorie und Praxis.Tubinga: Francke, pp. 30-53.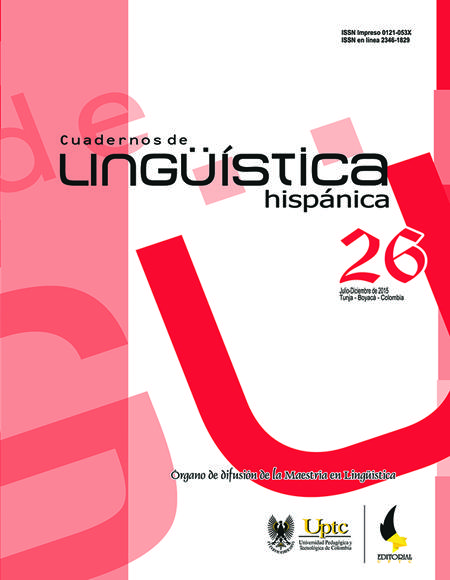 Downloads
Metrics
Views/Downloads
Abstract

708

PDF (Español)

496

HTML (Español)

2141
How to Cite
Hennecke, A. (2015). Traducción y cultura: reflexiones sobre la dimensión cultural de textos y su importancia para la traducción. Cuadernos de Lingüística Hispánica, (26), 103–119. https://doi.org/10.19053/0121053X.3681
Section
Language and communication