Perspectivas educativas e investigativas del pragmatismo en sociedades democráticas
Palabras clave:
pragmatismo, educación, investigación, democracia, revisión sistemática
Resumen
El artículo presenta los resultados de una revisión sistemática de textos académicos publicados entre 2012 y 2021, que integran los conceptos investigación, educación y pragmatismo, en clave de las reflexiones sobre la democracia que desde esta corriente de pensamiento se han propuesto. El pragmatismo aquí se entiende como la tradición filosófica, teórica y metodológica, de origen estadounidense de finales del siglo XIX, que vincula la construcción del saber a la experiencia y la práctica. En este contexto se propone responder al interrogante ¿Cómo se articulan los conceptos educación, investigación y pragmatismo en la producción académica contemporánea? Así, en el marco del desarrollo de la revisión sistemática, se genera una búsqueda en la base de datos científica Scopus, a partir de la cual se seleccionan más de cincuenta publicaciones académicas que se presentan aquí agrupadas en nueve categorías distintas, lo cual da cuenta de la pluralidad y vitalidad del pragmatismo en la investigación educativa contemporánea y permite visualizar sus alcances y limitaciones para la educación y la investigación en sociedades democráticas.
Descargas
Los datos de descargas todavía no están disponibles.
Referencias
Andersson, J., & Maivorsdotter, N. (2017). The 'body pedagogics' of an elite footballer's career path–analysing Zlatan Ibrahimovic's biography. Physical Education and Sport Pedagogy, 22(5), 502–517. https://doi.org/10.1080/17408989.2016.1268591
Badley, G. F. (2015). Qualitative Ranting? Qualitative Inquiry, 21(9), 759–765. https://doi.org/10.1177/1077800415569791
Barrena, S. (2014). El pragmatismo. Factótum, 12(1), 1–18.
Brantefors, L. (2015). Between culture and cultural heritage: curriculum historical preconditions as constitutive for cultural relations – the Swedish case. Pedagogy, Culture and Society, 23(2), 301–322. https://doi.org/10.1080/14681366.2014.994663
Carr, W., & Kemmis, S. (1986). Becoming Critical: Education, Knowledge and Action Research. RoutledgeFarmer. https://doi.org/10.4324/9780203496626
Clarke, E., & Visser, J. (2019). Pragmatic research methodology in education: possibilities and pitfalls. International Journal of Research and Method in Education, 42(5), 455–469. https://doi.org/10.1080/1743727X.2018.1524866
Cutchin, M. P., Dickie, V. A., & Humphry, R. A. (2017). Foregrounding the transactional perspective's community orientation. Journal of Occupational Science, 24(4), 434–445. https://doi.org/10.1080/14427591.2017.1365750
Dall'Oglio, I., Vanzi, V., Tiozzo, E., Gawronski, O., Biagioli, V., Tucci, S., & Raponi, M. (2018). Five Years of Journal Clubs With Pediatric Nurses and Allied Health Professionals: A Retrospective Study and Satisfaction Survey. Journal of Pediatric Nursing, 41, e2–e7. https://doi.org/10.1016/j.pedn.2018.03.003
Dalsgaard, C. (2020). Reflective mediation: Toward a sociocultural conception of situated reflection. Frontline Learning Research, 8(1), 1–14. https://doi.org/10.14786/FLR.V8I1.447
Devos, F., Foissac, F., Bouazza, N., Ancel, P.-Y., Tréluyer, J.-M., & Chappuy, H. (2019). Study characteristics impacted the pragmatism of randomized controlled trial published in nursing: a meta-epidemiological study. Journal of Clinical Epidemiology, 116, 18–25. https://doi.org/10.1016/j.jclinepi.2019.07.017
Dewey, J. (1995). Democracia y educación: una introducción a la filosofía de la educación. Ediciones Morata.
Dodd, N., & Van Der Merwe, J. (2017). Over the rainbow: The role of academics in a "post-hope" South Africa. International Journal of Education Economics and Development, 8(2–3), 133–143. https://doi.org/10.1504/IJEED.2017.086504
Dolgopolovas, V., Dagienė, V., Jasutė, E., & Jevsikova, T. (2019). Design science research for computational thinking in constructionist education: A pragmatist perspective [Informatinio mąstymo ugdymo konstrukcionistinėje aplinkoje projektavimo moksliniai tyrimai: Pragmatistinė perspektyva]. Problemos, 95, 144–159. https://doi.org/10.15388/Problemos.95.12
Franco, S. (2016). A doctoral seminar in qualitative research methods: Lessons learned. International Journal of Doctoral Studies, 11, 323–339. https://doi.org/10.28945/3564
Friedensen, R. E., & Kimball, E. (2018). The professoriate and the post-truth era: A historiographic analysis of expert judgment and the destabilization of objective truth [O professorado e a era da pós-verdade: Uma análise historiográfica do juizo de especialistas e a desestabilização da verdad]. Education Policy Analysis Archives, 26. https://doi.org/10.14507/epaa.26.3357
Garbutt, M. (2016). Disciplinary kingdoms and the pursuit of pragmatism in research: A student perspective. Electronic Journal of Information Systems in Developing Countries, 77(1). https://doi.org/10.1002/j.1681-4835.2016.tb00561.x
García-Vera, N. (2012). Project pedagogy at school: A revision of its philosophical and psychological foundations. La pedagogía de proyectos en la escuela: una revisión de sus fundamentos filosóficos y psicológicos. Magis, 4(9), 685–707.
Gillin, N., & Smith, D. (2021). Filipino nurses' perspectives of the clinical and language competency requirements for nursing registration in England: A qualitative exploration. Nurse Education in Practice, 56. https://doi.org/10.1016/j.nepr.2021.103223
Goetze, T. S. (2019). The Concept of a University: Theory, Practice, and Society. Danish Yearbook of Philosophy. https://doi.org/10.1163/24689300-05201001
Gordon, M. (2016). Why Should Scholars Keep Coming Back to John Dewey? Educational Philosophy and Theory, 48(10), 1077–1091. https://doi.org/10.1080/00131857.2016.1150800
Grundy, S. (1997). Producto o praxis del currículo. Ediciones Morata.
Hagström, E., & Lindberg, O. (2013). Three theses on teaching and learning in higher education. Teaching in Higher Education, 18(2), 119–128. https://doi.org/10.1080/13562517.2012.694097
Honneth, A. (1999). La democracia como cooperación reflexiva. John Dewey y la teoría de la democracia del presente. Estudios Políticos, 15, 81–106. https://doi.org/10.17533/udea.espo.16677
Hothersall, S. J. (2017). 'Everyday knowledge': A mixed-methods study using factor analysis and narrative approaches to explore social worker's knowledge. Social Work and Social Sciences Review, 19(2), 33–64.
Houghton, C., Hunter, A., & Meskell, P. (2012). Linking aims, paradigm and method in nursing research. Nurse Researcher, 20(2), 34–39. https://doi.org/10.7748/nr2012.11.20.2.34.c9439
James, W. (1984). Pragmatismo. Altamira.
Klaar, S., & Öhman, J. (2012). Action with friction: a transactional approach to toddlers' physical meaning making of natural phenomena and processes in preschool. European Early Childhood Education Research Journal, 20(3), 439–454. https://doi.org/10.1080/1350293X.2012.704765
Klockner, K., Shields, P., Pillay, M., & Ames, K. (2021). Pragmatism as a teaching philosophy in the safety sciences: A higher education pedagogy perspective. Safety Science, 138. https://doi.org/10.1016/j.ssci.2020.105095
Lake, R. (2017). On poetry, pragmatism and the urban possibility of creative democracy. Urban Geography, 38(4), 479–494. https://doi.org/10.1080/02723638.2016.1272195
Lamprecht, C., & Guetterman, T. C. (2019). Mixed methods in accounting: a field based analysis. Meditari Accountancy Research, 27(6), 921–938. https://doi.org/10.1108/MEDAR-11-2018-0403
Liszka, J. (2013). Charles Peirce's Rhetoric and the Pedagogy of Active Learning. Educational Philosophy and Theory, 45(7), 781–788. https://doi.org/10.1111/j.1469-5812.2011.00763.x
Lundegård, I., & Wickman, P.-O. (2012). It takes two to tango:Studying how students constitute political subjects in discourses on sustainable development. Environmental Education Research, 18(2), 153–169. https://doi.org/10.1080/13504622.2011.590895
Maguire, K., & Gibbs, P. (2013). Exploring the notion of quality in quality higher education assessment in a collaborative future. Quality in Higher Education, 19(1), 41–55. https://doi.org/10.1080/13538322.2013.774220
Manglos-Weber, N., & Avelis, J. (2019). Expanding the Reflexive Space: Resilient Young Adults, Institutional Cultures, and Cognitive Schemas. Sociological Forum, 34(3), 664–684. https://doi.org/10.1111/socf.12519
Mendes, D., & Betti, M. (2017). Practicum in physical education school as "living thing": A perspective from semiotics and Charles S. Peirce's pragmatism [O estágio na licenciatura em educação física como "coisa viva": Uma perspectiva a partir da semiótica e do pragmaticismo de Charles . Movimento, 23(4), 1245–1256. https://doi.org/10.22456/1982-8918.71897
Meng, Q. (2019). Genesis and undertaker of 'quantification of social class': On the technocrats in the early stage of the Chinese Communist Party's land revolution. Chinese Journal of Sociology, 5(1), 99–138. https://doi.org/10.1177/2057150X18811798
Morris, T. H. (2019). Self-directed learning: A fundamental competence in a rapidly changing world. International Review of Education, 65(4), 633–653. https://doi.org/10.1007/s11159-019-09793-2
Morrison, R. (2016). Pragmatist Epistemology and Jane Addams: Fundamental Concepts for the Social Paradigm of Occupational Therapy. Occupational Therapy International, 23(4), 295–304. https://doi.org/10.1002/oti.1430
Newton, P., Da Silva, A., & Berry, S. (2020). The Case for Pragmatic Evidence-Based Higher Education: A Useful Way Forward? Frontiers in Education, 5. https://doi.org/10.3389/feduc.2020.583157
Nijhawan, S. (2017). Bridging the gap between theory and practice with design-based action research. Studia Paedagogica, 22(4), 9–29. https://doi.org/10.5817/SP2017-4-2
Nyberg, J. (2016). You are Seldom Born with a Drum Kit in Your Hands: Music Teachers' Conceptualizations of Knowledge and Learning Within Music Education as an Assessment Practice. Systemic Practice and Action Research, 29(3), 235–259. https://doi.org/10.1007/s11213-015-9362-3
Ohlsson, S. (2013). Beyond evidence-based belief formation: How normative ideas have constrained conceptual change research. Frontline Learning Research, 1(2), 70–85. https://doi.org/10.14786/flr.v1i2.58
Ormerod, R. (2020). Pragmatism in professional practice. Systems Research and Behavioral Science. https://doi.org/10.1002/sres.2739
Páramo, P. (2009). Pedagogía Urbana: elementos para su delimitación como campo de conocimiento. Revista Colombiana de Educación, 57.
Páramo, P. (2019). Pragmatismo en el diseño de prácticas culturales de convivencia ciudadana. En P. Páramo & A. Burbano (Eds.), Convivencia Ciudadana en ciudades latinoamericanas (pp. 241–248). Universidad Pedagógica Nacional; Universidad de la República Uruguay.
Páramo, P. (2020). Cómo elaborar una revisión sistemática. https://doi.org/10.13140/RG.2.2.31465.85608
Pham, K. T. (2021). The Concept of Pragmatism and Its Impact on Education in the Vietnamese Context. Review of International Geographical Education Online, 11(4), 1453–1466. https://doi.org/10.33403/rigeo.8006858
Poradzisz, M., & Florczak, K. (2019). Collaboration: Does It Require Pragmatic Thought? Nursing Science Quarterly, 32(4), 271–275. https://doi.org/10.1177/0894318419864336
Decreto 1860/1994, reglamentación parcial de la Ley 115 de 1994, en los aspectos pedagógicos y organizativos generales. (1994). https://www.mineducacion.gov.co/1621/articles-172061_archivo_pdf_decreto1860_94.pdf
Rasmussen, L. J., Østergaard, L. D., & Glăveanu, V. P. (2019). Creativity as a developmental resource in sport training activities. Sport, Education and Society, 24(5), 491–506. https://doi.org/10.1080/13573322.2017.1403895
Rorty, R. (2000). El pragmatismo, una versión: Antiautoritarismo en epistemología y ética. Editorial Ariel.
Roth, W. M. (2015). Meaning and the real life of language-Learning from "pathological" cases in science classrooms. Linguistics and Education, 30, 42–55. https://doi.org/10.1016/j.linged.2015.03.010
Schubert, C. (2015). Situating technological and societal futures: Pragmatist engagements with computer simulations and social dynamics. Technology in Society, 40, 4–13. https://doi.org/10.1016/j.techsoc.2014.07.003
Shannon, J., Hankins, K., Shelton, T., Bosse, A., Scott, D., Block, D., Fischer, H., Eaves, L., Jung, J.-K., Robinson, J., Rees, A., & Nicolas, A. (2021). Community geography: Toward a disciplinary framework. Progress in Human Geography, 45(5), 1147–1168. https://doi.org/10.1177/0309132520961468
Sommer, A. (2016). Are you afraid of the dark? Notes on the psychology of belief in histories of science and the occult* [Avez-vous peur du noir ? Notes sur la psychologie de la croyance dans l'histoire de la science et l'histoire de l'occulte]. En. European Journal of Psychotherapy and Counselling, 18(2), 105–122. https://doi.org/10.1080/13642537.2016.1170062
Thoilliez, B. (2013). Implicaciones pedagógicas del pragmatismo filosófico americano: una reconsideración de las aportaciones educativas de Charles S. Peirce, William James y John Dewey. Universidad Autónoma de Madrid.
Van Poeck, K. (2019). Environmental and sustainability education in a post-truth era. An exploration of epistemology and didactics beyond the objectivism-relativism dualism. Environmental Education Research, 25(4), 472–491. https://doi.org/10.1080/13504622.2018.1496404
Van Poeck, K., Östman, L., & Block, T. (2020). Opening up the black box of learning-by-doing in sustainability transitions. Environmental Innovation and Societal Transitions, 34, 298–310. https://doi.org/10.1016/j.eist.2018.12.006
Von Hausswolff, K. (2021). Practical thinking while learning to program–novices' experiences and hands-on encounters. Computer Science Education. https://doi.org/10.1080/08993408.2021.1953295
Williams, R., & Du Bois, W. (2012). "The Sacred Unity in All the Diversity": The Text and a Thematic Analysis of W.E.B. Du Bois' "The Individual and Social Conscience" (1905). Journal of African American Studies, 16(3), 456–497. https://doi.org/10.1007/s12111-011-9171-4
Wolnicki, M. (2012). Restoring pragmatism in American governance. International Journal of Social Economics, 39(7), 490–502. https://doi.org/10.1108/03068291211231678
Zambas, S., Smythe, E., & Koziol-Mclain, J. (2015). Hermeneutics and pragmatism offer a way of exploring the consequences of advanced assessment. Nursing Philosophy, 16(4), 203–212. https://doi.org/10.1111/nup.12094
Zyphur, M. J., & Pierides, D. C. (2020). Making Quantitative Research Work: From Positivist Dogma to Actual Social Scientific Inquiry. Journal of Business Ethics, 167(1), 49–62. https://doi.org/10.1007/s10551-019-04189-6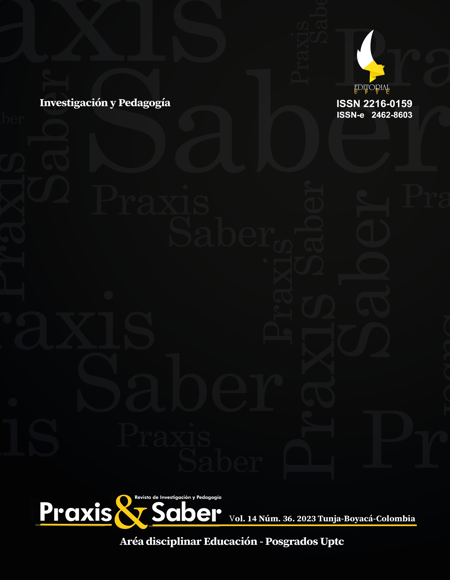 Metrics
Vistas/Descargas
Resumen

57

PDF

167

HTML

93

EPUB

56
Cómo citar
Diago , J, & Páramo, P. (2023). Perspectivas educativas e investigativas del pragmatismo en sociedades democráticas. Praxis & Saber, 14(36), e14769. https://doi.org/10.19053/22160159.v14.n36.2023.14769
Sección
Investigación y pedagogía
Licencia
Derechos de autor 2023 Juan Sebastián Diago Camacho, Pablo Páramo
Esta obra está bajo una licencia internacional Creative Commons Atribución-NoComercial 4.0.
Praxis & Saber usa la licencia https://creativecommons.org/licenses/by-nc/4.0/